More Maddy Sweetie & Anna Edelrid Site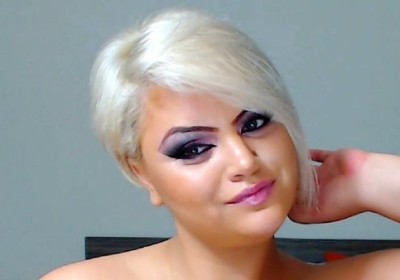 For those who haven't yet heard, Maddy Sweetie has just officially made a "Manyvids Profile" this week for exclusive contents that she is now currently producing which would satisfy many fans who always looking to see something new from her. Not only that, the lovely Maddy Sweetie is also considering on doing snapchat to expand her popularity since it becoming a common trend on social media with a lots of models starting to use it while boob fans are eagerly hoping to sees new exclusive contents from her. Thats being said, it seems to my knowledge that she is most definitely starting to shows potential to makes a name for herself by giving fans what they want which is more contents.
And if she can keep this up, then we as boob fans can definitely expects to sees more softcore contents from hers especially on a Clips4Sale Page and a pay site by ModelCentro which would certainly further boosts her popularity as a busty camgirl. With beautiful huge tits and a nice round huge ass, she uses these voluptuous curved assets of hers even more to get everyone full attention from boob fans to horny pervs alike in a mere instant when it comes to producing new exclusive contents. If you enjoy watching her and those sexy curved assets of hers, then there is no better times for you to be following her on social media and gets your money worth for any of the latest softcore contents that she produces.
To my knowledge, Maddy Sweetie is indeeds showing potentials on doing more then justs webcam shows as she is somewhat open up to the ideal of making a name for herself to further boost her popularity even more which many boob fans have been hoping for. Like as before you can follows her on twitter, @Maddysweet25 to get the latest updates from her and be sure to checks out her Manyvids Profile for exclusive contents if you are a big fan of hers or just a fan of gorgeous romanian camgirls.
And be sure to also follow Maddy Sweetie on tumblr for more exclusive contents if you are definitely a big fan of hers.
In other news, I am sure that many of you have heard by now that's Anna Edelrid has a New Official Website since her other site by Wix.com which I had mentioned in my Exclusive Interview with her did not offers much features as some would guess. But this new website seems to have the right kind of features to helps further expand her popularity as an Independent Photographer who is continuing to collaborate with more gorgeous models from romanians to internationals in taking amazing photo-shoots. That's being said, she continues to improve on her artistic photography skills to makes new exclusive contents for both collaborated models and her newly legit website.
Fans can view her awesome photo-gallery, including some of the photos that she took with Roxanne Miller for those who looking to sees nice pair of beautiful huge tits which would definitely make many fans wants to see more romanian busty models. And speaking of which, we as boob fans would definitely likes or hopes to sees more notables busty romanians for Anna Edelrid to collaborates with likes Maddy Sweetie (from up above this article), Sweetheart Mia and MiaBigTits which would certainly please anyone who is looking to see something new. Also, lets not forget thats Anna Edelrid is doing some traveling for a while as she plans to go to Australia for an awesome photography experience which she had mentioned in the interview.
To my knowledge, she is indeeds an amazing photographer who knows how to produce exclusives photos of gorgeous romanian models as contents and makes a name for herself with a brand new website where fans can view her gallery thats is now a work of art. Like as before you can follow her on twitter, @annaedelrid to get the latest updates from hers and be sure to checks out her official website, AnnaEdelrid.com for all of her exclusive contents if you are definitely a big fan of her work.
And be sure to follow Anna Edelrid on other social media sites like Instagram, Facebook and Tumblr to get the latest updates from her if you are definitely a big fan of her work.