About The Author
For those who enjoy reading the articles I write, the models I promote and the interviews I conduct but want to know more about me, the author and creator of Sexcraftboobs.com, why I dedicated my time to become a blogger in porn. This is my own interview I have conducted and hopes that those who enjoy my work to get know the real me and even would inspire a few individuals that would either get them into watching porn or into blogging, or doing both. And for those who find me odd on social media at times will have a clear understand in some of the personal questions I have answer, so please enjoy my self-interview especially if you are a big fan of my work.
Please enjoy some of these pics throughout this self-interview especially if you are new and unfamiliar to my site or just to porn, or both.
Question #1 So where I come from?
Sexcraftboobs I was born and raise in Mississippi, I'm now currently living in Lamar, South Carolina but me and my family do move to other towns, cities or back to our home state from time to time which is something I have grown a custom to throughout the years.
Questions #2 What have I been up lately? And how is my blog site doing?
Sexcraftboobs The site is doing fine, the progress of blog popularity is somewhat slow though but it is still growing as I continues to add more original contents to help drive further traffic to the site. I have recently added my own official cam site and a forum site to help further expand the Sexcraftboobs brand as well as driving in more traffic to the blog.
Questions #3 How long have I been blogging? And when and why did you first decide to become a blogger?
Sexcraftboobs I have been blogging for almost two and half years. I was greatly inspire by the works of fellow blogger, Raven Azrael who runs the popular site, BoobsRealm.com which is what really got me into blogging.
Questions #4 When was my very first exposure to porn and what got me into big boobs and bbw?
Sexcraftboobs The rarest exposure to porn is when I was at least five or six year old when my older sister took me and my brother downstairs in the living room to watch a late midnight softcore skin-flick on Cinemax while my parents were asleep. I can't recall the name of the movie but there was a scene that was so memorable it instantly got me hook. The scene in that movie depicts a man who wanted to have sex with this woman that has big boobs (not huge tits) as he instantly rips off her dress in seconds which shows all the woman assets. That scene was so memorable to me, I wanted to watch more of these kind of movies and explore or learn more of this unknown genre called pornography. That was my introduction to porn and big boobs, my introduction to bbw is a bit unknown but you can say I've develop this interest or fetish for large women once I have finally reached adulthood.
Questions #5 Do I have a girlfriend or Am I married?
Sexcraftboobs Right now, I'm currently single but I am still looking for that right (not perfect) woman with either voluptuous curved or plumped assets to spend the rest of my life with.
Questions #6 What do I do when I'm not blogging? How is a normal day in my life?
Sexcraftboobs What I'm not blogging, I be mostly playing PS3 games, watching my favorite tv shows and movies on my free time. I also do some story-writing from time to time when I'm not blogging as I am committed to get my first ever novel wrote. Plus, I also do a bit of artwork from time to time which help give me a real image or vision for my story-writing. Not only that, I also do read a few books from time to time like The Complete Fiction Of H.P. Lovecraft which help give me new ideals for my story-writing and improve on it. A normal day in my life is very in-door as I wake up, eat breakfast, do my usual morning check up on twitter and porn sites then get straight down to business with blogging until doing another check up at 3:10 PM, play PS3 games afterward, then go straight back to blogging until around 1 or 2AM where I finally get in bed and call it a night.
Question #7 Is there anything you should know about me that you don't know?
Sexcraftboobs For those who don't know, I'm autistic and I'm not afraid to say that to those who find me odd especially on social media, I don't keep this a secret. If someone say that I'm odd or find me odd, then that because I'm autistic. And if there anybody that has an issues or a problem with that, then why are you on this blog? And why are you following me on twitter if you have a problem with me being odd? If you like my work and like following me, please respect me as a person and don't think you can take an advantage of me just because that I have autism, or I will take action against you! Also, I don't let my autism effect my work as a blogger/affiliate, it doesn't concern me especially for my interest or love for porn. To be honest, I'm actually curious to know if there are other autistic bloggers like myself or if there are any autistic porn stars in the adult industry.
Question #8 Who are my favorite busty models and bbw's?
Sexcraftboobs Oh boy, there are too many models for me to name my favorite. But I have to say that my personal favorite busty models are Karina Hart, Joanna Bliss and Roxanne Miller, those three really left a big impression that made me fall in love with gorgeous european models. My personal favorite bbw models are Sashaa Juggs, Christy Live, Anna Beck and Sweetheart Mia, those four really redefine the meaning of being busty and chubby but voluptuous at the same time, I have to say that there is no other bbw camgirl or porn star that has the right kind of plumped assets except those four.
Help keep Sexcraftboobs alive by checking out my Best Porn Sites Page, my Official Cam Site and my Official Forum Site if you are definitely a big fan of my work.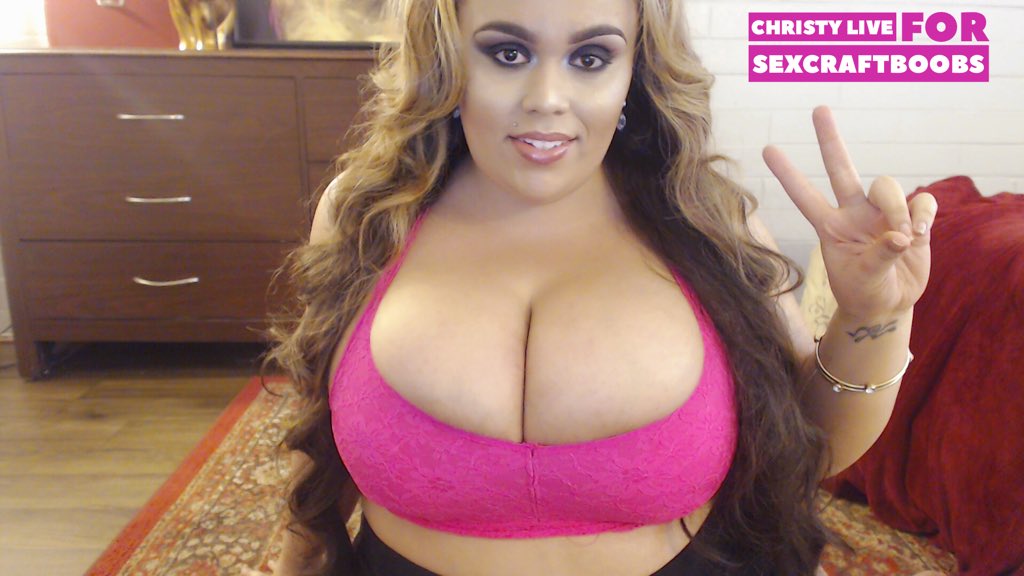 Question #9 Do I find watching porn educational?
Sexcraftboobs Absolutely, models crank out dozen of videos especially when they're collaborating with major porn studios and as a fan, I get learn more about these gorgeous models with every softcore and hardcore videos they produce with these studios. The same thing go to independent models or camgirls who produce their own original contents. To me, watching porn movies are more then just stroking your dick and getting that satisfaction, these videos want you know these performers especially the gorgeous models who are always the main focus of every boy/girl scene. And as a blogger, I do get to know more about my favorite models on another level through these interviews I conduct which deepens my love for all these porn movies they make.
Question #10 Do I have plans to attend or try to attend to live adult events throughout the year or the next?
Sexcraftboobs Yes, I do have plans to attend or try to attend to any live adult events that currently happening or taking place. However I do have traveling issues like not having a car or driver license, got very little money and since I'm still living with my parent to be honest, I can't travel on my own especially due to my disability condition. But I am determined to find some means to attend to an adult event either this year or the next where I can really promote my blog site and finally meet gorgeous models in person. But for right now, I'm currently looking for any busty or bbw models who would like to represent Sexcraftboobs while I try to invest enough money for me to finally attend to an event.
Question #11 Apart from blogging, is there any project that I have or working on to farther expand the blog brand?
Sexcraftboobs Yes, taking a page from Cel (of XX-Cel.com and HeavyOnHotties.com) and NaughtyBoyxxx (NaughtyBoyxxx.com) book, I am currently working on my own small independent porn studio that specializes in shooting both softcore and pov hardcore videos. I already have the essential equipment needed to get the studio fully established, though there are other necessary items and equipment that I currently need to finally get the studio lifted off the ground. Hopefully by the end of this year or the start of next year, the Sexcraftboob Studio will be finally ready to start producing original contents which would definitely help further expand the blog brand.
Question #12 What are my long-term and short-term goals inside blogging and outside?
Sexcraftboobs Regarding to blogging, I'm still focusing on my affiliate programs to help receive further income for both important and personal needs. I'll still be updating the blog site with more new original contents to help further expand the site popularity. As I mention before about my studio, I'm determine to get the Sexcraftboob Studio lifted off the ground so I can start producing my own original contents to help expand the brand that I've created. But as far as my porn studio and blog site was concern, I'm still devoted to my story-writing and hopes to get my first ever novel written so I can build a ongoing series with it. I do have more or other goals that I'm still pursuing but these are only major goals I am currently focusing on at this time.
Question #13 Have I ever got any proposal to work with any major porn studios or photographers?
Sexcraftboobs That is a big fat NO unfortunately. But I am currently collaborating with the well-known porn studio, DivineBreasts.com after I've interviewed the owner. But as far as collaboration with porn studios was concern, I do have plans to collaboration with a few photographers who I have interviewed in the past, so keep a look out for that! 😉
Question #14 So what can fans expect to see from me this year or the next?
Sexcraftboobs With the year coming to a close, fans can expect to see more new updates to my blog. You can expect to see more affiliate promotions of other porn sites, more gorgeous big boobs and bbw models, and more original contents. You can also expect to see the upcoming Sexcraftboob Studio next year if you are definitely a big fan of my work.
Question #15 Do I have any random thoughts?
Sexcraftboobs I'm really getting hook on Mario Bava classic horror film, Black Sunday and getting the hots for horror queen, Barbara Steele who I wish had beautiful huge tits in the movie! 😛
Question #16 Is there anything I would like to add for fans reading this page? Any final words?
Sexcraftboobs I would like to thank those that supported the blog and continues to support it, including few of models like Livy Larue and photographers like Bernard Z. Grate who greatly support the blog. if it wasn't for my good friend, Raven Azrael from BoobsRealm.com and all of you guys and girls the fans, there wouldn't be a popular blog site called Sexcraftboobs.com or the original contents that I'v produced for almost two years and a half now. And for that, I'm really graceful and I will continue to make the blog more popular as long as you, the fans like what I do, including the contents I produce. That being said if you are new or unfamiliar with this blog, then I definitely encourage you to go explore all the features and contents that produced by me and me alone for almost two years and a half, enjoy! 😉
And be sure to follow me on twitter, @Jaura450 and @Sexcraftboobs2 to learn more about me and get the latest updates if you are definitely a big fan of my work.