Ashely Introduction & Contest Canceled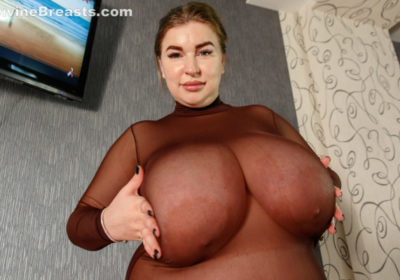 I'm sure by now that many of you've heard that DivineBreasts Studio has introduced a newcomer last year known only as Ashley who is knowns for her voluptuous curved assets which she uses to her full advantage to gains popularity by fans like myself. Naturally likes with many newcomers, she of course aims to make a big impression on fans by showing off that curved physique of hers while exploring the sexuality of hers own natural assets in a series of softcore scenes which is whats gains her popularity for. Thats being said, this is only justs the beginning for her as she aims to entertain fans like myself in exclusive solo scenes that are surely worth checking out.
On top of thats, boob fans like myself are eagerly waiting and hoping to see her do lot more throughout this year like start doing webcam shows, using social media and of course, work with other well-known porn studios which would definitely help further expand her growing popularity. With gorgeous huge tits and a nice round curved ass, Ashley uses these voluptuous curved assets of hers to get everyone full attention from boob fans to horny pervs alike in a mere instant whens it so comes to making a very big impression on those before her. There is no doubt in my mind thats those curved assets of hers would so definitely make any guy dick hard before her in a mere instant especially those melon-size juggs of hers.
To knowledge, she indeeds shows potential as a model who naturally like every newcomer is looking to make a big impression on boob fans like myself by exposing her voluptuous curved assets to the world to gains popularity. And for those who are new and unfamiliar with the lovely Ashley, I highly encourage you to go checks out all of her exclusives softcore contents over at DivineBreasts.com if you are just now becoming a big fan of hers or just a fan of beautiful big boobs.
There is no doubt in my mind that boob fans like myself will definitely expect to see more of the lovely Ashley throughout this year, so better stay tune.
Further expanding this article, many of you on twitter have heard last year that I have finally started the nomination to the epic event known as the Sexcraftboobs Contest where fans must nominate at least 60 models who will compete againsts each others to win the grand prize. Unfortunately, I been having some trouble in moving forward with the nominations in order to get the contest underway but it is stop by issues like models refusing to get involve and me focusing on the interest of my other projects. That being said, Sexcraftboobs.com is sad to announce thats the contest is being postponed or otherwise, temporary canceled (NOT officially or permanently canceled) for the time being.
However, I will eventually try to get the contest back running again at a much later time (hopefully later on throughout this year) but the event is being plagued by too many issues which so definitely indicate that the time isn't right for me to do this. Especially to the fact thats I am eager in getting the upcoming Sexcraftboobs Studio (now known as Sexcraft Studio) lifted off the ground which I will address in the next article but for now, its surely impossible to get the contest running at this time. On top of that, I've already notice thats most of my fellow bloggers are also not doing their annual contest like they use to especially at or around this time which also seems likes the kind of season for me to not do one either.
To my knowledge, I would still like to run the Sexcraftboobs Contest at some given point since it will so definitely help me drive up traffic into the blog site for me to receive income as a an online affiliate who can give this money to the model thats wins the contest. Likes as before you can follows me on twitter, @Jaura450 and @Sexcraftboobs2 to gets the latest new updates if you are a big fan of my work or just looking to sees something new for a change, in the meantime check out these pics to conclude today's article.
As stated before, the Sexcraftboobs Contest is NOT officially or permanently cancaled as I will try to get the event back running sometime in the near future, so better stay tune here for the latest updates if you are definitely a big fan of my work.