Exclusive Interview With Emma Leviathan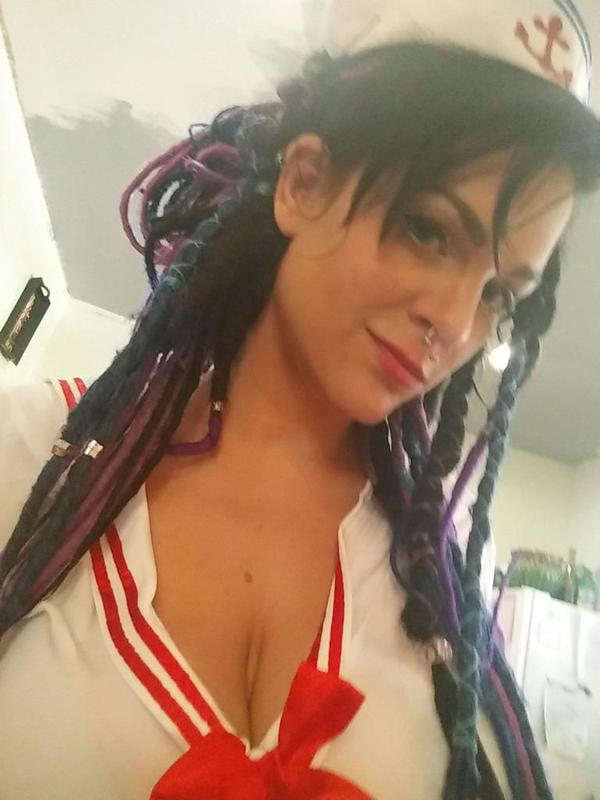 Best known for her natural assets and suicide girl looks, Emma Leviathan is a busty camgirl who somewhat open minded when chatting with boob fans and horny pervs alike on webcam as well as on social media. However, it is uncertain on what her plans are which is either to farther expand her popularity in certain circle as a busty camgirl or go mainstream by working with major porn studios that would thrill many boob fans before her.
On the other hand, she continues to do her webcam shows while making a name for herself by producing her own exclusive contents on an official website by modelcentro which is worth checking out for any boob fan. In this exclusive interview, the lovely Emma Leviathan reveals all and tells us what her plans are in the world of webcam as many boob fans are eagerly wanting to know the answers while hoping to see more or something new from her this year.
As a busty camgirl, she certainly knows how to get everyone attention from boob fans to horny pervs alike in a mere instant especially with those big boobs of hers which is the best part of her natural assets. Like as before you can follow this gorgeous busty camgirl on twitter, @EmmaLeviathan to learn more about her if you are definitely a big fan of hers or just a fan of big boobs, but in the meantime here is my exclusive interview leave you satisfy at the end of the day.
And be sure to check out Emma Leviathan on webcam at Streamate for private one on one sessions with her if you are definitely a big fan of hers.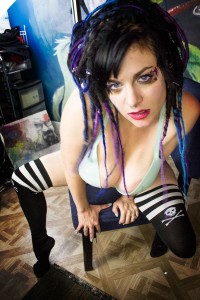 Sexcraftboobs So where are you from?
Emma Leviathan This has to be the question I am asked the most on webcam. I tend not to answer it, but if I do I tend to say Las Vegas. I grew up there, but left when the housing boom devastated the town.
Sexcraftboobs What have you been up to lately?
Emma Leviathan Lately, I have just been trying to get a tree off my roof. It is expensive, and if you don't have enough money to have it removed: Time consuming.
Sexcraftboobs How is your webcam and skype shows doing?
Emma Leviathan It is summer, so they are a little slow. It is unfortunate because once school starts, I won't have as much time to play.
Sexcraftboobs When and why did you first decide to model?
Emma Leviathan It was something I always wanted to do. I remember finding my dad's Playboy/Penthouse and Hustler magazines when I had to clean his bathroom as a chore. The women in the magazine were so beautiful and confident. Later, in my 20's, the Suicide Girls became a big thing. I was in a relationship at the time with an asshole, so I didn't jump into it, but I wanted to. So once I was in a stable relationship for a few years and knew what direction my life was headed, I decided to take the plunge.
Sexcraftboobs Have you watched any porn before you started your modeling career? If you do it? How often?
Emma Leviathan Of course. I used to have to go to the store to get my porn, so it never became a habit. It was so expensive in my youth, but now it is everywhere. I think I would watch a lot more if I had grown up with free porn. My love of porn was reanimated when a porn sent a video in the mail with some sex toys I had ordered. Now I have to make sure I don't get drunk and spend all my money on camgirls. Yes, I have the same problem my members too.
Sexcraftboobs Do have a boyfriend, or are you married?
Emma Leviathan I am happily married to the wonderful @MrBodangles37. He buys me robots and keeps my porn equipment working. He really is an integral part of my porn career.
Sexcraftboobs What do you do when you not modeling? How is a normal day in your life?
Emma Leviathan When I'm not modeling, I'm a mom, student and my own marketing director. What is seen on cam is 'just the tip'. So much goes into graphics, promotions, and just social media.
When I'm not doing porn I'm finishing a degree I started a decade ago. I have so many college credits, I should have my Masters by now, but my serial major switching got me in trouble. Now I'm pretty close to receiving my BA in Communications, but I have studied a lot of different majors.
My time away from school and porn is spent as a Stay-At-Home Mom, so we have adventures whenever we can. Porn allows me extra money to spoil my kid whenever I want. I spent 80 bucks at the thrift store the other day on clothes and toys for my Bubba. He is a very important part of my life, but obviously, I am still my own person.
Sexcraftboobs Now you are a writer, according to your twitter bio? What do you write about or like to write about?
Emma Leviathan I really love the news. When you see small community newsletters and think "Who reads those?" Think of me. I love human interest stories. I think the news is so full of sadness and despair, that the stories about your neighbor's kid winning the family picnic race is important. It helps us remember that the world isn't all bad, even if we are bombarded hourly with stories of death, destruction and scandal.
On that note, I am currently writing a murder-mystery-love story. It is a story about the many ex's I have and how I ended up married and in porn. Some of it is true, some of it isn't, but I will never reveal what is what. It was on Blogger, but I removed most of it when google threaten to remove erotic blogs. It's available on my subscription site, but I haven't updated it in a while. I just haven't been angry enough to write.
Sexcraftboobs Do you like to read books? If so, what kind do you like to read?
Emma Leviathan I love to read. I rarely have the time, but I can be found in the tub or in bed cuddling with my kindle. I love manuals and textbooks. My father always told me "if you don't know how to do something, there will be a book on it." He really inspired my love of books and their usefulness.
When I am not learning how to do stuff, I am reading whatever catches my interests. I'm currently reading the book Monster by Steve Jackson. It is the accounts involving the serial rapist and murderer named Tom Luther. I love true crime, not because I am obsessed with serial killers, but I am interested in human nature. I always find the most interesting stories to be about those who were general good people who end up committing horrible atrocities. I also love other types of stories like The Time Traveler's Wife, Gone Girl, and classics like Tom Sawyer and The Catcher and the Rye.
Sexcraftboobs What is your bra size? When did your breasts start to grow? How was it back then?
Emma Leviathan I am currently a 36DDD. I say that because 36DD is too small and 36E is too big. I have to get my bra's at this size otherwise they just don't have the support I need.
My breast popped up overnight. Seriously. I was a flat chested late bloomer. I remeber kids making fun of me because I had no ass and no chest. This is probably why I found the women in Playboy and Hustler so appealing. When my breast finally showed up, I didn't understand the power I had. I'm still that awkward nerd who was bullied throughout her younger years, but now I flaunt my natural assets for money.
Sexcraftboobs Have you met many fans, both in public and on social media? How do they react? Any conversation so far?
Emma Leviathan No one in person, but I do interact a lot online. I don't make people pay to talk to me. You really just need to be a decent human being who doesn't annoy me and you can get my attention.
Be sure to check out Emma Leviathan manyvids profile for exclusive contents that are definitely worth buying for any boob fan.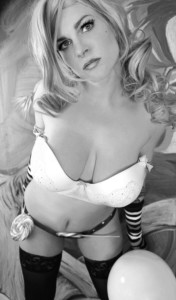 Sexcraftboobs When doing webcam shows, do you like to use a lot of sex toys? What kind do you use?
Emma Leviathan I do. I have so many, from dildos to vibrators. My favorite is my Hitachi Magic Wand. I have used it so much, that it is starting to die. And it isn't even a year old.
Sexcraftboobs Do you ever have any guest come on your webcam shows?
Emma Leviathan Not currently. I am an attendee for January 2016 Camgirl Mansion. I can see that bringing in a few guest stars. If anyone is going to AVN and wants to meet me at the after party in Hugh Hefners former suite at the Palms, go to camgirlmansion.xxx and use the code Emma while purchasing your ticket.
Sexcraftboobs Now you done a lot of softcore stuff as of late, have you done any hardcore videos before or would you like to do one? Or that just not your thing?
Emma Leviathan I do have B/G videos on my subscription site, but even still, I wouldn't call my shows softcore. I rarely do a show without some sort of penetration, and I'm almost always fully nude. I've actually had guys leave my room because I am too hardcore.
Sexcraftboobs Do you like titty-fucking? I love titty fucking.
Emma Leviathan I actually have more sensation between my breast then on my actual nipple, so titty-fucking is a pleasure for me.
Sexcraftboobs Is there any busty or bbw porn star or camgirl you admire?
Emma Leviathan I don't know if she is bbw, but she is definitely curvy. I have a bit of a girl crush on @MissLollipopMFC. She is so beautiful. I love her smile, her compassion, and her down to earth sensibility. Even if she disagrees with someone, she finds a way to be compassionate rather than combative. I really like that about her and can tell she is genuine in everything she does.
Sexcraftboobs What is your short-term and long-term goals inside modeling and outside?
Emma Leviathan I would love to publish my book, graduate college, and maybe start writing for Hustler Magazine. I even named my most recent dog Larry Flynt, hoping he will remind me of my goals of free speech and pervy fun.
As far as modeling, I want to do it until it isn't fun anymore. I really don't know when or if that is going to happen.
Sexcraftboobs Have you ever got any proposals from any adult sites?
Emma Leviathan Daily. haha. I do fit the Girlfriend Experience occasionally. I think people assume a lot about me, and I tend to let them. It is their fantasy, I am not about to go out of my way to ruin it.
Sexcraftboobs How do you promote yourself?
Emma Leviathan Lot's of social media, but recently I got my own Porn-Hub page. I am working on a trailer to put on that so keep an eye out.
Sexcraftboobs Do you have any random thoughts?
Emma Leviathan I switch sites like I switch degrees, so follow me on twitter.
Sexcraftboobs Is there anything you would like to add for fans reading this interview? Any final words?
Emma Leviathan I'm a busy gal, so make an appointment. Sorry I can't jump online every time your penis wants me too. I'm a person with a life, be considerate of that.
Also, Stay in school kids… Just not as long as I did. I took that shit way too far.
Like as before you can follow this gorgeous busty camgirl on twitter, @EmmaLeviathan to learn more about her and be sure to check out her official website, EmmaLeviathan.xxx for all of her exclusive contents if you are definitely a big fan of hers