Video Interview With Porsche Dali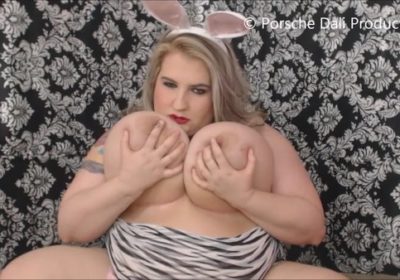 Earlier this month in a recent article, I talked about the lovely Porsche Dali who continues to collaborate with Score Studio in producing new exclusives contents for them whiles still producing new original contents on her official website to please many fans before her. Not only that, she has also maintain a successful career after making her comeback to the adult industry completely renewed by not only collaborating with the same major studios to regained wide popularity but also build up her own brand of porn. That being said, she is still going strong with every new original content thats produces from softcore videos to full-on hardcore action to further expand her wide popularity.
With so beautiful huge's tits with piercing nipples and one fine round huge ass, Porsche Dali continues once more to use these voluptuous plumped assets of hers to gets everyone full attention from bbw fans to horny pervs alike in a mere instant when it comes to pleasing those before her. In this exclusive video interview, the lovely Porsche Dali finally reveals more and tells us whats furthers plans she has within the porn industry as bbw fans are eagerly wanting to knows the answers whiles hoping to see more hardcore action from her this year. And while longtime bbw fans are most definitely looking forward to further studio collaborations with her throughout this year, newcomers are still being introduce her as well.
To my knowledge, she indeed is starting to become a personal favorite of mine as she continues to maintain a successful's career as a gorgeous bbw porn star with voluptuous plumped assets which are definitely one of the many aspects in whats really gains her wide popularity for. Like as before you can follow her on twitter, @Sexy_Porsche to gets the latest new updates from her and be sure to also checks out her official website, PorscheDaliXXX.com for original contents if you are a big fan of hers, in the meantime here is my exclusive video interview to leave you satisfy at the end of the day.
And for those who are new and unfamiliar with the lovely Porsche Dali, be sure to check out all of hers exclusive softcore and hardcore scenes over at PlumperPass.com and XLGirls.com if you are just now becoming a big fan of hers.