Video Interview With Athena Superior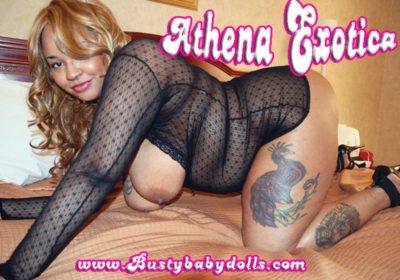 In a recent article, I introduced to you the gorgeous  Athena Superior (aka Athena Exotica) who is a gorgeous ebony porn star that's best known for her voluptuous plumped assets which she uses to gains popularity from fans. Looking to make a name for herself, she continues to further expand her popularity with more original contents from softcore and fetish videos to hardcore action which is most surely worth checking out for any fan who looking to sees something new from her. So thats being said, Athena Superior have already uploaded new original contents to her Clips4Sale Page and evens created a Manyvids Profile for fans to get her money worth.
With beautiful huges black tits and a nice round huge ass, Athena Superior continues once more to use these voluptuous plumped assets of hers to gets' everyone attention from bbw fans or horny pervs alike in a mere instant when it comes to pleasing those before her. In this exclusive video interview, the lovely Athena Superior finally reveals all and tells us what her plans are in the porn industry as many bbw fans are eagerly wanting to knows' the answers while hoping to sees more hardcore action from her. And for those who are still new and unfamiliar with her, I highly encourage you to go check out her collaboration with BustyBabyDolls.com for exclusive hardcore action.
To my knowledge, she continues to shows potential in making a name for herself by proving to bbw fans on what she is capable of especially when it comes to producing original contents and collaborating with porn studios to furthers expands her popularity. Like as before you can follows this gorgeous ebony bbw porn star on twitter, @AthenaSuperior to learns more about her and gets the updates if you are a big fan of hers, in the meantime here is my exclusive video interview to leave you satisfy at the end of the day.
And be sure to check out Athena Superior on webcam at Cammodels.com or Streamate.com for a private one on one session with her if you are definitely a big fan of hers.