Exclusive Interview With Milly Marks
Toward the end of last month in a previous article, I talked once more abouts the lovely Milly Marks who has just made her YesBoobs Debut which pleased and thrilled many fans that wanted to sees more of this very gorgeous sensational busty porn star. Showing no signs of slowing down with her growing popularity, she is still somewhats of a newcomer and has already made a very big impression on fans by simply exposing her voluptuous curved assets especially those melon-size juggs of hers. And on top of that, she does not waste anytime in getting her pussy pounded in by a lucky stud on camera which pleases fans even more.
With gorgeous huge tits and a nice round ass, Milly Marks continues once more to uses these so voluptuous curved assets of hers to get everyone attention from boob fans to horny pervs alike in a mere instant when it comes to pleasings those those before her. In this exclusive interview, the lovely Milly Marks finally reveals all and tells us whats her plans are in the porn industry as boob fans are eagerly wanting to knows the answers whiles hoping to sees more hardcore action from her this year. As a sensational busty newcomer, this is still only just the beginning for her as she aims to work with other well-known and major porn studios throughout this year.
To my knowledge, she indeed's continues once more to show potential as a model who definitely sets out to make a name for herself by not only exposing her voluptuous curved assets to gains popularity but also give fans whats they really wants to see from her. Like as before you can follow her on twitter, @MillyMarksxxx to learn more about her and be sure to get the latest updates if you are a big fan of hers or just a fan of beautiful big boobs, in the meantime here is my exclusive interview to leave you satisfy at the end of the day.
And be sure to check out all of the softcore and hardcore scenes from the lovely Milly Marks over at ScoreLand.com if you are definitely a big fan of hers.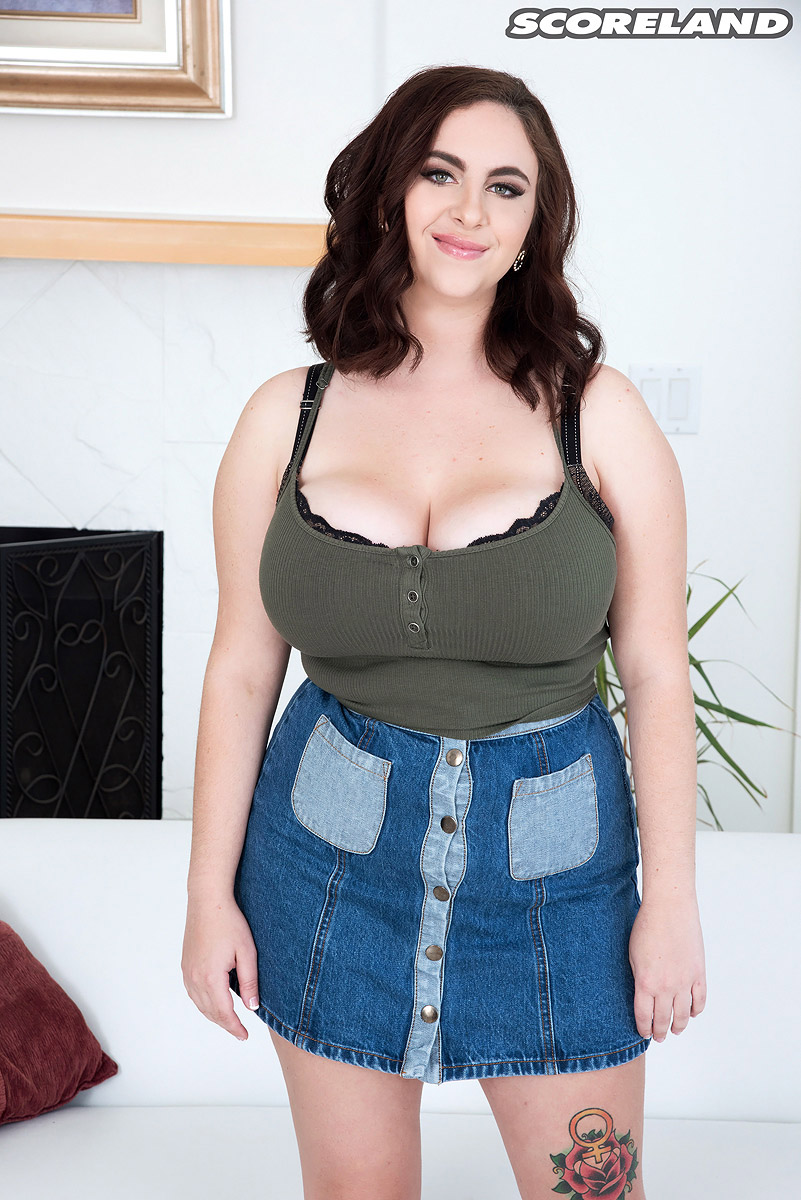 Sexcraftboobs So where are you from?
Milly Marks I'm from beautiful South Florida. I move around a lot though, I currently live in Texas.
Sexcraftboobs What have you been up to lately?
Milly Marks Lately, I've just been doing a lot of traveling for both work and play. I'm always taking advantage of not having a normal 9-5 job.
Sexcraftboobs How long have you been modeling? And when and why did you first decide to model?
Milly Marks I started just a few months ago professionally with Score and I'm totally loving it. I really just wanted to try something new and I'm so glad I did.
Sexcraftboobs Have you done any webcam and skype shows before?
Milly Marks I've done a couple skype shows and plan to start doing them regularly. (Millymarks20@gmail.com if you'd like to plan a skype date) I have a done a live cam show before but that was quite a while. I also plan to start regularly camming on MFC (MyFreeCams.com), so you'll find me on there soon enough! 😉
Sexcraftboobs Have you watched any porn before your modeling career? If you do it? How often?
Milly Marks I didn't watch much porn before I started doing it but I did know of a few porn stars such as Siri who I admire greatly. I watch porn now more often because it floods my twitter timeline and I think watching will help me to perform better! 🙂
Sexcraftboobs What kind of personality do you have as a model?
Milly Marks I think my personality as a model is the same as when I'm just being a normal person at home. I'm quirky and horny and love to just have fun. I'm always dancing or messing around on set! 😛
Sexcraftboobs Do have a boyfriend, or are you married?
Milly Marks I do have a boyfriend and he's amazing. I love to watch him fuck other girls and sometimes I join. Other times, he just watches me fuck girls. It depends on our mood I guess.
Sexcraftboobs What do you do when you not modeling? How is a normal day in your life?
Milly Marks When I'm not modeling, I'm hanging out with my cool sexy stripper roommates/best friends. We like to go to the casino or the bar or just hang around by our pool. Our house is basically known as a party house which is fine with me cause I like being in the comfort of my own home. If I'm alone on occasion I just like to binge watch shows on Netflix or just read a good book.
Sexcraftboobs What is your bra size? When did your breasts start to grow? How was it back then?
Milly Marks Right now, I've been wearing a size 36HH… however I'm spilling out of it so it maybe time to size up. My breasts started growing at a very young age. I remember being a DDD when I entered high school. It was always something people noticed about me and that hasn't changed a bit.
Sexcraftboobs Do you sell bras and panties to fans?
Milly Marks I haven't sold any bras or panties yet but I would love to so if I have any fans interested in buying them… Email me or let me know on twitter! 😉
As her wide popularity continues to grow, it only a matter of time before other porn studios and male talents take notice of the lovely Milly Marks who has definitely impressed fans like myself with her gorgeous huge tits.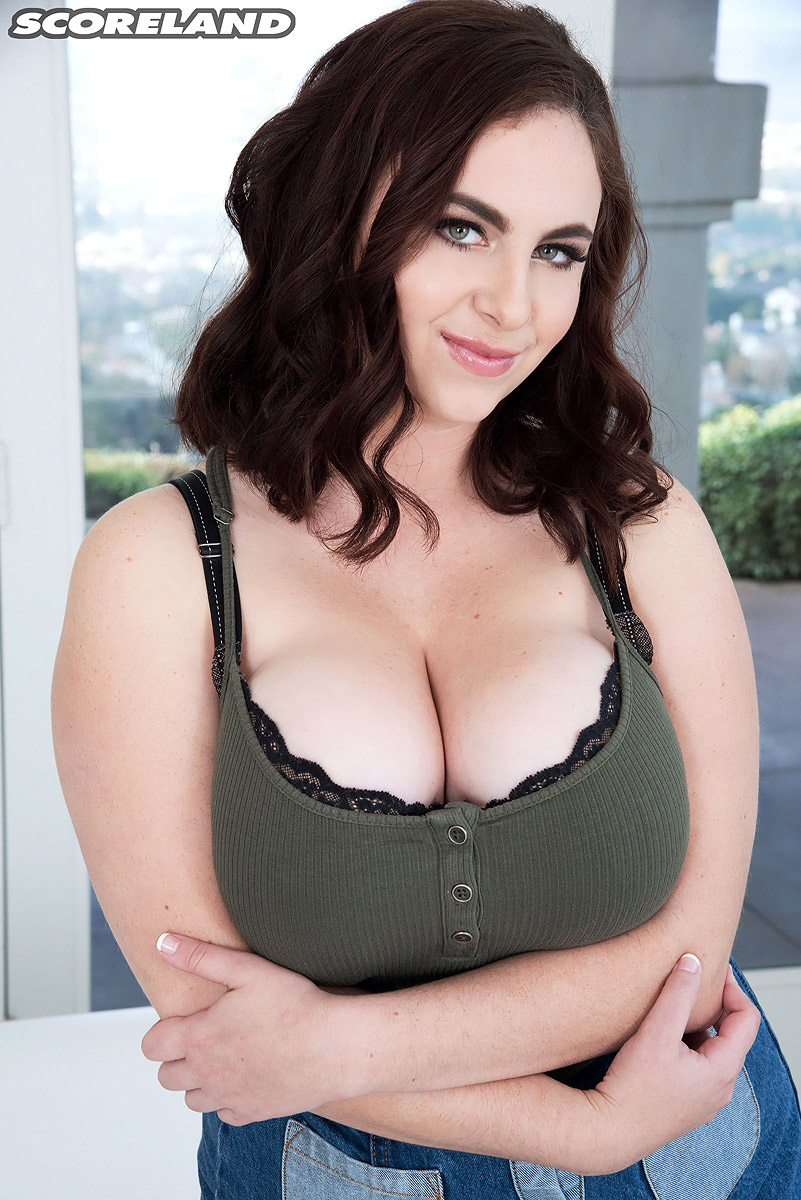 Sexcraftboobs Now you have done hardcore videos, but have you done any anal scenes? Do you like getting anally fuck on camera? Or that just not your thing?
Milly Marks I haven't done any anal scenes yet but maybe someday. I do enjoy it very much in my personal life.
Sexcraftboobs Apart from anal, is there anything else do you prefer or like to prefer? Spit, swallow or facial?
Milly Marks I love facials. I love being covered in a mans cum. Just call me cum queen! 😛
Sexcraftboobs What about Interrracial, Orgy Group Sex, DP or Bukake?
Milly Marks I have not done any of these things on camera!
Sexcraftboobs Do you like titty-fucking?
Milly Marks I like being titty-fucked and knowing I have the power to make a man cum with just my big tits! 😛
Sexcraftboobs How do you masturbate?
Milly Marks I mostly just play with my clit until I cum all over myself.
Sexcraftboobs What are your sexual fantasies about?
Milly Marks My sexual fantasies mostly include multiple people. I've always wanted to participate in a group orgy.
Sexcraftboobs If you had three wishes, what would you wish for?
Milly Marks I would wish for a way to clone my dog, not to ever worry about money, and to fuck John Mayer! 😛
Sexcraftboobs What is your short-term and long-term goals inside modeling and outside?
Milly Marks As far as modeling, I'd like to go as far as I possibly can because it's something I truly enjoy doing. Outside of modeling, I'd like to finish up school and invest in quite a few big ideas I have.
Sexcraftboobs How do you promote yourself?
Milly Marks I mostly promote myself through twitter, @MillyMarksxxx which is where you can find me! 😉
Sexcraftboobs Do you have any random thoughts?
Milly Marks Of course! I have random thoughts all the time! 😛
Sexcraftboobs Is there anything you would like to add for fans reading this interview? Any final words?
Milly Marks Yes, I would like to thank all of my fans for their love and support that they have shown me, I would also like to thank Sexcraftboobs for this interview. And for those reading this interview, stay tune for more great things from me! You won't be disappointed! 🙂 😉
Like as before you can follow her on twitter, @MillyMarksxxx to learn more about her and be sure to check out all of her softcore and hardcore scenes over at ScoreLand.com if you are definitely a big fan of hers.
And for those who are still new and unfamiliar with the lovely Milly Marks, here is the previous teaser of her official hardcore debut from ScoreLand.com to sign this interview off, enjoy! 😉