Spring Season For Roxanne Miller
While continuing to work with other porn studios in Europe, Roxanne Miller has been planning to start her own modeling business as she tries to recruit any Romanian model or camgirl for a photo/video trade shoot. This also includes recruiting busty and bbw individuals as well as newcomers who are looking to make a name for themselves in either the world of modeling or webcamming to gain wide popularity from fans.
Roxanne also encourage her fans to support her by finding any Romanian camgirl or model to do a photo/video trade shoot, this also includes bloggers like myself to seek out anyone of her nationality is interested in this kind of offer. Not only that, she also encourages her fans to come to her webcam shows more for chatting and private sessions to raise money for her modeling business where she could pay each individual model or camgirl for a photo/video trade shoot.
She have recently posted a sign up on her twitter page to let everyone know that she looking for anyone from Romanian or in Europe, both busty and bbw alike who interested to doing a photo/video trade shoot with her. As a blogger, I encourage both fans and newcomers alike to support her in this project by visiting her webcam shows to raise money and finding any model or camgirl of her naturality, including new ones to recruit.
If you know any model or camgirl who is from Europe or Romania, please contact me or Roxanne Miller to get in touch with this certain individual.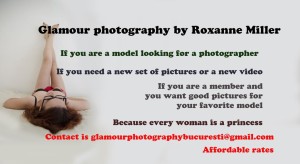 And while working for other porn studios and trying to start her own modeling business at this time, Roxanne Miller have recently posted up some articles on her website a few week ago, including some pics of her walking in the park with her bicycle. With the spring season just now starting, this is first of many exclusive pics that can be seen on her official website as she continues to post more up and expresses herself more like in the previous recent articles.
So if you love reading the article about her as cammodel or the one about letting your fears go then be sure to keep visiting her website to see more of these if you are definitely a true fan of hers. And as mentioned before in my recent article, she is still working with BustyBrits for more photo/video shoots this month which are definitely something worth looking at and collecting around this time for any fan.
If you have not yet become a member of BustyBrits then I encourages you to go signup and check out Roxanne Miller profile for all the exclusive contents from her on there if you are a true fan of hers. Also on a side note, Roxanne has just change webcam screen name on MyFreeCams so be sure to check that out as well as her camming schedule for those who are new on there and just now becoming big fans of hers.
Like as before, I will keep you posted on the latest news about your busty and bbw porn stars and camgirls, while in the meantime check out these latest pics from Roxanne Miller to leave you satisfy at the end of today article.