Skyler Blu Jai Update & My Semi-Studio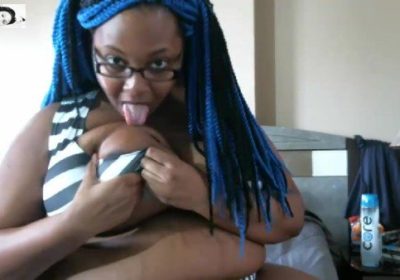 Now I know I haven't talked much about the so lovely Skyler Blu Jai who has somewhat done a bit last year (according to my knowledge) to furthers expands or boosts her popularity as a gorgeous ebony bbw camgirl with voluptuous plumped assets. After getting her official website made's earlier last year, she has produced some originals contents from solo and weird fetishes videos to girl on girl and boy/girl action which are worth checking out for any fan who is looking to sees something different for a change. Not only that, Skyler Blu Jai also attended to a few live adult events throughout last year and is currently this year collaborating with a few male talents like the awesome Jake Matthews to help further expand her popularity.
Thats being said, bbw fans are eagerly waiting and hoping to sees her finally get a big break into mainstream success this year and start collaborating with a few major porn studios which would definitely further expand or boosts her popularity. With beautiful huge black tits and one fine round huge ass, Skyler Blu Jai continues to use these voluptuous plumped assets of hers to get everyone attention from bbw fans to horny pervs alike in a mere instant when it comes to pleasing those before her. There is no doubt in my mind that those ebony plumped assets of hers would definitely make any guy dick hard before her in a mere instant.
To my knowledge, she indeed continues to show potential as a model who looking to further build up her own brand of porn and simply gains further popularity from it by bbw fans that of course are always looking to see something new or different for a change. Like as before you can follows her on twitter, @Skyler_Jai to get the latest updates and be sure to also checks out her official website, SkylerBluJai.com for originals contents if you are a big fan of hers or just a fan of beautiful ebony plumpers.
And be assured that a video interview with the lovely Skyler Blu Jai is in the works, so better stay tune here at Sexcraftboobs.com for that if you are definitely a big fan of hers.
Further expanding this article, I'm sadly to announce that the Sexcraftboob Studio won't be green lit at this time or this year due to the progress of it taking way much longer then expected which definitely prevents me from collaborating with models in person. But on the spectral-side of things, there is a way for me to produce my own original contents with models (and not by interviewing them) and thats is by setting up a semi-studio where I can collaborating with these gorgeous models to produce my own brand of porn online. There is only a few small independent porn studios that are currently doing or conducting this kind of concept and so far, I haven't heard any negative comments or reaction to this concept.
That being said, I'm gonna be taking a page out of AaronBSamStudios book in recruiting models of my own to collaborates with in producing my original contents online from softcore videos to hardcore action to helps makes Sexcraftboobs.com even more popular. Not only that, I mentioned that 2017 is when I am gonna be taking bigger risks to further expand the blog brand and this semi-studio is one of my upcoming new projects for this year that;s I be currently working on, in case the official studio doesn't get green lit. Furthermore, I am still getting my patreon account setup to help support the semi-studio as well as other projects I'm still going on at this time.
To my knowledge, whiles I maybe upset to the Sexcraftboob Studio green lit due to certain major issues I am having at this moment but that not going to stop me in getting this semi-studio fully setup and set these other upcoming projects in motion. Like as before you can follow me on twitter, @Jaura450 and @Sexcraftboobs2 to get the latest updates on my upcoming projects for this year if you're a big fan of my work and want to see something new or different from me for a change.
Help keep Sexcraftboobs.com alive by checking out the Best Porn Sites Page or make a donation of $10 or $20 at PayPal.Me/Sexcraftboobs to support the blog if you are definitely a big fan of my work.