Roxanne Miller Boobs Series & Pregnancy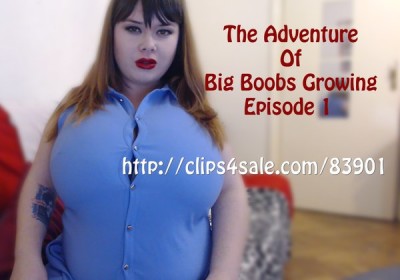 Many of you may know by now thats Roxanne Miller has a Clips4Sale Page where she has started a video series in which focus'es on Breast Expansions as her beautiful huge tits continues to grow and bust out of her clothes as well as tight bras. Now for many busty camgirls and porn stars, breast expansions are just a common fetish in when a model discovers how big or huge her boobs has grown to a crazy and insane rate within the last month or two which would makes any guy dick hard after seeing that's. While not a popular trends, breast expansions are mostly associated with busty softcore camgirls and porn stars who explore's the many ways on how their boobs could get bigger over time.
That's being said, Roxanne Miller has taken a simple fetish ideal and turn it into a video series which no other busty models have not done (at least to my knowledge) as she continues to post's the latest episodes on hers clips4sale page that are most definitely worth buying. With beautiful huge tits, she certainly knows how to get everyone attention from bbw fans to horny pervs alike in a mere instant when it comes to softcore action and producing boob fetish videos to further expand her popularity. Not only that, she definitely has a creative way in producing new exclusive contents to please many boob fans who looking to see's something different for a change.
To my knowledge, the concept of a breast expansion series is indeed something that other busty camgirls and porn stars should explore besides making one or two videos of it (unless it a custom video request from a fan) to draw's many boob fans in. And plus, it would be a so awesome concept for Roxanne Miller to continues the series with a second season (making it like an actual tv series) with hopefully special guest appearances thats would definitely draw in more boob fans who looking to get their money worth for each episode.
If you are a big fan of Roxanne Miller and all of softcore scenes from Score and other porn sites, then you will definitely love her breast expansion series.
And those who have not heard, Roxanne Miller brokes news on twitter last week she is now official with child which may upsets some fans whiles others are happy for her in becoming a mother as well as getting biggers boobs in the next six to nine months. Not only that, she has also expressed her thoughts abouts doing preggo videos and photo-shoots which would definitely thrill many fans to know that she is still going to be modeling other then stopping on it or retiring from it due to her pregnancy. And it is clear to my knowledge thats she is definitely so gonna do preggo videos for her Clips4Sale Page and official website, ExoticRoxanne.XXX as new exclusive contents, if she is considering it.
But apart from that's, she still aims to further expands her career as a photographer who looking to help other fellow romanian models from average to busty and bbw alike in getting their names out there to further boost their popularity. That being said, if Roxanne Miller is ever in no condition to be modeling due to her pregnancy then fans can at least see her artistic skills as a busty photographer improves with more so amazing photos of other fellow romanian models. And there is no doubts in my mind that's she will definitely experience her own breasts naturally expanding and insanely huge during her six or nine months pregnancy.
To my knowledge, this is indeed a big step' or change in the life of Roxanne Miller who will be a mother in the next several months which have already upset some fans while others are happy and hopes to see her boobs become insanely huge. You can follows hers on twitter, @RoxxxanneMiller as wells as her other social links to get the latest updates on her condition and be sure to also checks out the latest episodes of hers growing big boobs series if you are definitely a big fan of hers.
Congratulation to the lovely Roxanne Miller who is going to become a mother with beautiful insanely huge tits in the next several months.