Queenxxx Exclusive Halloween Photosets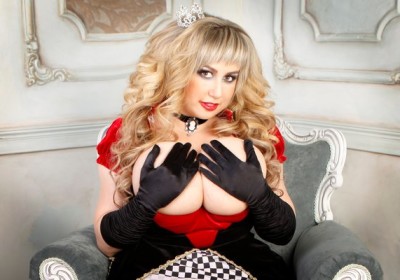 I originally had intended to do an article or extensive article this past Halloween but unfortunately I was really busy planing out the first upcoming annual Sexcraftboobs contest as well as reconstructing my blog site which you should be aware of by now. But apart from that, a lot of your favorite busty and bbw models has posted pics up on social media all last month to show off their sexy Halloween costumes which are definitely worth checking out for any fan who looking to see something new.
Even the busty russian camgirl, Queenxxx not only shows off a few of her sexy Halloween costumes but done a complete photosets in them on her official website where she was dressed up as your typical wick witch but more horny with beautiful huge tits. Her sexy costumes will definitely put a spell on you and make your dick hard all night long especially when she is putting a great cam show for those who looking to get their money worth for a private one on one session with her.
Not only that, Queenxxx exlusive photosets will also defintely make you look forward to next Halloween and what sexy costumes that she might wear if you love her as a busty and horny wick witch who can instantly put a spell on you especially with those beautiful huge tits of hers. And as we are also entering the month of November, boob fans will definitely be looking forward to a possible special photoshoot for Thanksgiving, exclusively on her official website if you enjoyed or loved her sexy Halloween photosets last month.
Be sure to follow her on twitter, @_Queenxxx_ or on facebook, Alice Romanova for latest new updates if you are definitely a big fan of this gorgeous busty russian camgirl and is looking to see something new from her each month exclusively on her official website. And be sure to tune in here on Sexcraftboobs for latest new updates on your favorite international and european busty models from british to russian as well as those all around the world in general if you are a big fan of my work.
Before concluding today's article, I am currently working on the first ever upcoming annual Sexcraftboobs contest which will start sometime next year or sooner after an exclusive interview with a major porn studio that I am also conducting at this time. Check out my previous updated info about the annual contest for those who are new to my site and not caught up with this news at this time, if you are definitely interested in taking part of this upcoming event which boost Sexcraftboobs popularity further.
For those who are newcomers or unfamilar with her, check out my exclusive interview with the lovely Queenxxx if you are definitely a big fan of hers.

Loading ...