More Tanya Ivanova & MiaBigTits Cam Show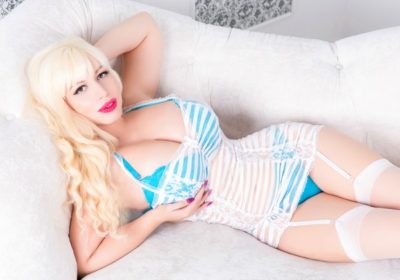 Now it has been a while since I last talked about the lovely Tanya Ivanova (aka Dark Queen) who continues to further expand her popularity and make a name for herself by producing more original softcore contents which are surely worth checking out. But apart from that, I am gladly to announce thats the gorgeous Dark Queen herself now supports Sexcraftboobs.com and is now a proud member of the community for the fansign pic she has given to help further expand it popularity. I only wish this could be more awesome if I have a custom t-shirt to give out and to other featured models but unfortunately it going to be awhile to get them made.
That being said, I definitely accept the fansign pic as approval for her support which also comes to show how awesome she is as a busty camgirl with a fun personality and she continues to show great potential in makings a name for herself. With beautiful huge tits and a nice round ass, Tanya Ivanova continues to use these voluptuous curved assets of hers once more to gets everyone full attention from fans to horny pervs alike in a mere instant when it comes to pleasing those before her. And I am sure that everyone is still hoping to sees' her collaborate with major porn studios in the near future which is always something worth looking forward to.
But apart from that, it an honor for the lovely Tanya Ivanova to be supporting Sexcraftboobs and being a member to the community which so definitely come to show how the blog site popularity is growing with models submitting fansign photos. Like as before you can follows this gorgeous busty camgirl on twitter, @1Dark_Queen1 to gets the latest new updates from her and be sure to checks out her official website, TanyaIvanova.xxx for all of her original softcore contents if you are a big fan of hers or justs a fan of big boobs.
And be sure to check out my Exclusive Interview With Tanya Ivanova to learn more about her if you are definitely a big fan of hers
Further expanding this article, I am sure by now that many of you have heard or even seen MiaBigTits collaboration with busty camgirl, BabyDollNikolexxx on webcam last month whichs thrilled many boob fans who looking to see lesbian action. Now it been awhile since I last talked about the lovely MiaBigTits who continues to further expands her popularity through webcam shows which I do have to say that are most definitely worth check out for any boob fan that so looking to sees something new or different for a change. That being said, seeing her collaborate with another busty camgirl for lesbian softcore action on webcam is definitely worth checking out.
Aside from thats, BabyDollNikolexxx is best knowns for her voluptuous curved assets which she uses to pleases and thrill boob fans who are definitely looking to gets their money worth for a private one on one session with her. With beautiful huge tits and a nice round asses, the two gorgoeus camgirls uses these voluptuous plumped assets to their advantage to gets everyone attention from boob fans to horny pervs alike in a mere instant when it comes to lesbian action. There is no doubts in my mind thats the combine forces of their curved assets would definitely make any guy dick hard before them in a mere instant.
To my knowledge, seeing lesbian action on webcam or in a scene have so never been a favorite of mine but there are some acceptions especially with the right busty models being so feature which would most so definitely makes up for a great webcam show or scene on the prefect night. You can follow these two gorgeous busty camgirls on twitter, @MiaBigTits and @KittyChantellxxx to gets the latests updates from them and be sure to check out their webcam shows at Chaturbate.com for private one on one sessions with them if you are a big fan of these two.
In the meantime check out these pics from their awesome webcam show last month if you are definitely not convinced by my words.