MissLingLing Debut & Throwback Thursday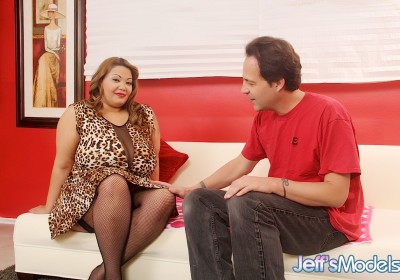 Now it been a while since I last talked about the lovely MissLingLing who haves definitely been on a roll as of late especially afters making her PlumperPass Debut and collaboratings with a couple of independent male talents as well as attendings to live adult events. And now, she has made her JeffsModels Debut where she gets pounded in by a lucky stud on camera whichs is definitely worth watchings and would pleases anyone who a big fan of hers or just looking to see something new. I am sure to my knowledge thats those huge tits of hers would makes any guys dick hards for her in a mere instant afters watching her official debut scene.
That being said, JeffsModels popularity continues to grow with every new bbw porn star they collaborate with in producing exclusive new contents and MissLingLing is now the latest edition to be added to their library to please many fans before them. With beautiful huge tits and a nice round ass, she definitely knows how to use these voluptuous assets of hers to get everyone full attention from fans to horny pervs alike in a mere instant when it comes to getting fuck by a luck stud on camera. And there is no doubts in my mind that bbw fans are definitely hoping and expecting to see more hardcore action from her after watching her debut scene.
To my knowledge, she indeed looks gorgeous as always and her debut scene is definitely worth watching as she aims to further expand her popularity by getting fuck once more on camera to please so many bbw fans who looking to see more hardcore action from her. Like as before you can follows this gorgeous porn star on twitter, @LingLingBBW to learn more abouts her and be sures to also checks out her official clips4sale page, MissLingLingClips.com if you are a big fan of hers or just a fan of beautiful plumpers.
And be sure to check out my Exclusive Video Interview with MissLingLing for those who are still new or unfamiliar with her and are just now becoming big fans of hers.
In other news, I am planing to do a series of articles dedicated to "Throwback Thursday" where I talk abouts some of the well-known models from the past which help introduce them to those who are new or unfamiliar with them. Since it takes a while for fans to get the latest news, this series will help introduce newcomers to the models of yesteryear from big boobs to bbw alikes and learn something about them as well as info about their whereabouts or if they are still modeling. While fans are enjoying these new up and coming models, but newcomers to porn are becoming more invested with past models.
Not only that, Throwback Thursday will also helps shed a bit of info about things that fans did not know about from their favorite models which would encourage them to gets caught up with every past model filmography to find new things such as forgotten videos. With that being said, I be talking abouts past camgirls, porn stars and even glamour models in this new series of articles to helps those who are justs now becoming big fans of past models and want to learn more about them at this time. Furthermore, you can say thats the new series is somewhat educational in a way for many newcomers who lookings to become more invested with porn after becoming fans of newer models.
I be doing this series every Thursday for newcomers while still giving the latest news for fans throughouts the rest of the week and I might also do a series of articles dedicated to "Titty Tuesday" but thats will be discuss in a different article. Also, be sure to checks out my good friend, Raven of BoobsRealm.com who also doing a series of articles dedicated to Throwback Thursday especially if you are a big fan of big boobs and wants see more busty models from yesteryear.
In the meantime enjoy these pics of the lovely Lisa Canon from XLGirls.com to leave you satisfy at the end of today's article.