Maddy Sweetie Sloppy Spite Fetish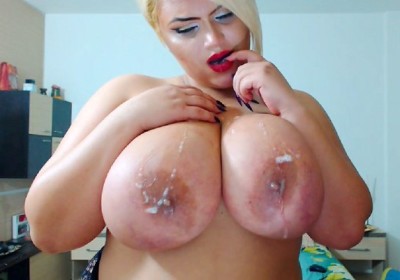 Since after my video interview with Maddy Sweetie, I been checking out her webcam shows as of late and I have to say that they are amazing since she definitely knows how to put on a great show when fans come to get their money worth. And while she is known for her voluptuous curved assets, she is also best known for her spite fetish and has a talent for it especially when getting those huge tits of hers all sloppy which is what makes her cam shows more sensational to watch. To be honest, I was not much into spite fetishes but after checking out her webcam shows she has made me a big fan of it.
But apart from that, webcam shows seems to be the only thing that she can do at this moment since there are some boob fans who would certainly love to see her produce exclusive new contents and make a name for herself as a sensational busty camgirl. There is no doubt in my mind that fans would definitely get their money worth to buy her softcore and spite fetish videos from a Manyvids Profile or a Clips4Sale Page which would further expand her popularity with new contents. And just imagine how many fans she gets when having her own official website by ModelCentro which would surely establishes her as a sensational busty camgirl.
To my knowledge, Maddy Sweetie is definitely a fan favorite and not just because of those voluptuous curved assets but for her spite fetish which she is best known for as many fans refer her as the "Blowjob Queen" on webcam because of the sloppy blowjob sessions. With that being said, we as fans can only hope to see her go beyond her webcam shows and starts producing exclusive new contents from softcore to spite fetish videos which would definitely be worth buying for anyone who is looking to something different and sloppy from her this year.
For those who are not big fan of spite fetishes, check out these pics of Maddy Sweetie sloppy blowjob session that would definitely make you change your mind about spite fetishes.