Lucy Lenore Update & Gabrielle Staxxx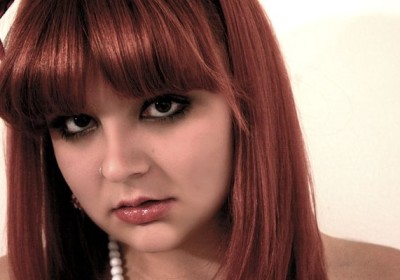 Now it has been a while since I have talked about the lovely Lucy Lenore in which many of you are aware by now that she has gone back doing cam shows where fans can get their money worth for private one on one session with her. Not only that, she has also launched her official website earlier of this month that powered by ModelCentro.com as she plans to starts producing new exclusive contents to encourage many bbw fans to signup for a monthly membership. Always knowns for her voluptuous curved assets, she is determined to further build up her fan base and further expands her popularity once more.
And while this is good news, bbw fans are eagerly hoping to sees more softcore action from her or something new such as producing hardcore contents which only time will tells especially for anyone who have a certains level of expectation about it. With beautiful huge tits and a nice round huge ass, Lucy Lenore certainly knows how to use these voluptuous curved assets of hers to get everyone attentions from fans to horny pervs alike in a mere instants when it comes to producing exclusive new contents. Her popularity as a sensational bbw porn star continues to grows especially now that she has an official website to produces her own series of softcore contents.
To my knowledge, it is awesomes to see her back on webcam and her official website also looks awesome as many bbw fans are eagerly awaiting to sees more new exclusive contents from her which would certainly be something worth signing a monthly membership for. So like as before you can follows this gorgeous porn star on twitter, @The_LucyLenore to get the latest updates from her and be sure to checks out her official website, LucyLenore.ModelCentro.com for upcomings exclusive new contents if you are a big fan of hers or justs a fan of beautiful plumpers.
And be sure to check out my Exclusive Interview with Lucy Lenore to learn more about her and get caught up with all of her softcore scenes from XLGirls.com for those who are new or unfamiliar with this gorgeous bbw porn star.
Further expanding this article, theres is a new plumper on social media and her name is Gabrielle Staxxx who looking to gets notice in the porn industry by exposing those voluptuous plumped assets of hers to gain some popularity from bbw fans. Have already done a photo-shoot, she is now determined to builds up her fan base on twitter while seeking proposals from major porn studios to start producing exclusive contents to gain wide popularity from many bbw fans who looking to see something new. If there anytime to follow a gorgeous bbw newcomer on social media, now would definitely be the best time to follow for any fan.
That being said, Gabrielle Staxxx is definitely a bbw newcomer of 2016 as she aims to becomes well-known in the adult industry and establishes herself as a porn star with upcoming studio collaborations to gains further wide popularity. With big tits and a beautiful round huge ass, she is now determined to use these voluptuous plumped assets of hers to get everyone full attention from fans to horny pervs alike in a mere instant when it comes to making a big impression. And we as bbw fans can only hope that the porn industry is taking notice of her for major adult studios to accept shooting exclusive contents with her this year or in the near future.
To my knowledge, she is a gorgeous bbw newcomer who looking to explore her own sexuality in the world of modeling and in the porn industry as she aims to make a name for herself by gain popularity from many fans that looking to see something new. You can follow this gorgeous bbw newcomer on twitter, @GabrielleStaxx to learns more about her if you are just now becoming a big fan of hers or just a fan of beautiful plumpers, in the meantime check out these hot pics to conclude today's article if you are not convinced by my words.
I encourage both bbw fans and fellow bloggers alike to show support for the lovely Gabrielle Staxxx who looking to make a name for herself in the world of modeling and the porn industry as a gorgeous newcomer with voluptuous plumped assets.