Kitti Karella And Porn Site Reviews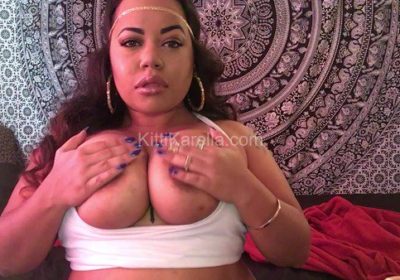 Best known for her voluptuous plumped assets, Kitti Karella is an ebony bbw camgirl who has made a name for herself over the years by doing a lots more then justs putting on a great cam shows for many fans to gain popularity. Like with many of today's camgirls, she aims to forge her own brand of porn by producing her own originals contents, everything from softcore videos to hardcore action for those who looking to get their money worth to see something new. So thats being said, her popularity continues to grow with every original content she produces while also entertaining those before her on webcam with private one on one sessions.
On top of thats, bbw fans are eagerly waiting and hoping to see her do a lot more like collaborating with a fews major porn studios to produce new exclusives solo and hardcore contents for them which would definitely helps furthers expands or boosts growing popularity. With beautiful huge black tits and a nice round curved ass, Kitti Karella knows how to use these voluptuous plumped assets to her advantage to get everyone attention from boob and bbw fans to horny pervs alike in a mere instant when it comes to pleasing those before her. There is certainly no doubt in my mind thats those ebony plumped assets of hers would definitely make any guy dick hard before her in a mere instant.
To knowledge, she indeeds shows potential as a model who definitely knows how to makes a name for herself by forging her own brand of porn, producing originals softcore and hardcore contents to furthers expands that of her growing popularity. You can follow this very gorgeous ebony bbw camgirl on twitter, @KittiKarella to learns more about her and be sure to checks out her official website, KittiKarella.com for original contents if you are a big fan of hers or just a fan of beautiful black plumpers.
And be assured that an exclusive interview with the lovely Kitti Karella is in the works, so better stay tune here at Sexcraftboobs.com for that if you are definitely a big fan of hers.
Further expanding this article, many of you maybe right now planing out your New Year Resolution on what you might be devoting most of your time with in 2018 while I myself is already getting a head start with one of my resolutions. At this time right now, Sexcraftboobs.com will be giving many of you fans a lots of weekly updates on some of today's hottest and most popular adult sites likes BangBros.com and RealityKings.com which will be feature in the Porn Site Reviews category section. Since I never done much updatings on these majors adult sites in the previous years, this early New Year Resolution will be definitely make up for that.
I will also continues to do the usual updates on other porn sites like ScoreLand.com and XLGirls.com while also doing a lot more new updates on sites like BBWHighway.com and ScaleBustinBabes.com which would definitely help draw in more fans interest. I'm sure by now that many of you are aware that as a blogger, I am also an online affiliate which is something I've been pretty successful this past year and last year when it comes to gaining or receiving income for my online affiliate work. In order to keep Sexcraftboobs.com up and running, I encourage many of you to go gets yours money worth by coming onto this blog site and signup on these popular adult sites.
That being said, fans will definitely expects to sees a lot more updates on these popular adult sites I've just mentioned at this time and all throughout 2018 where again, I highly encourages you to comes onto this popular blog site to get your money worth. Like as before you can follow me on twitter, @Jaura450 and @Sexcraftboobs2 to gets the latest new updates if you are a big fan of my work or just want to see something new for a change, in the meantime check out these pics to conclude today's article.
And be assured that I will also still be promoting a lot more camgirls and porn stars throughout 2018 from big boobs to bbw alike, so better stay tune.