Giggles 4U Update & Join Rodney Moore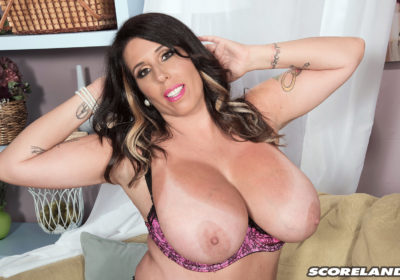 I am sure by now that many of you have heard that the lovely Giggles 4U (or Amaya May) has lost her main twitter account and was forced to makes a brand new one as she aims to rebuilds her growing fan base of followers. Not only thats, she also been having a rough time with financial issues which makes it difficult for hers to continues on with her mainstream career as an established busty porn star who many fans hopes to see more of throughout this new year. So that's being said, she now continues to do more webcam shows as she encourages many of her fans to come get their money worth for a private one on one session with her.
But apart from that's, I am sure that many boob fans hope to sees her do a lot more throughout this new year like start setting up a Clips4Sale Page and a Manyvids Profile as well as start producing her own original contents on an official website (powered by ModelCentro.com) which would helps hers greatly. With beautiful huge tits and a nice round ass, Giggles 4U continues to uses these so voluptuous curved assets of hers to gets everyone full attention from boob fans to horny pervs alike in a mere instant when it so comes to pleasing those before her. As mentioned before, there is no doubts in my mind that those curved assets of hers would definitely make any guy dick hard before her in a mere instant.
To my knowledge, it was indeed awesome for boob fans like myself to see Giggles 4U finally makes her official ScoreLand Debut last year as Amaya May who many of us would definitely hope to see more of throughout this year as well as many years to come. You can follow this gorgeous busty porn star on her new twitter account, @giggles_foryou to get the latest updates and be sure to check out her cam shows at MyFreeCams.com for a private one on one session with her if you are a big fan of hers.
With a second interview still in the works, I encourage you to go check out Giggles 4U profile as the lovely Amaya May over at ScoreLand.com for all of her exclusive softcore and hardcore contents if you are definitely a big fan of hers.
Further expanding this article, many of you are aware that's I have been promoting Rodney Moore and his two awesome websites, RodneyMoore.com and ScaleBustinBabes.com a lot's lately on twitter to helps receive further income as an online affiliate. After getting my very first payout check last year from his affiliate program, I been trying my best efforts in receiving furthers income by promoting his two most popular websites more and more on social media which is somewhat paying off but progress is still slow though. That's being said, I haven't express my thoughts about this awesome guy in an article until now and I do have say that I am a big fan of his work.
I am sure by now that's many of you are aware that models like Jaylene Rio (or Daylene Rio) have just recently or currently collaborated with Rodney Moore in producing new exclusives hardcore contents for his website. While all of the others models he have worked with throughout last year are definitely worth checking out, his collaborations with some of the more well-known busty porn stars like Jaylene Rio are easily the highlights for boob fans. There is no doubts in my mind that any of his recent hardcore scenes from last year would most definitely makes any guy dick hard in a mere instant especially when it comes gorgeous busty porn stars.
To my knowledge, I had been somewhats oblivious to Rodney Moore before I became a blogger and an online affiliate in porn but now I have's comes to appreciate his work, becoming a big fan of his hardcore style of adult film making. You can follow this awesome guy/performer on twitter, @RodneyMoore22 and @rodney_moore to learn more about him if you are a big fan of his work, but in the meantime check out these pics that would definitely leave you at the end of today's if you are not convinced by my words.
And be sure to check out his collaboration with models like the lovely Kamille Amora, Marie Leone and Scarlet Lavey as well as Siri which are all worth checking out if you are definitely a big fan of his work.