Christina Live & Meet Plus Size Vixen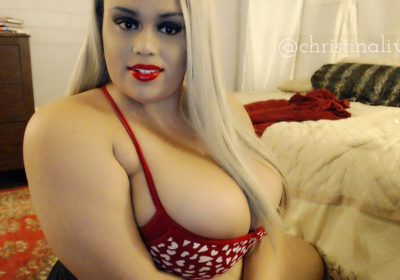 I am sure by now thats many of you are aware that's Christy Live like to re-brand herself on twitter from time to time which is may not be nothing new since models sometime do re-brand themselves to appeal to a wider fan base. Christy Live (or Christina Live) continues to do her usual routines as a bbw camgirl by offering private one on one sessions with fans, producing more original contents for her official website to help further expands her popularity. Not only that's, she has also changed her hair color to blond which would surely attract the attention of more fans and pervs who always looking to see something new for a change.
And while Christina Live does continues to do webcam shows, fans can now finds her on NiteFlirt.com for private phone calls or just to get their money worth in buying all of her goodies which are her original contents that so definitely helps gains more customers. With this new look, she definitely being much more actives as a bbw camgirl then she was as a porn star which is whats makes her unique and whats helps her further expands her popularity and make a name for herself. That being said, you can possibly expect to see her being much more active as a camgirl in the next coming months.
Although on the other hand, bbw fans are eagerly waiting and hoping to sees her collaborates with more porn studios to produce new exclusive contents which would definitely pleases any fan who is looking to sees something new or different for a change. With beautiful huge black tits and a nice round huge ass, Christina Live continues to uses these voluptuous plumped assets of hers once mores to gets everyone attention from bbw fans to horny pervs alike in a mere instant whens it comes to surprising those before her. And for those who are still oblivious to this gorgeous bbw camgirl/porn star, I highly encourages you to go check her out especially on webcam, you won't be disappointed.
To my knowledge, she have indeed become a personal favorite of mine especially since she also shows her support for Sexcraftboobs.com which really makes me wish I could award her with a custom t-shirt if I had one. Like as before you can follows her on twitter, @christinalivexo to get the latest updates from her and be sure to check out her official website, BBWChristyLive.com for all of her original contents if you are a big a big fan of hers or just a fan beautiful black plumpers.
And be assured that a video interview with the lovely Christina Live is in the works, so stay tune here for that if you are definitely a big fan of hers.
Further expanding this article, Plus Size Vixen is well, a gorgeous plus-size model who promotes other plus-size models which is kind of confusing but then again I am a blogger that's also promotes gorgeous bbw models. But apart from that, she have established herself as somewhats of a plus-size glamour for the time being and is aiming to get into or become a blogger to promote other plus-size models who are looking to make a name for themselves. So that being said, Plus Size Vixen is well- determined to find a balance between her modeling career and becoming a blogger.
Not only thats, she also seems somewhats open up to the possibility of getting into porn which of course would definitely please and thrill many bbw fans who always looking to sees something new or different for a change. But's so far, Plus Size Vixen maintains her modeling career as a plus-size glamour whiles aiming to becomes a blogger and start promoting other plus-size models especially the ones who might potentially be lookings to break into the porn industry. There is no doubts in my mind that's with the right knowledge, Plus Size Vixen would make a great blogger when it comes to introducing plus-size models that bbw fans have never seen before.
To my knowledge, she is indeed a plus-size model with a fun and understanding personality which make her unique then other models before her as she is well-determined to help promote those who looking to gain popularity by fans and get their name out there. You can follows this gorgeous plus-size models on twitter, @PLUSSIZ3VIX3N to learn more about her if you are just now becoming a big fan of hers or just simply a fan of beautiful black plumpers, in the meantime checks out these pics if you are not convinced by my words.
And be assured that an exclusive interview with the lovely Plus Size Vixen is in the works, so stay tune here at Sexcraftboobs.com for that if you are definitely a big fan of hers.