Video Interview With Roxanne Miller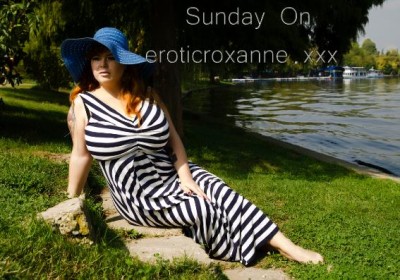 As this year comes to a close, my series of articles on the lovely Roxanne Miller continues with her being on a roll as of late after getting a brand new official website made by ModelCentro to produce more exclusive softcore contents for many boob fans. With her modeling career still in it prime, she currently collaborating with other european busty models in softcore and girl on girl scenes as well as working with a few known porn studios like BustyBrits which I had previously in an early article.
I have also mentioned in a recent article that she is now on multiple cam sites like MyFreeCams, LiveJasmin and Streamate (or Cammodels) where boob fans and pervs alike can definitely get their money for a private one on one session with her. In this first ever exclusive video interview, Roxanne Miller finally reveals more and tells us what further plans she has in the porn industry as many boob fans are eagerly wanting to know the answers while hoping to see more or something new from her.
With her popularity continues to grow, she has already moved into photography to help other busty models get their names out there while still producing more exclusive new contents on her official website, EroticRoxanne.xxx to please many boob fans. To my knowledge, she is definitely becoming a professional in modeling and is a great photographer when it comes to helping out other fellow busty models who looking to further expand their popularity and get their names out there to many boob fans.
Like as before you can follow this sensational busty porn star on twitter, @RoxxxanneMiller and on instragram, FoxyRoxyMiller for all the latest updates from her if you are definitely a big fan of hers.
Be sure to check out my first exclusive interview with Roxanne Miller as well as my series of articles on her for those who are new and unfamiliar with her, in the meantime here a special video teaser from the busty romanian herself to sign this interview off, enjoy!