Vicki Bam Introduction & Studio Update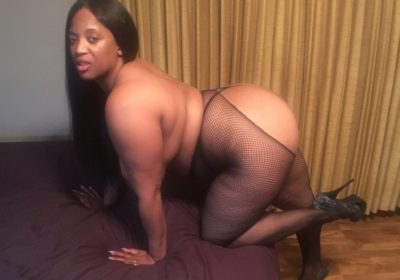 Known for her voluptuous curved assets, Vicki Bam (or Vicki Bam XXX) is a gorgeous ebony camgirl who naturally like so many models is looking to makes a name for herself by doing a lot more then just explore the sexuality of her own physique to gain popularity by fans like myself. Looking to forge her own brand of porn, she has already setup a Manyvids Profile where fans could gets theirs money worth to see something new from her like original softcore and hardcore contents which help further expand her growing popularity. That being said, she continues to give fans like myself whats they really want to see from her which is more contents especially the ones that includes her in full-on hardcore action.
On top of thats, fans are eagerly waiting and hoping to sees her do a lot more throughout this year like producing original contents on an official website (powered by ModelCentro.com) and of course, work with a few major porn studios to further expand or boost her growing popularity. With beautiful big black boobs and a nice round curved assets, Vicki Bam knows how to uses these voluptuous curved assets of hers to gets everyone attention from boob fans to horny pervs alike in a mere instant when it comes to so pleasing those before her. There is no doubt in my mind thats those ebony curved assets of hers would definitely make any guy dick hard before her in a mere instant.
To my knowledge, she indeed shows potential as a model who naturally like many models is looking to make a name for herself by giving fans like myself whats they really wants to see from her which is of course original contents thats are definitely worth checking out. You can follow this so gorgeous ebony camgirl on twitter, @VickiBam to learn more about her and be sure to also check out her profile over at Manyvids.com for all her original contents if you're a big fans of hers or just a fan of beautiful big black boobs.
And be assured that an exclusive interview with the lovely Vicki Bam is in the works, so better stay tune here at Sexcraftboobs.com for that if you are definitely a big fan of hers.
Further expanding this article, many of you on twitter have heard that I'm now finally moving forward in getting what is now known as Sexcraft Studio lifted off the ground and for me to makes the transitional leap into becoming a full-on producer/hardcore porn star. Not only that, I am now already in the current process of hiring a second hand/camera man or camera woman in order for me to finally get the studio up and running this year where I will be finally start producing my own original contents. So thats being said, the studio will possibly and hopefully be fully well-established by sometime later on this month or simply in a few months.
On top of that, I'm also still gonna setup a semi-studio for online collaborations with models who I may not be able to reach buts would be able to produce original contents with them whiles collaborating with models that are within and around my area. And speaking of my own area, I'll also make the attempt to recruit a few big boobs and bbw locals within the South Carolina area to service as possible fresh new faces to the porn industry which I so hope thats fans can enjoy. More importantly, whiles I am currently makings the transitional leap into becoming a producer/porn star for Sexcraft Studio, this doesn't mean the end of this popular blog site, I will still be posting articles and interviewing models like usual.
To my knowledge, this has indeed been a passionate project of mine as the more I blog about porn and interview these models, the more interested I become to actually start producing my own damn original contents especially whiles after seeing how easy these performers make a lifestyle living off it. Like as before you can follow me on twitter, @Jaura450 and @Sexcraftboobs2 to gets the latest updates if you are a big fan of my work or just wants to sees something new for a change, in the meantime check out these promotional banners to conclude today's article.
If you are truly a big fan of my work, I encourage you to use these promotional banners to spread the word out about the upcoming Sexcraft Studio that is about to bring something new to the porn industry.