Roxi Red Comeback To Score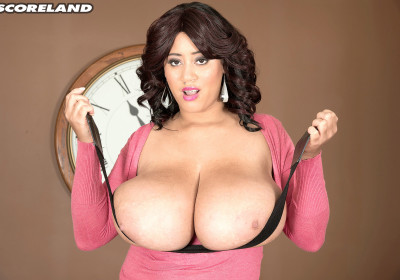 As many of you might know by now that last week marked the return of not only a longtime XLGirls fan favorite but the sensational busty porn star known as Roxi Red who looking more gorgeous then ever in a brand new softcore solo scene. After a long hiatus period of silence, boob fans were happy and thrilled to see her back at Score again for more softcore and hardcore action at the perfect time of the year as she now aims to give everyone what they want to see for christmas.
Since her comeback scene was only the beginning, boob fans can definitely to see usual surprises for her as this month progresses with every new scene she produces for Score which leads up to something new or unexpected in the end. With beautiful huge tits that would definitely make any guy want to suck on them, Roxi Red uses these juicy assets of hers to get everyone full attention from boob fans to horny pervs alike in a mere instant especially once all the hardcore action starts.
To my knowledge, there have never been a perfect time then christmas to be a fan of big boobs and have a sensational busty porn star like Roxi Red to finally appear back on Score again to make the holidays even more exciting or special at this right time. If you miss out on her comeback scene last week then this is your chance to go check out Score and see it for yourself if you are definitely a big fan of hers or just a fan of big boobs, while in the meantime check out these sexy hot pics to conclude today's article.
For those who are new or unfamiliar with the lovely Roxi Red at this time, I encourage you to go check out of all of her softcore and hardcore scenes at Score which are definitely worth watching if you are just now becoming a big fan of hers.