Roxee Robinson Update & Happy Holidays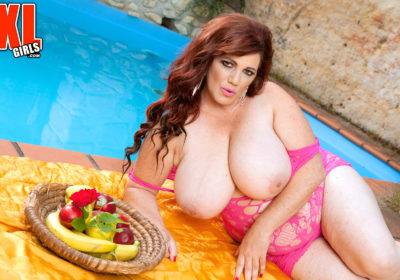 Since my video interview, I haven't had a chance to talk about's the lovely Roxee Robinson who simply continues to collaborate with Score Studio in producing more new exclusive softcore contents for them to pleases many fans. Not only that's, she also continues to produces more new original contents for her official website to pleases fans who not only are looking to sees more solo videos but some boy/girl and hardcore action from her which are surely worth watching. That's being said, there seems to be no signs of her slowing down anytime soon as she truly aims to make a name for herself as a gorgeous bbw porn star with voluptuous plumped assets.
Not only that, bbw fans are eagerly waiting and hoping to see her collaborate with more porn studios for next year as well as working with other porn stars to produces new exclusive and contents which would definitely furthers expand her popularity. With beautiful huge tits and a nice round ass, Roxee Robinson definitely knows how to use these voluptuous plumped assets of hers to get everyone full attention from bbw fans to horny pervs alike in a mere instant whens it comes to pleasing those before her. There is no doubt in my mind that those plumped assets of hers would definitely make any guy dick hard before her in a mere instant.
To my knowledge, she indeeds shows great potential as porn star who has a very creative mind when it comes to collaborating with adult studios and producing her own original contents to gains popularity by fans that's are always so looking to see something new or different for a change. Like as before you can follow this bbw porn star on twitter, @RoxeeRobinson to get the latest updates and be sure to check out her recent new softcore scenes over at XLGirls.com if you are a big fan of hers or just a fan of beautiful plumpers.
And be sure to check out my Video Interview With Roxee Robinson to learn more about her especially for those who are definitely new and unfamiliar with her.
Furthers expanding this article, Christmas is only a few days away and the New Year is just right around the corner as everyone, including myself are so into the Holiday Spirit and is looking for something or do something special throughout the week. Now I knows I have already mentioned about my plans for next year (New Year Resolution) in previous articles but's in this one, I am going to be encouraging both fans and newcomers alike to go check out the hottest new trends within the porn industry. So that being said, consider this to be somewhat of a small guide for you to learn how to end your holidays off with for next week.
Now for those of you who are looking to spends your holidays off with your favorites or personal favorite models on webcam, I highly encourages you as a fans to go check out SexcraftboobCams.com where you can definitely gets your money worth for a private one on one session. If you are anyone like myself who considered models likes the lovely Sweetheart Mia and Christy Live to be your personal favorites, I encourage you especially for newcomers to go check out these two gorgeous bbw camgirls/porn stars. Not only that, I also encourage you to go check out these other models like the lovely Jessica Peaches and Queenxxx if you are most definitely looking to get your money worth.
Apart from webcam shows, those of you who are looking to checks out new original contents from yours favorite models, then I highly encourages you to go check out the lovely Maja Magic for girl on girl boob fetish videos as well as the lovely Jinxy NW for dominatrix boob fetish action. And if you are anyone like myself who considered a model like the lovely Roxanne Miller to be your personal favorite, then I highly encourage you especially for newcomers to go checks out her official websites, EroticRoxanne.xxx for original contents if you are so definitely a big fan of hers. And for my final recommendation, I encourage you as a fan to go check out these other gorgeous models and their websites like the lovely Livy Larue and Dark Queen (aka Tanya Ivanova) if you are definitely looking new original contents.
Be sure to follow all of these gorgeous models on webcam or social media if you are definitely looking to spend your holidays off with nothing but big boobs and bbw, this Sexcraftboobs.com saying have a very Merry Christmas and Happy New Year!!!