Roxanne Miller Update & Sexcraft Prod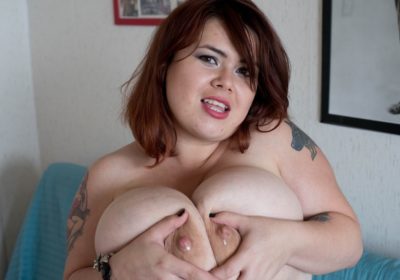 I'm sure by now thats many of you on twitter have heard that the lovely Roxanne Miller has resurfaced and is back to producing her own original contents buts this time on an official Manyvids Profile where fans can now gets their money worth. Now officially joining Sweetheart Mia and other fellow romanian models on the site, she aims to not only producing new softcore videos for longtime fans buts she now also switching to fetish videos to gains furthers wide popularity by those who looking to see something new from her. Not only thats, Roxanne Miller is also now on snapchat where she encourage boob fans to come get their money worth in buying her premium account to see original contents from her.
On top of that, both she and Sweetheart Mia are now so currently taking part in the Manyvids Contest where boob fans can vote for them to win thats would definitely help further expand or boost their wide popularity as softcore romanian models. With beautiful huge tits and a nice round curved ass, the very lovely Roxanne Miller continues as always to uses these so voluptuous plumped assets of hers to gets everyone full attention from boob and bbw fans to horny pervs alike in a mere instant when it comes to pleasing those before her. There is no doubt in my mind that the new original contents on her Manyvids Profile would definitely makes any guy dick hard for her in a mere instant especially while seeing those natural melon-size juggs of hers in softcore action.
To my knowledge, its always happy to see Roxanne Miller back active on twitter and back to producing her original contents to furthers expand her growing wide popularity as she indeed continues to make a name for herself every year. Like as before you can follow her on twitter, @RoxxxanneMiller to get the latest updates and be sure to checks out her profile over at Manyvids.com for new original contents if you are a big fan of hers or just a fan of beautiful romanian plumpers.
And be assured that longtime fans like myself and newcomers alike will definitely expect to see more of the lovely Roxanne Miller in both softcore and fetish action throughout this year, so better stay tune.
Further expanding this article, many of you on twitter have heard thats I'm now gonna be improving and enhancing my skills as a professional webmaster in creating actual legit websites for models who is so definitely looking to theirs names out there. You should know by now that I've been trying to convinced every model I featured and interviewed on this popular blog site to go try out ModelCentro.com if they are looking to have their own official website to further expand their growing popularity. That being said, some of these models has signed up for a ModelCentro Website and has been successful with it thus so far while most of them don't know how signup for one or lack the skills in making a paysite with their own hands.
I'm sure by now thats many of you have heard from my previous article thats I am moving forward with the upcoming Sexcraft Studio where I'll be producing my own originals but legit contents which means I too will be using a ModelCentro Website to get my name out there. But while I am still in the process of getting the studio lifted off the ground, I'll be crafting out my skills in HTML, CSS, Javascript, and PHP to start making NOT official but "legit websites" for models especially the ones who I featured the most on this blog site. Many of you should know or be aware by now thats there are not a lot of professional webmasters on social media that models could turn to in getting a legit website made.
To this knowledge, I'm happily to announce that Sexcraft Productions will be helping models in getting a legit website made for them, from big boobs to bbw alike who lack the skills or the ability in becoming webmasters themselves which is where I so come in to aim them. Like as before you can follow me on twitter, @Jaura450 and @Sexcraftboobs2 to get the latest new updates if you are a big fan of my work or just a fan that looking to see something new for a change, in the meantime check out these banners for these upcoming websites I have plans in the works.
And to take note that Sexcraft Productions won't be available to ALL models, only for those who are producing their own original contents as well as those who I choose of my interest like favorites and personal favorites.