PlumperPass New Sites & Suggested Ideas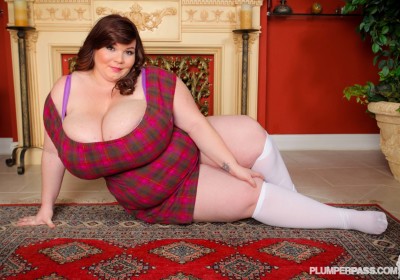 I am sure by now that many of you have noticed that PlumperPass has been going through some changes as of late especially afters modifying their official site with new features which now allows every bbw fan to finally watch and download the latest hardcore videos in 1080p format. Not only thats, the studio's big boss himself have already announced on social media that the studio will be producing brand new official sites (or sibling sites) which focus more on some of today's well-known bbw porn stars likes the lovey Lexxxi Luxe, Mandy Majestic and Sashaa Juggs who so many fans adores. And you can say that this is definitely the best time for newcomers to be signing up for a membership to gets caught up with these three gorgeous bbw porn stars.
PlumperPass have just already launched their first new site, LexxxiLuxe.com where bbw fans can signup for a monthly membership to see all of Lexxxi Luxe exclusive contents which are worth checking out especially for anyones who is new or unfamiliar with the super busty plumper. So with that being said, PlumperPass is now currently working on Mandy Majestic website and then onto Sashaa Juggs afterward as part of their plans to expand their brand with these new official sites to please both longtime fans and newcomers alike in the bbw genre. I am sure if you are anyones like me who considered Sashaa Juggs your personal favorite, is definitely looking forward to see her have very own official website soon.
To my knowledge, fans will definitely be pleased and thrilled to see these gorgeous bbw porn stars have their own official websites that run by PlumperPass who looking to further expand their brand especially to appeal to anyone that new or unfamiliar with today's well-known plumpers. You can follow the big boss on twitter, @plumperpass to get the latest new updates if you wants to see more exclusive hardcore contents from your favorite bbw porn stars or if you are just a newcomer who looking to see something new.
And be assured that an exclusive interview with the big boss of PlumperPass is in the works, so stay tune here on Sexcraftboobs for that if you are definitely a big fan of beautiful plumpers.
In other news, I am planing to further expand the Sexcraftboobs brand again with suggested ideas that would help gain more attention from both fans and models alike to make it become more legit then before with new exclusive contents. First off, I am still currently planing on making customs t-shirts for many featured models on CafePress.com but I also now have an idea to start a fashion line such as making custom bras and panties, bikini, shorts and more thats would haves the official Sexcraftboobs logo printed on them. Not only that, I am also thinking about the idea of making custom-coffee mugs for any featured model who likes getting up early in morning.
Plus, theres is also the idea of makings a Sexcraftboobs calendar with twelve of yours favorite models feature on each month from big boobs to bbw alikes which I am sure it would definitely be worth buying or collecting for any fan, if have enough money to make it. That being said, I am still currently making some improvement on the logo and slightly decorating the blog site with it, mostly removing the currents boob-selfie header soon to make the site look more legit for many visitors that comes. Lets not forgets that I am also planing on doing another contest that will be bigger, longer and more scripted then SexcraftBra Show which was merely what I like to called a "prototype contest".
And finally, I am still currently workings on the Sexcraftboobs Studio at this time but for the moment I am also planing on doing a custom-video series with featured models which would requires on funding some money to make the series happen. While I am currently investings money for the studio, I will be makings a new funding account with CrowdFunding.com to encourages fans to donate money for each custom-video I produce with a feature model for the series. I will not go into full details on whats this custom-video series gonna be abouts or what it will consist of at this time but I will address it in a later article.
Also, I am hoping to get official Sexcraftboobs Fansigns made by featured models to help further expand the blog site popularity and become more legit then before.