New Update On LickableKitty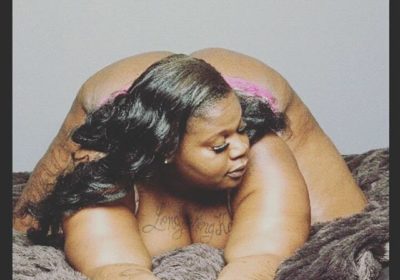 I'm sure by now that some of you may have heard that the lovely LickableKitty is going through some changes as she aims to go beyond her webcam shows and set her modeling career on the right path to help further expand her wide popularity. The first thing to note is that she has created a new instagram account and has done a fews new professional photo-shoots as part of her new originals contents thats are worth checking out for anyone who looking to sees something new from her. Not only that, she also planing to collaborate with BBWHighway Studio this month for some possible hardcore action thats is worth looking forward to.
That being said, bbw fans like myself are eagerly waiting and hoping to see her do a lot more this year like start producing her own original contents and collaborate with more then just one porn studio which would so definitely help further expand her growing popularity. With beautiful huge black tits and a nice round huge ass, LickableKitty continues to uses these voluptuous plumped assets to her advantage to get everyone attention from boob and bbw fans to horny pervs alike in a mere instant when it comes to pleasing those before her. There is no doubt in my mind thats all this news and rumors on LickableKitty would definitely make any guy dick hard for her in a mere instant.
To my knowledge, she indeed has started to show real potential as a model who has so definitely gone through a change of heart and is looking to do a lot more with her modeling career especially by giving fans likes myself what they really want to see from her. Like as before you can follow this so gorgeous ebony bbw camgirl on twitter or instagram, @LickableKitty1 and @lickablekitty248 to learn more about her and get the latest updates if you are a big fan of hers of just a fan of beautiful black plumpers.
With an exclusive interview still in the works, bbw fans can definitely expect to see a lot more of the lovely LickableKitty through this month and coming months ahead, so better stay tune.
And On A Side Note: The so lovely LickableKitty also has even more new things in the works for this year likes launching her official website where she will finally start producing her own original contents to gains further popularity by bbw fans like myself. And on top of that, she will also be doing a calendar photo-shoot (most likely for this year and next year) thats would definitely helps to not only gain further popularity but possibly open up more opportunities for her in the future or the near future. So that being said, 2018 is only just the beginning for the lovely LickableKitty who is most definitely looking to further expand or possibly boost her growing wide popularity with these upcoming studio collaborations, photo-shoots and projects that bbw fans like myself certainly need to be on the look out for.
And be assured that bbw fans will definitely have a good enough reason to be on the look out for my upcoming interview with the lovely LickableKitty who finally reveals further details on her plans for this year.