Natasha Crown Doc & DMCA Introduction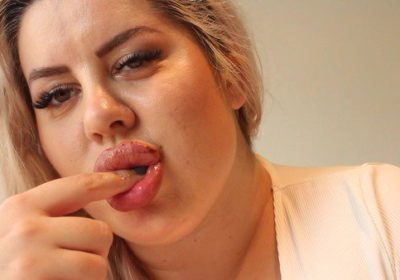 I'm sure by now thats many of you have heard that the lovely Natasha Crown has done a documentary last month on her so "70" inch huge ass (or six-foot wide butt) for Channel4UK which features the doc-series, Plastic & Proud that is surely worth checking out. Now I know I haven't talked much about this gorgeous bbw porn star who massive round ass is starting gains wide popularity especially whens that and the rest of her enhanced assets caught the attention of a popular uk broadcasting tv program. That being said, she is now becoming more well-known thank to her appearance on this ongoing doc-series (or web-series) about certain individuals going under plastic surgery.
On top of that, bbw fans like myself are eagerly waiting and hoping to sees her gain further recognition especially by any european porn studios who seen her Plastic & Proud appearance would definitely be looking to work with her in the future or the near future. With beautiful huge tits and one fine round "70" inch huges ass, Natasha Crown definitely knows how to uses these voluptuous plumped assets of hers to get everyone attention from boob and bbw fans to horny pervs alike in a mere instant when it comes to makings a very big impression on those before her. I said it before and I will say it again, there is no doubt in my mind that those plumped assets of hers would so definitely make any guy dick hard before her in a mere instant especially that fine massive round ass of hers.
To my knowledge, she indeeds continues to show potential as a model who is not only gaining furthers recognition by european porn studios buts also by a major broadcast tv program which definitely helps gain her wide popularity by fans. Like as before you can follows this gorgeous bbw porn star on twitter, @Natasha_Crown to gets the latest updates and be sure to also check out her Plastic & Proud episode appearance at Channel4.com if you are a big fan of hers or just a fan of enhanced thick plumpers.
And be sure to check out her official website, NatashaCrown.com for original softcore contents if you are definitely a big fan of hers.
Furthers expanding this article, some of you maybe familiars with the security logo called DMCA thats you have mostly seen on major local cam sites likes Chaturbate.com as wells as on a couple of major porn sites in the past. Those who are new and unfamiliar with this logo or for what it means, DMCA is a security program that helps you protect your contents from theft and helps you take down any contents on any website that were stolen from you. I'm sure by now that some of you are aware that most of the models especially the camgirls on Chaturbate uses this security program to protect their contents from being stolen.
Unfortunately, some of the others models especially newcomers who are justs now starting to produce their own original contents are oblivious or unfamiliar with this program which would most seriously put theirs work as content creators at risk. Over the years, models has become victims to those who steal theirs contents especially porn videos and illegally upload them on tube sites for other people to mostly see without paying or just to make money off of them. So that being said, I am happy to announce that Sexcraftboobs.com has joined DMCA.com as an online affiliate to helps fight off this threat and raise awareness to any models or those who are in need of protection or has become victims to online theft.
To my knowledge, there is a good reasons why models and adult studios started this PayForYourPorn movement and the DMCA security program most definitely helps support this movement by fighting off the threat of those stealing other people contents. If you are a content creator or know someone who is a victim to online theft and is in need of protection for future contents, I most definitely encourages you to go signup for DMCA or help raise awareness by spreading the word out about it.
Show support for your favorite big boobs and bbw models by helping them protect their contents from online theft with DMCA and remember to show your support for them by #PayingForYourPorn!