More Porsche Dali & ShaundamXXX Intro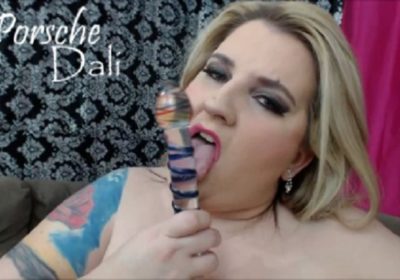 Last year in a previous article, I talked about the lovely Porsche Dali who continues to work with Score Studio in producing new exclusive softcore and hardcore contents for them to please many fans before her. And whiles it is uncertain to my knowledge to know if she going to be collaborating with other porn studios throughout this new year, but fans can certainly expects to sees more original softcore and hardcore contents from her. So that's being said, she continues to produce more original contents to not only her ModelCentro Website but to her Manyvids Profile and IWantClips Store to help gain further popularity.
Apart from that's, she also continues to do cam shows (like at ImLive.com and Streamate.com) where both longtime bbw fans and newcomers alike could definitely still get their money worth for a private one on one session with her. With beautiful huge tits and one fine round huge ass, Porsche Dali continues to use these so voluptuous plumped assets of hers to get everyone attention from bbw fans to horny pervs alike in a mere instant whens it so comes to please those before her especially with hardcore action. As mentioned before, there is no doubt in my mind that those plumped assets of hers would definitely make any guy dick hard before her in a mere instant.
To my knowledge, Porsche Dali have been in the porn industry throughout the years which at this times she is definitely now considered a personal favorite among longtime bbw fans while newcomers are still being introduced to her which is whats continues to gain her popularity for. Like as before you can follow her on twitter, @Sexy_Porsche to gets the latest updates and be sure to checks out her official website, PorscheDaliXXX.com for original softcore and hardcore contents if you're a big fan of hers or just a fan of beautiful plumpers.
And be assured that an exclusive video interview with the lovely Porsche Dali is in the works, so better stay tune here at Sexcraftboobs.com for that if you are definitely a big fan of hers.
I want you to cum all over my humongous juicy rack! #BBW #BigTits @iWantClips https://t.co/BUfIuYKqLy pic.twitter.com/lFMBA3Rjkm

— Porsche Dali (@Sexy_Porsche) December 21, 2016
Furthers expanding this article, I have been very successful all last year in receiving plenty of income as an online affiliate which have now caught the attentions of a few small independent porn studios, mostly the ones owned by male talents. Now I am not all too familiars with male performer, ShaundamXXX (or Shaundam) who looking for fellow bloggers or online affiliates like myself to promote his official website (powered by ModelCentro.com) and help spread the word out about his growing popularity. That being said, I am happy to announce that I have accepted ShaundamXXX offer in promoting his official website to those who are new or unfamiliar with his work.
Now for those who looking to sees interracial hardcore action, then I highly encourages you to go check out ShaundamXXX who have collaborated with a lots of gorgeous porn stars from average to big boobs and bbw alike which is whats gain him popularity for. As a male performer, ShaundamXXX uses his rock hard dick to collaborate with some of most gorgeous models within the porn industry to produce original hardcore action for many interracial fans who of course are always looking to sees something new for a change. There is no doubts in my mind that's his interracial contents would definitely make any guy dick hard or make any girl or woman horny as well as sexually arouse.
To my knowledge, I have's been very oblivious to ShaundamXXX and his work until afters hearing about his collaboration with the lovely Kamille Amora which so definitely peaks my interest, mostly in his work with big boobs and bbw models that's helps him gains furthers popularity or expand on it. You can follow this awesome male talent on twitter, @Shaundam to learn more about him and be sure to check out his official website, ShaundamXXX.com for all his originals hardcore contents if you're a big fan of his work or just a fan of interracial action.
We as fans can hope to see more big boobs and bbw collaboration with the awesome ShaundamXXX throughout this new year in interracial hardcore action. 
2017 @BiggieAwards https://t.co/9GbFY2rv8G vote 4 all my sexy co⭐️s @iamkamilleamora @MarleydaBooty @LylaEverwettt @SWTFREAK @@ pic.twitter.com/j6pEevWRah

— SHAUNDAMXXX (@Shaundam) January 3, 2017