More BBW Lingerie Stores & Tittyliscious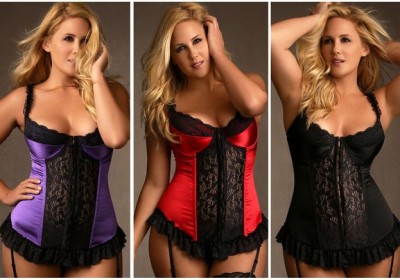 In a recent article, I discussed about Madame Ravish which is an online lingerie store for average bbw's and plus size models who are looking to update their sex appeal in fashion to help gain popularity or to further expand on it in style. With that being said, I come to realize that by promoting more online lingerie stores would help gain Sexcraftboobs more attention from gorgeous plumpers who are tryings to updates their fashion and appeal to many fans before them with a sense of style. Having a series or an array of lingerie sets is definitely an essential part for every gorgeous models within the porn industry and outside of it.
What makes a great or memorable bbw is to have an exotic sense of style along with the sexual appeal to get everyone attention from fans to horny pervs alike in a mere instant especially one who has voluptuous curved or plumped assets. I have already recommended Madame Ravish to any bbw who red my recent article on it and I will also be recommending more for this month as well as having a page section up where any plus size model can find the store with the right lingerie sets that she is looking for. This will even help Sexcraftboobs benefit and other bloggers as well since most of these online stores have affiliate programs which allows me and others to get income from those sites.
Not only that, I also encourage any bbw fan who is reading this article to shares this to any gorgeous plumper that looking to buy new lingerie sets from any of the online stores that Sexcraftboobs will soon be promoting at this time. Also, both fans and models can feel free to suggest any store I should promote for other or more beautiful plumpers once a page section gets publish for everyone to check out and visit especially for plus size models who looking to get their money worth in buying new lingerie sets.
To any plus size model that reading this article, I recommend you to go check out HipsAndCurves.com for the latest lingerie sets they have out right now if you are looking to update sex appeal in fashion.
In other bbw-related news, I would like to encourage you and other fans to check out the lovely TinaDomina also known as Tittyliscious who is a gorgeous camgirl and is also best known for her voluptuous curved assets which is what gain her popularity for. With a fun personality, she is the kind of ebony beauty that somewhat open minded or just looking to have fun on webcam with many fans who definitely loves getting their money worth for a private one on one session with her. And while it seems there may not be anything special going with her at this time, but there is hidden potential to discover especially for those who continues to chat with her on webcam.
Apart from that, TinaDomina is sometime consider as one of those faceless camgirls and has somewhat of a cult following of bbw fans that continues to grows on social media which further expand her popularity as an ebony camgirl. With beautiful huge black tits and a nice round huge ass, she uses these voluptuous plumped assets to get everyone full attention from fans to horny pervs alike in a mere instant when it comes to putting on a great cam show. I have to say that those curved assets can definitely make any guy dick hard for her in a matter of minutes especially when they are displays on webcam.
To my knowledge, she is an ebony babe with serious curved assets especially for a bbw camgirl who definitely knows how to use them to get attention when doing webcam shows which makes her somewhat unique in a way to many fans. You can follows this gorgeous ebony camgirl on twitter, @tittyliscious to learn more about her and be sure to checks out her webcam shows on your local cam sites like Cammodels for a private one on one session with her if you are a big fan of hers or just fan of beautiful black plumpers.
And be assured that an exclusive interview with the lovely Tittyliscious is in the works, but in the meantime check out these pics to leave you satisfy at the end of today's article.