Exclusive Interview With Trinety Guess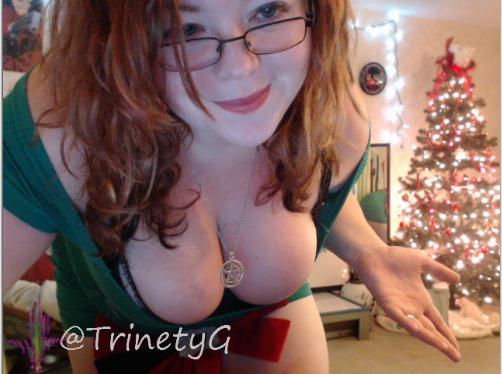 After two official debuts and a total of three amazing hardcore scenes, Trinety Guess has made a big impression at the end of last year when she finally got fucked on camera for the very first time while thrill many bbw fans. Now at the beginning of the new year, we all can expect to see more hardcore action from her which will make you get your money worth to watch it happen since she is so beautiful and amazing in all of her scenes.
With a voluptuous plump body and huge natural tits, she continues to use these sexy assets to please her bbw fans with more softcore and hardcore scenes as she aims to make a name for herself by going all the way in. Today exclusive interview the lovely bbw plumper, Trinety Guess finally reveals all and tells us for her plans are in the porn industry as fan are eagerly wanting to know the answers while hoping to see more hardcore action from her in the future.
You can follow this gorgeous bbw porn star on twitter, @TrinetyG to learn more about her and be sure to check out her webcam show on Chaturbate if you are a big fan of hers or just a fan of bbw, but in the meantime here is my exclusive interview with her to leave you all satisfy.
Be sure to check out her official clips4sale page.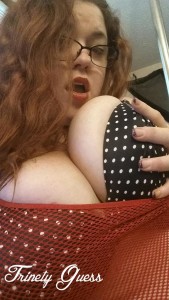 Sexcraftboobs So where are you from?
Trinety Guess USA
Sexcraftboobs What have you been up to lately?
Trinety Guess Just recently launched my fan site. TrinetyGuess.modelcentro.com
Sexcraftboobs How is your webcam and skype shows doing?
Trinety Guess I need more audience participation!
Sexcraftboobs When and why did you first decide to model?
Trinety Guess I started for the money 5 years ago.
Sexcraftboobs Have you watched any porn before your modeling career? If you do it? How often?
Trinety Guess I watch quiet a bit one summer when I was like 12 or 13 but then not so much until I became a part of it all.
Sexcraftboobs Have you watched your own scenes?
Trinety Guess Not really. I know what happened in them.
Sexcraftboobs What do you do when you not modeling? How is a normal day in your life?
Trinety Guess Play games on my xbox or get crafty with some project, and I love cooking.
Sexcraftboobs What is your bra size? When did your breasts start to grow? How was it back then?
Trinety Guess Currently about a 38J, they started growing around puberty, only thing different back then was that clothes use to fit.
Sexcraftboobs Now you have a nice huge ass, can you measure how big or huge your ass is?
Trinety Guess I have no idea how big my ass is…..only that my hips are usually to wide for most normal clothes.
Sexcraftboobs Have you met many fans, both in public and on social media? How do they react? Any conversation so far?
Trinety Guess I met a few fans at FetishCon 2013, they were so excited to get a picture with me.
Be sure to check out her webcam shows on both Chaturbate and MyFreeCams if you are a big fan of hers.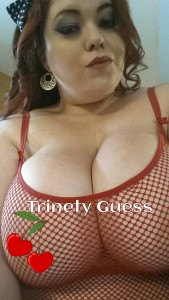 Sexcraftboobs Now you done some hardcore scenes? Have you ever done any anal scene before? Do you like doing an anal scene?
Trinety Guess I will not do anal.
Sexcraftboobs Apart from anal, is there anything else do you prefer or like to prefer? Spit, swallow or facial?
Trinety Guess Its all the same to me! I'm going to wipe if off when your done.
Sexcraftboobs What about IR, Orgy Group Sex, DP or Bukake?
Trinety Guess  Interracial is a pleasure! 🙂 Not so much a fan of orgy/group sex. (but willing to try for my fans) No anal so that limits DP and not going for a bukake, too messy.
Sexcraftboobs Do you like titty-fucking?
Trinety Guess I find it boring since it does not stimulate me sexually.
Sexcraftboobs Is there any busty or bbw porn star you admire?
Trinety Guess There are many beautiful women out there that I would love to get in contact with and make plans for future content/trade.
Sexcraftboobs What is your short-term and long-term goals inside modeling and outside?
Trinety Guess Short -term goal is to get more B/G content up on my site. Long-term goal is go on a Road Trip and meet many models on my way to the west coast
Sexcraftboobs Have you ever got any proposals from other adult sites?
Trinety Guess Yes!
Sexcraftboobs Is there anything you would like to add for fans reading this interview?
Trinety Guess Please remember to help support your favorite adult models by BUYING their content! Tipping their live shows! and reporting pirated content!
Trinety Guess will be in Miami with Sam38G to shoot a new scene and to celebrate her birthday which she encourage her bbw fans to spoil her with lots of early gifts or presents as a sign of their support for her.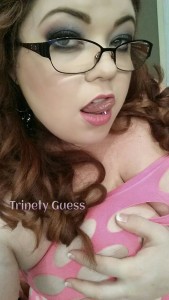 Be sure to check out her hardcore scenes on plumperpass.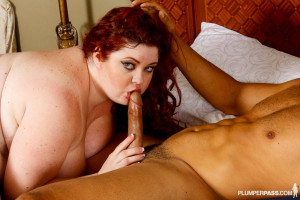 And also be sure to check out all of her softcore and hardcore scenes on xlgirls.