Exclusive Interview With SWTFREAK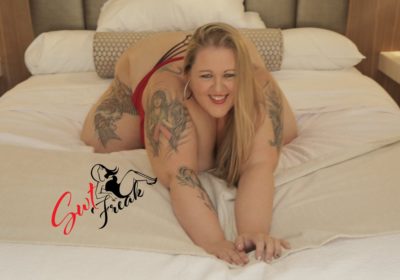 A couple of months ago, I talked about the lovely SWTFREAK who is bbw porn star that best known for her voluptuous plumped assets which she uses to gains popularity by fans that of course are always looking to see something new from her. Not only that, she has certainly made a name for herself in the past few years by forging her brand of porn and furthers expandings upon it to helps gains her wide popularity by those who are looking to get their money worth to sees something new from her. On top of thats, SWTFREAK has also collaborated with a few major porn studios which also certainly help boosts her growing wide popularity.
With beautiful big boobs and one fine round huge ass, she continues to uses these natural but so voluptuous plumped assets of hers to get everyone attention from bbw fans to horny pervs alike in a mere instant when it comes to pleasings those before hers. In this exclusive interview, the lovely SWTFREAK finally reveals all and tells us whats her plans are in the porn industry as bbw fans are eagerly wanting to knows the answers whiles hoping to sees more hardcore action from her throughout this year. As mentioned before, there is no doubt in my mind that those plumped assets of hers would definitely make any guy dick hard before her in a mere instant.
To my knowledge, she indeeds shows no signs of slowing down whens it comes to her potential as a model who definitely knows how to makes a name for herself by forging her own brand of porn which is giving bbw fans like myself what they really want to see from her. Like as before you can follow this gorgeous bbw porn star on twitter, @SWTFREAK to learns more about her and get the latest updates if you are a big fan of hers or just a fan of beautiful plumpers, in the meantime here is my exclusive interview to leave you satisfy at the end of the day.
And be sure to check out her official website, SWTFREAKXXX.COM for all of her original contents if you are definitely a big fan of hers.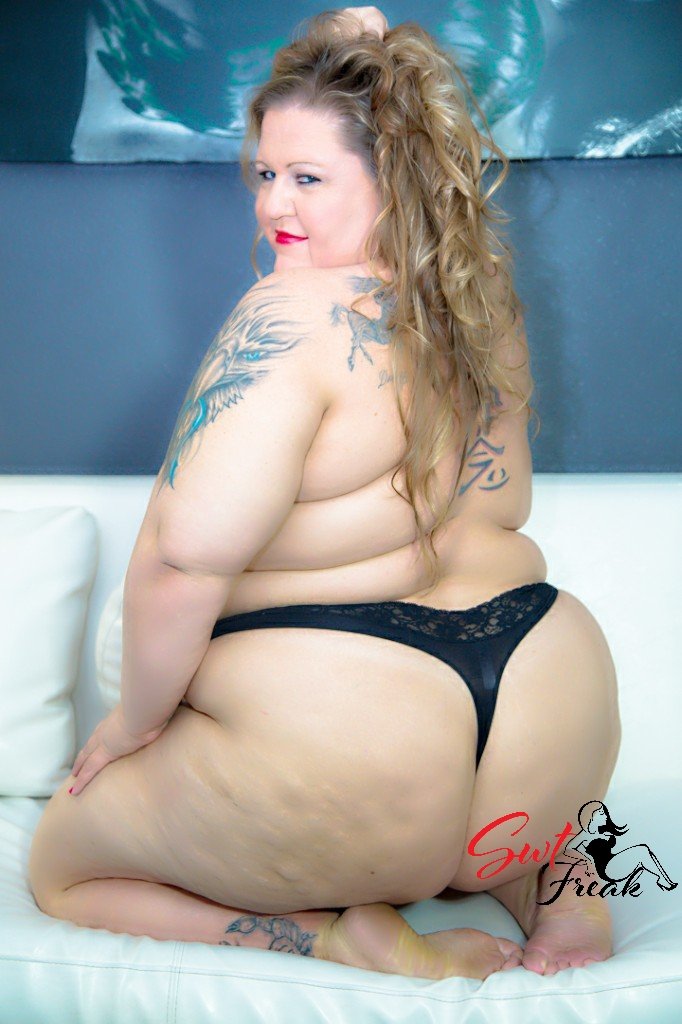 Sexcraftboobs So how are you today?
SWTFREAK I'm exhausted but good. Thanks for asking.
Sexcraftboobs What have you been up to lately?
SWTFREAK Work work and more work. I've been catching up on filming this last month. Working on bringing new things to my site. 😉
Sexcraftboobs And how is your website doing?
SWTFREAK Website is doing great. Even though I haven't been able to update it as often as I'd like the fans have been showing love.
Sexcraftboobs Have you gotten any feedback or comments from fans on any of your recent scenes you have done on your site?
SWTFREAK I always do. They are not shy lol. Everyone is eagerly waiting for me to release the Prince Yahshua scene.
Sexcraftboobs Do you have any upcoming shoots or projects you are currently working on?
SWTFREAK I always have projects to do. Always working with new people and trying to bring more kink and fetish to my site. 😉
Sexcraftboobs Do you have any plans to attend to any live adult events this year?
SWTFREAK As of now, no plans this year but I will be at the 2018 AVN & 2018 BBWCON. 😉
Sexcraftboobs What clothing do you think you look sexiest in?
SWTFREAK Nothing lol. Ok maybe a thong. 😛
Sexcraftboobs Is there any tricks you can do with your boobs or with your belly, or with your ass?
SWTFREAK Belly no. Ass, well I think we all know I can make massive dick disappear lol. 😛
Be sure to check out the lovely SWTFREAK at Clips4Sale.com for more original contents like her collaboration with the lovely BunnyDeLaCruz which is worth checking out if you are definitely a big fan of these two gorgeous bbw porn stars.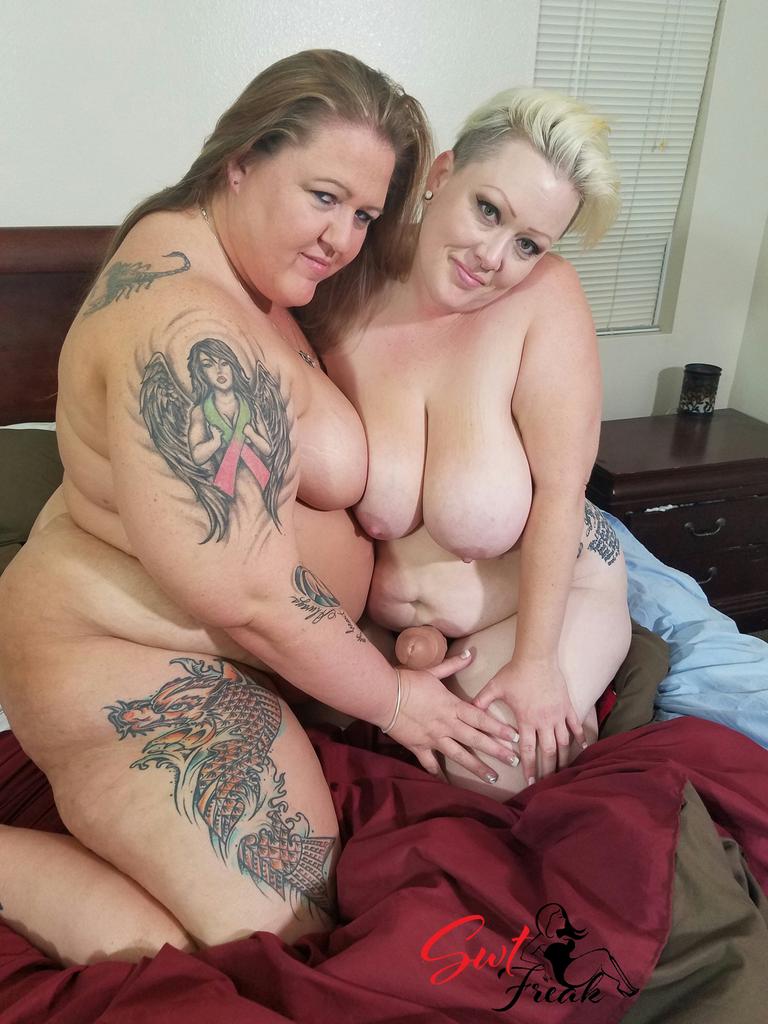 Sexcraftboobs Now you have done a lot hardcore videos, but done any anal scenes? Do you like to get anally on camera? Or that just not your thing?
SWTFREAK I prefer anal scenes. Most of my fan base follow me because of that. I'm the Anal Queen, I take monster dick in my ass as often as I can. 😛
Sexcraftboobs Apart from anal, is there anything else do you prefer or like to prefer? Spit, swallow or facial?
SWTFREAK Facials are a reminder of a job well done. So pretty lol. But some guys I like to swallow. Some I prefer to be cream pied. A lot depends on the guy. 😉
Sexcraftboobs Now you have done some or all kind of scenes like Interrracial, Orgy Group Sex, DP or Bukake?
SWTFREAK I've done all that but hard to get them all on camera. Those who know me know I only shoot interracial because that's what I prefer in my private life. I would love to have those scenes on my site but getting that many men tested and willing to show their face is damn near next to impossible.
Sexcraftboobs What is your favorite position when having sex?
SWTFREAK Anal doggie hands down. 😛
Sexcraftboobs And what type of sex do you like? Soft sex or rough sex?
SWTFREAK I'm a rough sex girl. Soft is boring unless with an emotionally connected partner.
Sexcraftboobs Which would you like to have to get more attention? Bigger boobs or a bigger ass? Or both?
SWTFREAK Honestly my ass is big enough. Boobs could be a little bigger but not by much. But I'm great just the way I am. 🙂
Sexcraftboobs What kind of personality do you have as a model?
SWTFREAK I am very laid back, fun, and sassy. 😉
Sexcraftboobs Do you find watching porn educational that help you improve yourself as a model and become a better performer?
SWTFREAK I'm beyond watching porn for educational purposes. I watch it to get off and to learn a costars style.
Sexcraftboobs Now what is important or the importance of being a bbw to you?
SWTFREAK It's not that being a BBW is of importance to me. If rock a skinny body as well. But being as I am a BBW I want to represent myself and other BBWs in a classy way.
Sexcraftboobs How do you see the bbw community within the porn industry? Do you see it as an open opportunity for many bbw's like yourself to get into?
SWTFREAK Just like all porn there are clicks. I'm not much for clicks and that is why I've kind of paved my own way. I don't stick to the norm. If a BBW wants to join a click so be it but I'm proof you don't need to be in one to make a name for yourself.
Sexcraftboobs So what can fans expect to see from you this year?
SWTFREAK More fetish, kink and hardcore anal. 😉
Sexcraftboobs Do you have any random thoughts?
SWTFREAK Shoot I'm the master of random thoughts. My mind is always spinning. But at this moment I am just thankful. Thankful to my fans. Thankful to all the amazing big name costars who have taken a chance on me. Thankful for the friends I've met along the way and thankful I have an amazing cinematographer Charles Lyle in my corner. Means a lot to know they have my back.
Sexcraftboobs Is there anything you would like to add for fans reading this interview? Any final words?
SWTFREAK Absolutely….YOU ROCK!!!!! I love my fans. Thank you all for the love and support. 🙂 😉
Like as before you can follow this gorgeous bbw porn star on twitter, @SWTFREAK to learn more about her and be sure to check out her official website, SWTFREAKXXX.COM for original contents if you are definitely a big fan of hers.