Exclusive Interview With Sinna Bunnz
Best known for her monstrous size ass, Sinna Bunnz is a bbw porn star who looking to have some fun by getting fuck in front of the camera for the very first time to gain popularity from many fans before her. Making her official hardcore debut on the amateur porn site known as ThePhatness where she aims to explore her sexuality and find the pleasures of getting fuck by a lucky stud to receive that satisfaction.
With a massive round ass, she can get everyone attention in a mere instant from bbw fans to horny pervs alike especially when she bents over and starts doing some booty twerking which is definitely something worth looking at. In this exclusive interview, the lovely Sinna Bunnz reveals all and tells us what her plans are in the porn industry as many bbw fans are eagerly wanting the answers while hoping to see more hardcore action from her this year.
While being a feature model on ThePhatness, her popularity will continue to grow since this was just only the beginning for her as she definitely loves to have fun exploring more of her sexuality other then trying to make a name for herself at this time. You can follow this bbw porn star on twitter, @sinnabunnz71 to learn more about her if you are already a big fan of hers or just a fan of beautiful plumpers, but in the meantime here is my exclusive interview to leave you satisfy at the end of the day.
Expect to see more hardcore action from Sinna Bunnz this year or in the future if you are definitely a big fan of hers.
Sexcraftboobs So where are you from?
Sinna Bunnz I'm from Atlanta, Ga now I live in Dallas Texas.
Sexcraftboobs What have you been up to lately?
Sinna Bunnz Well lately I been concentrating on my family and getting to my new home.
Sexcraftboobs When and why did you first decide to model?
Sinna Bunnz Exactly the story funny I had a ex who told me I was pretty and I should start modeling and at that time I was still dealing with myself image long story short, I told him I don't if he would stop asking we had a mutual friend in common who he knew modeled gave me her info and we linked up and it took off from there that was in 2008 or 09.
Sexcraftboobs Have you ever done webcam and skype shows before?
Sinna Bunnz I have never done webcam or skype shows before, but its something I am looking into in the future.
Sexcraftboobs Have you watched any porn before your modeling career? If you do it? How often?
Sinna Bunnz Not exposing my age, lol! 🙂 I was watching porn when it was on VHS so now I Don't watch as much as I did when I was younger here and there when the mood hits me.
Sexcraftboobs Do have a boyfriend, or are you married?
Sinna Bunnz I do have a boyfriend whose has been very supportive, he gave me my name how supportive is that. 🙂
Sexcraftboobs What is your bra size?
Sinna Bunnz My bra size a 40DD, I don't believe it but still I would like them to be a little more bigger titties. 🙂
Sexcraftboobs Now you have a nice huge round ass, can you measure how big or huge your ass is?
Sinna Bunnz My ass 64 inches. 😉
Sexcraftboobs Have you met many fans, both in public and on social media? How do they react? Any conversation so far?
Sinna Bunnz I have met fans in public and they showed mad love and asked for a picture or autograph or to. My social media fans I love them for just wanting to know me I'm happy to make them happy I have always and will remain humble without them there is no Ms. Sinnabunnz I sure to have respectful conversation with my fans.
Like many black bbw porn stars, it is natural for someone like Sinna Bunnz to have a monstrous size ass that definitely gets everyone attention.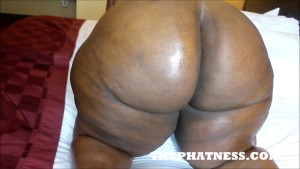 Sexcraftboobs Now you just starting to do hardcore? Do you have plans to do any anal scene? Or that just not your thing?
Sinna Bunnz This my second I shot with BBWTakeDown a few years back. I would love to do an anal scene that position is one of my favorites, not everybody gets that kinda love. 🙂 😉
Sexcraftboobs Apart from anal, is there anything else do you prefer or like to prefer? Spit, swallow or facial?
Sinna Bunnz I love my breasts to be sucked, my ass slapped while being fucked doggy style, and love to ride a mean piece of meat. Now when it comes to that spit, facial and swallow, that's a bit iffie. Lol! 🙂 😛
Sexcraftboobs What about Interrracial, Orgy Group Sex, DP or Bukake?
Sinna Bunnz I have no problem with fucking someone of the opposite color its good to experience different things with people, now an orgy group that would have to be some sexy ass people for me to get off. DP freaky enough for me lol! 😛 I'll try anything once lol! 🙂 If I Don't like it I just don't do again.
Sexcraftboobs Do you like titty-fucking?
Sinna Bunnz Its okay, not for me tho, that's what I was saying I need more breasts it looks fun. 🙂
Sexcraftboobs What is your short-term and long-term goals inside modeling and outside?
Sinna Bunnz My short term goals, I love taking pictures so that will always be a hobbies. My long term goals have nothing to do with the industry at all they are strictly for my family and me.
Sexcraftboobs Have you ever got any proposals from any adult sites?
Sinna Bunnz I have and I'm looking into those, you just have to wait and see if you see more of me. Lol! 🙂 😉
Sexcraftboobs Do you have any random thoughts?
Sinna Bunnz I'm always thinking, I'm a free spirit person I'm always trying to learn from experience, we have only one life and I'm trying to make the best of mine. 🙂
Sexcraftboobs Is there anything you would like to add for fans reading this interview? Any final words?
Sinna Bunnz To my fans who have been with me from the time I started till now I want to say thank you for being supportive and always showing love when I wanted to even give up y'all kept my name in your mouth. I'm forever humble and hope I don't let y'all down. 🙂 😉
Like as before you can follow this gorgeous bbw porn star on twitter, @sinnabunz71 to learn more about her if you are definitely a big fan of hers,