Exclusive Interview With Mz Sucktion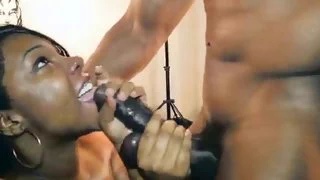 Best known for her voluptuous curved assets, Mz Sucktion is a gorgeous busty porn star who is looking to makes a name for herself by producing her own original contents to please many fans before to gains wide popularity. Now I am sure thats many of you've heard of her before since she apart from her assets is best known for her unique blowjob videos which hints the name and are surely worth watching for any fan who looking to see something new or different for a change. Apart from that, Mz Sucktion does more then justs an unique blowjob on a lucky dick as like with all hardcore porn stars she too also loves to get fuck in front of the camera.
With gorgeous huge black tits and a nice round ass, she uses these so voluptuous curved assets to her advantage to get everyone attention from boob fans to horny pervs alike in a mere instant when it come to pleasing those before her. In this exclusive interview, the lovely Mz Sucktion finally reveals all and tell us whats her plans are in the porn industry as many boob fans are eagerly wanting to know the answers while hoping to see more hardcore action from her. And there is no doubt in my mind thats those ebony curved assets of hers would definitely make any guy dick hard before her in a mere instant.
To my knowledge, she definitely shows potential in makings a name for herself by producing original but unique contents from blowjobs to hardcore videos to please so many boob fans which is whats gain her wide popularity for. You can follow this gorgeous busty porn star on twitter, @Mz_sucktion to learn more about her and be sure to check out her original contents at ConnectPal.com if you are a big fan of hers or just a fan of big ebony boobs.
And be sure to check out her profile at Xvideos.com/Mz_Sucktion for sneak previews if you are definitely a big fan of hers.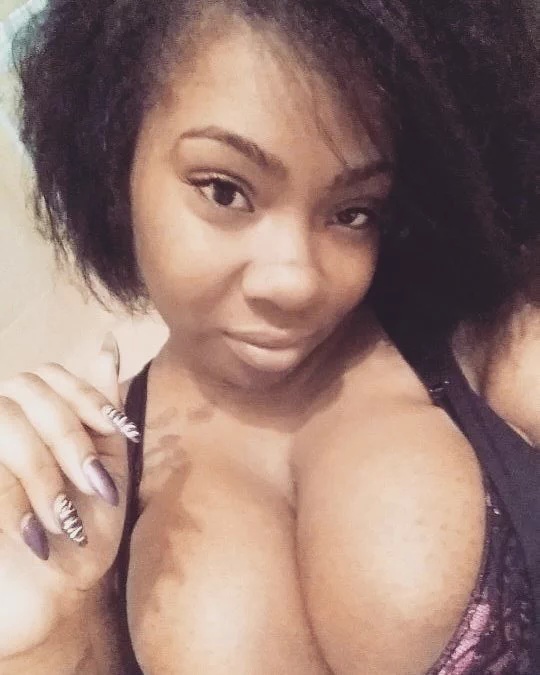 Sexcraftboobs So where are you from?
Mz Sucktion I was born in Perth Amboy, NJ. I grew up in Delaney Holmes project until the age of 8. After, we (as in my mother, 4 sisters and brother) mostly moved around a lot in New Jersey. Until, I moved to Atlanta with my mother and sister at the age of 16.
Sexcraftboobs What have you been up to lately?
Mz Sucktion I can say I've been up to plenty, lol! Right now, I'm mostly just focused on building up a good following and support system and getting my future porn company in order. I have a lot I'm trying to build however I much rather not go into details until I'm further in my career as an adult entertainer.
Sexcraftboobs How long have you been modeling? And when and why did you first decide to model?
Mz Sucktion I guess you can say I started adult entertainment, the first day I uploaded my xxx content to Xvideos, which was August of 2015. What's funny is I never actually planned to be a porn star. I originally just wanted to go into production and work on several things involving adult entertainment. However, a homemade video I did with an ex was posted online. (Clearly it was posted by him). I remember getting messages on Facebook from men telling me they saw a video of me giving a guy head. I found the video under my real name on Xvideos and several other sites. Instead of crying about the situation, I made the best of it. I mean why not? I'm good at what I do and I'm not ashamed of my sexuality/freakyness.
Sexcraftboobs Have you done any webcam and skype shows before or as of late?
Mz Sucktion No, I'm not really into webcam modeling. Lol!
Sexcraftboobs Have you watched any porn before your modeling career? If you do it? How often?
Mz Sucktion Uh YES! Lol, I love porn. Some of my favorites are Pinky, Maserati, Sky Black, Jada Fire, Lexington Steele, Mandigo and of course Superhead/Karrine Steffans. I watch porn maybe 3-4 times throughout the week. I wouldn't say I'm obsessed with porn lol, to be honest I like watching my own videos a little more.
Sexcraftboobs Do have a boyfriend, or are you married?
Mz Sucktion No, I'm single.
Sexcraftboobs What do you do when you not modeling? How is a normal day in your life?
Mz Sucktion Well I'm a sophomore in college. Therefore if I'm not doing a scene, I'm more than likely studying or reading a good book. Although I would have loved to remain a full-time student, I did have to cut my semester credits to 1 class. I did this to avoid failing a class due to me not having enough time to study. There isn't a day when I'm not moving around or planning something. I run everything myself, therefore between getting bookings, planning hosting events, contacting adult entertainment companies, holding oral sex classes and advising new talent, I stay pretty busy throughout the day.
Sexcraftboobs What is your bra size? When did your breasts start to grow? How was it back then?
Mz Sucktion My bra size currently is a 36GG. I've had boobs for as long as I could remember. I actually don't remember ever having a training bra. I just recall my mom saying I needed a bra and buying me a regular one lol. I was a D by time I went to high school and a DD by time I graduated high school. What's funny is, I never really payed attention to how big my breast were. I remember girls in my middle and high school would always point it out to me and I've often felt embarrassed in those situations. Lets just say being 15 years old and a D cup came with a lot of jealousy from other girls my age and older. Boys on the other hand were often nice to me lol.
Sexcraftboobs Do you sell bras and panties to fans?
Mz Sucktion Currently, No! I don't but that sounds interesting nevertheless. Maybe in the future.
Sexcraftboobs Have you met many fans, both in public and on social media? How do they react? Any conversation so far?
Mz Sucktion I've met several supporters (I'm not to fond of the word fan) of mine. I think the most rememberable had to be the cashier at Krogers. He just kept staring at me until he asked if I was Mz Sucktion. He was so sweet and seemed extremely nervous. He asked for my autograph and I was shocked! This was the first autograph, I've ever signed, it truly made me feel important and I'm forever grateful for that. As far as supporters of mine on social media, I have plenty including 10k on twitter, 50k on Facebook and 85k on Instagram and I'm grateful for every last one.
With gorgeous huge black tits, Mz Sucktion definitely knows how to use these melon-size assets to her advantage when to comes to getting attention.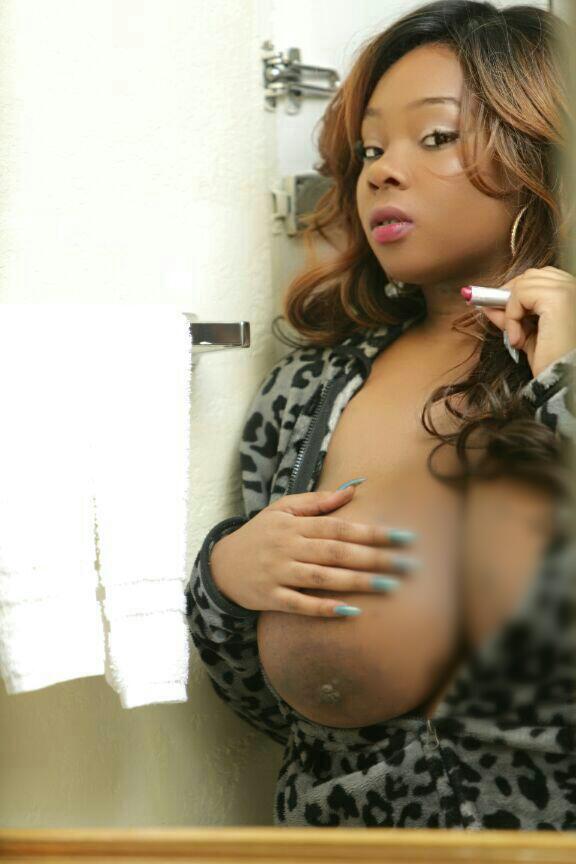 Sexcraftboobs Now you done some hardcore scenes over the years, have you done any anal scene before? Do you like getting anally fuck on camera? Or that just not your thing?
Mz Sucktion Anal is absolutely NOT my thing, lol! I have no intentions of ever doing an anal scene. I'm just not into it.
Sexcraftboobs Apart from anal, is there anything else do you prefer or like to prefer? Spit, swallow or facial?
Mz Sucktion Anything including oral sex, I absolutely love. It turns me on when I give a man a blowjob. As for my likes and dislikes in the bedroom. I'm open to any and everything but anal, lol! Seriously, I'll give a man a good rim job before I'll have anal sex. Other than a tongue or finger, no dicks in the booty for me.
Sexcraftboobs What about Interrracial, Orgy Group Sex, DP or Bukake?
Mz Sucktion I'm a freak so I love a good orgy. Now DP, I'm not into it if it involves anal sex, lol! But being with two guys or even two girls is awesome. I've done interracial scenes and have dated interracially so I don't consider that out of the norm for me, lol! Bukake? I had to Google that shit, lol but who doesn't love a good facial? Hell, sperm has protein in it, so I love a good face splash of nut juice.
Sexcraftboobs Do you like titty-fucking?
Mz Sucktion Yes! I'm a 36GG, these tits were made for massive titty-fucking!
Sexcraftboobs How do you masturbate?
Mz Sucktion I masturbate the old fashion way, lol! I don't use toys, I love playing with my clit and sticking one finger in my pussy. I know it sounds pretty basic but I make myself cum so hard just by doing that.
Sexcraftboobs If you had three wishes, what would you wish for?
Mz Sucktion Would be a million dollars, sound too cliché? Lol! No, seriously I would wish for a cure for cancer, my mother to be immortal and wealth (of course).
Sexcraftboobs Is there any busty or bbw porn star or camgirl you admire?
Mz Sucktion Maserati, I honestly don't watch BBW porn but her boobs are amazing.
Sexcraftboobs What is your short-term and long-term goals inside modeling and outside?
Mz Sucktion I have several business plans in the works. For now, I'm mostly just building my brand. Hopefully in the future, I can get into movies and actual acting. I think that would be dope.
Sexcraftboobs Have you ever got any proposals from any adult studios or photographers?
Mz Sucktion Of course, I get emails everyday from companies who wish to work with me. The only issue I have is that I control my content, currently and I no longer will, if I work with them. In other words, I own the rights to everything I post. Therefore I profit from any and everything posted by me. When you go thru a porn company, you as the talent have no rights to the video because you were paid for that scene. So while the porn company makes millions you are only paid 500-2000$ for a scene. I have an issue with that, therefore I won't be working with any porn company unless its a paid contract between them and I. The advantage I have over other adult talent is my videos are limited. Which means the 6 videos I, myself posted online are the only videos available to the public. My subscribers on connectpal have access to scenes not available to the public. I love that my content can't be downloaded which is why I don't sell clips.
Sexcraftboobs How do you promote yourself?
Mz Sucktion I use social outlets such as Twitter, Facebook, Snapchat, Periscope and Instagram.
Sexcraftboobs Do you have any random thoughts?
Mz Sucktion All the time. I'm slick bipolar.
Sexcraftboobs Is there anything you would like to add for fans reading this interview? Any final words?
Mz Sucktion Yes, I would like to thank all my supporters who are apart of sucktiongang. I promise this is only the beginning and I truly can't wait to showcase what I have in store for you guys. In an industry that's becoming Ass- obsessed, I'm extremely grateful to promote diversity amongst women. The #imbringingtittiesback movement isn't to dilute or shy away from voluptuous women with big butts but more so to promote the fact that women come in all shapes and sizes. We don't need surgery to be sexy. Be, sure to follow me on Instgram, periscope and twitter, @Mz_sucktion. My Facebook is Angelle Melodey. Thanks again y'all *Kisses*
Like as before you follow this gorgeous busty porn star on twitter, @Mz_sucktion to learn more about her and be sure to check out all of her original contents at ConnectPal.com if you are definitely a big fan of hers.
Here is a special video teaser from the lovely Mz Sucktion to sign this interview off, enjoy!
😊😍😘 see full movie @inHERribs https://t.co/g0cJYxkGOD pic.twitter.com/AiIbpkWE5P

— Mz Sucktion (@Mz_sucktion) April 8, 2016