Exclusive Interview With Miss Mina
Bootylicious is the word of the day when it comes to this bbw porn star who has been making a name for herself over the years, gaining wide popularity and a huge fan base for her booty twerking videos. Widely known as GodMother Of Ass on twitter, Miss Mina is the type of bbw porn star that most fans can get to know on a professional level while some might become intimidated by her but would still get their money worth to buy her videos.
Apart from her booty twerking, she also specializes in farting fetishes and dominatrix videos which are also worth buying for any bbw fanboy who looking for a different kind of pleasure or just to be punish by her. In this exclusive interview, the amazing Miss Mina finally reveals all and tells us her plans are in the porn industry as many bbw fans are eagerly wanting to know the answers while hoping to see more booty twerking action or something new this year.
With a beautiful huge round ass, her popularity continues to grow with every video that she produces from booty twerking, fart fetishes to dominatrix to farther expand her fan base to become a revere bbw porn star. You can follow her on twitter, @GodMotherOfAss to learn more about her if you are a big fan of hers or just a fan of beautiful plumpers, in the meantime here is my exclusive interview to leave you leave satisfy at the end of the day.
Be sure to check out Miss Mina webcam shows on such sites like justbbwcams, allbbwcams and cammodels if you are looking to get your money worth for a private one on one session with her.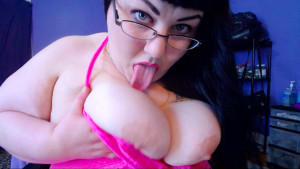 Sexcraftboobs So where are you from?
Miss Mina Philly born & raised.
Sexcraftboobs What have you been up to lately?
Miss Mina Minding my biz/keeping to myself and staying busy like always. Have to in this biz, Don't have time for drama.
Sexcraftboobs How is your webcam shows doing?
Miss Mina I haven't had time to cam much. Been busy with lots of other stuff. But I try to log on at CAMWITHMINA.com as much as I can. So catch me while you can on your fav BBW cam networks.
Sexcraftboobs Have you done any skype shows before or lately?
Miss Mina Yes, I do skype shows. I do mostly fetish and domination shows. Interested in booking a Skype show? Email me at camwithmina@gmail.com, email is for prepaid skype show bookings, ONLY!
Sexcraftboobs When and why did you first decide to model?
Miss Mina Long story. But I'll make it short. Back in 2001 a guy I was dating at the time gave me the idea because he thought I would be good at it. And I started by doing cam shows on ifriends. Then I got the idea for my own pay site and started my original site MISSMINABBW.com and the rest is history.
Sexcraftboobs Have you watched any porn before your modeling career? If you do it? How often?
Miss Mina Nah, I don't care for porn actually. I only like money porn & weed porn.
Sexcraftboobs Have you watched your own?
Miss Mina Of course. Who hasn't? I have to edit it, grab stills so yeah I watch my videos.
Sexcraftboobs Do have a boyfriend, or are you married?
Miss Mina No, and no. I've been single the last decade and that's the way I like it. Just me, my ferrets Lucky & Tupac, & my bitch Mary Jane.
Sexcraftboobs What do you do when you not modeling? How is a normal day in your life?
Miss Mina I'm always busy doing something. Whether it's work related or stuff at home/my personal life. I paid the cost to be the boss. But a boss' job isn't always easy.
Sexcraftboobs What is your bra size?
Miss Mina 42D
Sexcraftboobs Now you have a nice huge round ass, can you measure how big or huge your ass is?
Miss Mina Thanks. Got that from the Polish side of the family. My hips are 60 inches under the belly. Some try to measure over and cheat.
Sexcraftboobs Do you do a lot of ass shaking or booty twerking?
Miss Mina Of course. You can check out all of my exclusive high quality videos updated regularly at bbwfetishvideos.com.
Sexcraftboobs You love to do fart a lot and have dedicated a video store for that? Why do many bbw fans find farting fetishes fun to watch?
Miss Mina I tend to fart a lot usually. So I turn those farts into $$$. My fans can't get enough. I have a very loyal fart fetish/ass minion following. And have for years.The ones that spend $$$ by supporting my hard work are my fav minions. 🙂 You can find all of my exclusive real fart fetish videos at BBWFETISHVIDEOS.com & FARTFETISHGODDESS.com.
Sexcraftboobs Apart from farting fetishes, you are also a bbw dominatrix and have a website dedicated to that? What kind of cruel thing you do as a bbw dominatrix?
Miss Mina Tease, taunt with my ass & take their money that they gladly hand over. Call it cruel but they keep coming back for more & I LOVE it! Keep it coming $$$ and I'll keep you cumming.
Sexcraftboobs Have you met many fans, both in public and on social media? How do they react? Any conversation so far?
Miss Mina One fan years ago when I first started. That's it. I prefer to keep conversation and any kind of interaction online. I am big on security/privacy & having what private life I do have, kept private. Some fans can be a little over zealous & can't control themselves. So I keep my distance. I like to keep my distance with people in general. It's better that way.I've had a few experiences over the years with out of control fans. I will not hesitate to get in your ass if you rub me the wrong way.
Be sure to follow Miss Mina on tumblr to learn even more and find exclusive contents that are definitely worth looking into for any bbw fanboy.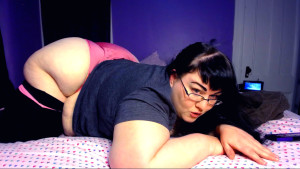 Sexcraftboobs When doing a webcam show, do you use a lot of sex toys? What kind do you use?
Miss Mina I love being in control. The only toys I use is a strap on for domination shows & maybe a Hitachi wand. Not into toys really. I'm more into fetishes/domination. So I use fetish/domination related stuf.
Sexcraftboobs Now you done a lot of softcore stuff? Would you like to do any hardcore or boy/girl video? Or that is just not your thing?
Miss Mina Nah, not my thing. All of my stuff is SOLO and has been since I started. I did do some cam shows with my then boyfriend back when I first started but that was it. I work alone period. I'm too much of a control freak and people in general just rub me the wrong way. I shoot & edit all of my content. I do marketing & promotion, EVERYTHING. Just to give you an idea of how much of a control freak I am.
Sexcraftboobs Do you like titty-fucking?
Miss Mina It's ok.
Sexcraftboobs Is there any busty or bbw porn star or camgirl you admire?
Miss Mina I admire myself. That's it. Hero worship is not healthy, lol!
Sexcraftboobs What is your short-term and long-term goals inside modeling and outside?
Miss Mina I've been doing this almost 15 years. I've been in magazines like Big Butt Magazine, Hustler Magazine, celebrity blogs, Tosh.0 on Comedy Central (9/23/14 Season Premier) etc. I plan to retire eventually. But not just yet. My minions definitely won't have it.
Sexcraftboobs Have you ever got any proposals from any adult sites?
Miss Mina To shoot content and what not? Yeah all the time. But I don't shoot for other companies. My content is for my sites only. I like keeping as much as I can exclusive to my company only.
Sexcraftboobs How do you promote yourself?
Miss Mina I promote myself any way I can. Social media is big so I do a lot of promotion through that, message boards, etc.
Sexcraftboobs Do you have any Random thoughts?
Miss Mina Yes, I do custom videos made to your specifications for those that like that type of thing. I shoot A LOT of custom videos & I love doing them. Want me to make your fantasy come to life? Email for a free custom quote: MissMinaBBW@gmail.com My birthday is May 14th. Send lot of Amazon.com e gift cards to GodMotherOfAss@gmail.com
Sexcraftboobs Is there anything you would like to add for fans reading this interview? Any final words?
Miss Mina Yes follow me on Instagram: GodMotherOfAss (No private profiles. No minors.)
Follow me on Twitter for my live random thoughts, new video releases, when I am live on your fav vcam networks & more at: @GodMotherOfAss
Follow me on #Tumblr for candid, pictures, videos & reblog my posts – missminabbw.tumblr.com
Join my mailing list to stay on top of me – aardvarkmailinglist.net
Call me & talk to me on the phone at NiteFlirt – niteflirt.com
Be sure to check out all of Miss Mina official sites if you are definitely a big fan of hers.