Exclusive Interview With Miia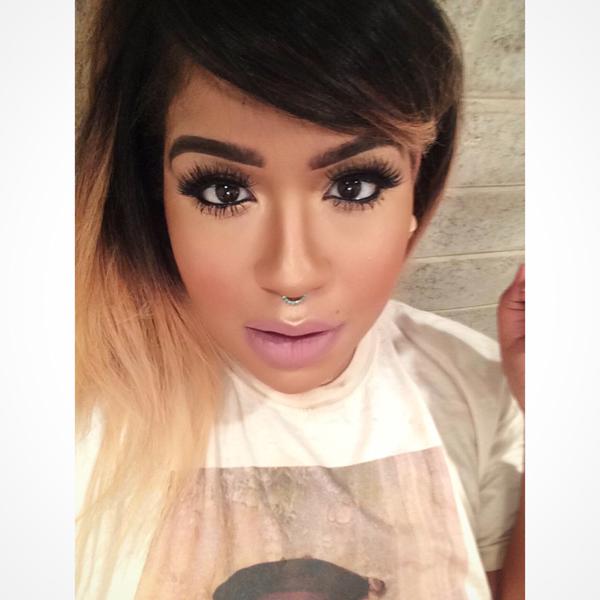 Known for her huge black tits, Miia is a bbw camgirl that many fans maybe new or unfamiliar with her especially to the fact that she not much active on twitter which is the most popular social media where you can find a lot of lovely bbw models like her on there. Fortunately, for those who are on tumblr can definitely find her very much active on there as she post the latest updates on exclusive new contents from her official website by modelcentro which are certainly worth checking out for any bbw fan.
With beautiful huge black tits, she possesses voluptuous curved assets which she definitely uses to her advantage when getting everyone attention from bbw fans to horny pervs alike in a mere instant. In this exclusive interview, the lovely Miia finally reveals all and tells us what her plans are as many bbw fans are eagerly wanting to know the answers while hoping to see more or something new from her this year.
To my knowledge, she is a bbw camgirl who like to keep a low profile while making a name for herself by pleasing many fans and pervs alike with exclusive new contents on her official website which is definitely worth checking out. You can follow this gorgeous bbw camgirl on twitter, @blackddmamba and on tumblr, black-dd-mamba.tumblr to learn more about her if you are a big fan of hers or just a fan of black beautiful plumpers, in the meantime here is my exclusive interview.
And be sure to check out her official website, blackddmamba.com for all of her exclusive contents if you are definitely a big fan of hers.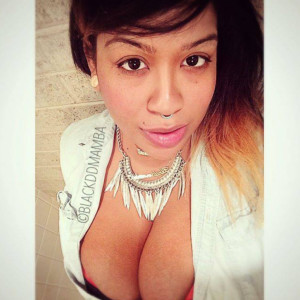 Sexcraftboobs So where are you from?
Miia Phoenix, Arizona! 😉
Sexcraftboobs What have you been up to lately?
Miia Just building my website, filming my videos and taking pictures for instagram nothing amazing.
Sexcraftboobs When and why did you first decide to model?
Miia I really wouldn't call myself a model I see myself is just confident sexual woman who just wants to document her journey with the world people making a big deal but I really don't see you as anything crazy or special we all have the things that make us happy I just happened to be a little bit more open-minded and very comfortable with who I'm growing into.
Sexcraftboobs Have you done any webcam and skype shows?
Miia Have done some candy shows and I have done some skype, though I try to not do too many skype shows because they're really exhausting.
Sexcraftboobs Have you watched any porn before you started your modeling career? If you do it? How often?
Miia I've been watching porn since I've been a kid I've always been fascinated with that about the human body and just everything I always thought it's so beautiful and artistic no matter how corny the porn was I always love a good storyline and the sex is a big deal I guess to me I will always look at the women's faces. I watch porn every single day including holidays, haha I mostly study how women are moving, I watch a lot of BBW porn, a lots of female porn just so I can analyze how they are moving their facial expressions because that's an art to me and I'm constantly learning something new.
Sexcraftboobs Do have a boyfriend, or are you married?
Miia Sadly, I do not have a boyfriend I was with someone for eight years and I've only had three sexual partners of my 25 years of living, haha ha I just don't want to date right now it's hard to focus on building a brand and focusing on the relationship and right now my focus is on BLACKDDMAMBA! 😛
Sexcraftboobs What do you do when you not modeling? How is a normal day in your life?
Miia Well one I'm not performing or "modeling" I am with my family and friends I really don't like clubs or chaotic situations or loud places, it's just never been my thing even when I was younger I much rather stay home and couldn't be then be with my siblings are my best friend and if I had a boyfriend that be awesome who can understand that I just don't like going out I consider going to the grocery store the highlight of my week because it's when I leave my house, Arizona's very hot so in the summer I just stay indoors, I read a lot I'm a pretty boring person, I listen to a lot of different music, I'm constantly looking for a song that I could put in a video or something and all my followers would love ordering T-shirts looking at shirts with cool comic book characters or something I know that's going to get a lot of peoples attention I do shop a lot but that's like a whole different story.
Sexcraftboobs What is your bra size? When did your breasts start to grow? How was it back then?
Miia My current bra size is kind of stuck in the middle sometimes, 42DDD are awesome but other times they are super tight and I can wear a 42F, it really depends on the brand, it really does it's really hard to find a good solid bra, worry doesn't look like I'm gonna bust through it and where it doesn't look all fucked up.
Sexcraftboobs Now you have a nice round huge ass, can you measure how big or huge ass is?
Miia You know that I do not know my measurements and I wish I had an ass it's all about those angles are not gonna lie to everyone to be something I'm not, I don't have a huge ass but I wish I did but I don't, imao.
Sexcraftboobs Have you met many fans, both in public and on social media? How do they react? Any conversation so far?
Miia I have met a few times, it's not really a big deal I'm way more freaked out than them it's a really surreal feeling because I'm just a normal person, I never in a million years want to be famous or people follow me on social media if I answer the end they still freaked out they always say oh I can't believe you're talking to me you're like a celebrity or famous, it's all bullshit, imao. I actually get more private messages from women that I demand I get a lot of dick pics but am I trying to you know even comment on those you know takes a lot of confidence to send a dick pic but the women are very curious and have a lot of questions and constantly asking me why I do it how did I do it to get the confidence it's not really about confidence it was just more of a journey I was looking for someone to relate to and look up to someone like me I wanted to see bigger girls but doing the things that the skinny girls are doing you know dancing in their bras and posed in their underwear I just think it was fair that there was no big girl doing it so I just did it and it kind of just blew up from there.
For those who are new or unfamiliar with her, Miia may not be all active on twitter but you can definitely find her on tumblr, black-dd-mamba.tumblr to learn more about her.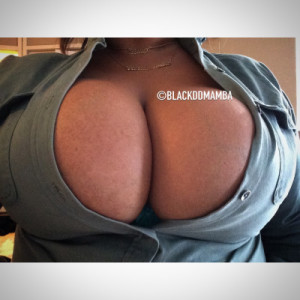 Sexcraftboobs Now you done a lot of softcore stuff as of late, have you done any hardcore videos before or would you like to do one? Or that just not your thing?
Miia Fuck No! I will never do hardcore, I've never thought about it and have no desire to do it, I'm a one woman show and if people can't handle that then that's their issue, I don't want anyone touching me.
Sexcraftboobs Do you like titty-fucking?
Miia Oh of course, I love it and it's the bad as there's nothing better I just think it's a really fun foreplay activity and it gets me off, I don't know if you get that all girls off but I can speak for myself.
Sexcraftboobs Is there any busty or bbw porn star or camgirl you admire?
Miia You know I have it and have to be Busty Von Tease, she was truly my inspiration getting into this and I've always looked up to her, she's classy, cool and such an amazing woman you know she's just so incredibly sweet and I'm totally in love with her, she's so beautiful and she was really definitely my foundation and starting this I basically took her prototype and modified it to be my own, everyone takes everyone's ideas and I always wanted to keep myself classy like her and very tasteful at the same time but I made it my own and I'm pretty sure she was the founding mother of what we now call busty pages girls are just so all you know they're beautiful boobs and don't want to show their faces because they have a life it's just an outlet and a lot of people don't understand that they harassed the girls who like to show their faces or your face when really it's just they're just enjoyed themselves and again if the documentation you're not gonna look like this forever and you can go back and look at everything and it's fun so she was definitely someone I look up to, she has an amazing balance of being an amazing wife mother and Chris still contributing to society at her normal job so he's definitely will always be my top inspiration.
Sexcraftboobs What is your short-term and long-term goals inside modeling and outside?
Miia Wow, I was just talking about this the other day and it's hard to decide what those goals are because I want to do everything at the same time, I really impatient so I'll have to totally come back to this quested because I simply do not know how to answer this right now but one for sure is to always remain. A cool page on instagram it's always connect with people.
Sexcraftboobs Have you ever got any proposals from any adult sites?
Miia I have several and all were declined politely.
Sexcraftboobs How do you promote yourself?
Miia You know what's funny is that I really don't need to promote myself because I'm everywhere now, you know people think that they're hurting me by downloading videos or my old stuff when I did nip slips LMAO. But they're actually the ones promoting me that you uploaded on porn sites they think people type it but they're looking for and I popup so automatically they then Google my name on that porn site and my instagram account comes up and everything comes up so it's like one big circle I just as long as I have haters I have promoters.
Sexcraftboobs Do you have any random thoughts?
Miia My entire life is a random thought!
Sexcraftboobs Is there anything you would like to add for fans reading this interview? Any final words?
Miia Sure, I like them to know that I just truly love them because without them I would not have a platform or a reason to keep going or building off of this it's truly a blessing that people could still see you even through your social media I try to connect as much as I can with the ones that I know I can connect with I've met so many men and women on social media that I talk to everyday I've been on instagram going on I think three years I've not sure, LOL but I've met some amazing people and they will forever have a place in my heart it's amazing how you couldn't connect now my followers know that I'll always being real and I will never change, I might grow as a person a little but personality wise they pretty much know how I am I could say a lot more but will be here literally all night but thank you so much for interviewing me it was quite a pleasure.
Like as before you follow her on twitter, @blackddmamba and on tumblr, black-dd-mamba.tumblr to more learn about her if you are definitely a big fan of hers.