Exclusive Interview With May West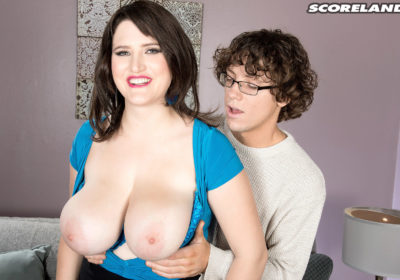 Last year in a previous article, I talked about the so lovely May West who is a gorgeous busty newcomer that best known for her voluptuous curved assets which she uses to gains popularity by fans that's of course are always looking to see a fresh new face within the porn industry. All throughout last year, she has collaborated with Score Studio in producing new exclusive softcore and hardcore contents to finally establish herself as a porn star who looking to do more then just explores the sexuality of her own assets. That being said, this is still only just the beginning for her as she aims to go beyond her work with the studio to furthers expands her popularity through other revenues of success.
With beautiful big boobs and a nice round ass, she definitely knows how to uses these so voluptuous curved assets of hers to get everyone attention from boob fans to horny pervs alike in a mere instant when it comes to so pleasing those before her. In this exclusive interview, the lovely May West finally reveals all and tells us what her plans are in the porn industry as boob fans are eagerly wanting to knows the answers while hoping to sees more hardcore action from her. As mentioned before, there is no doubt in my mind that those curved assets of hers would so definitely makes any guy dick hard before her in a mere instant especially those big boobs of hers.
To my knowledge, she indeed's continues to show potential as a model who aims to seek out new revenues of success to furthers expands or boost her popularity and continue to give boob fans what they want to see from her which is more hardcore action. Like as before you can follow this so gorgeous busty newcomer on twitter, @BigTittyMayWest to learns more about her and gets the latest updates if you are a big fan of hers or just's a fan of beautiful big boobs, in the meantime here is my exclusive interview to leaves you satisfy at the end of the day.
And be sure to check out all the softcore and hardcore scenes from the lovely May West over at ScoreLand.com if you are definitely a big fan of hers.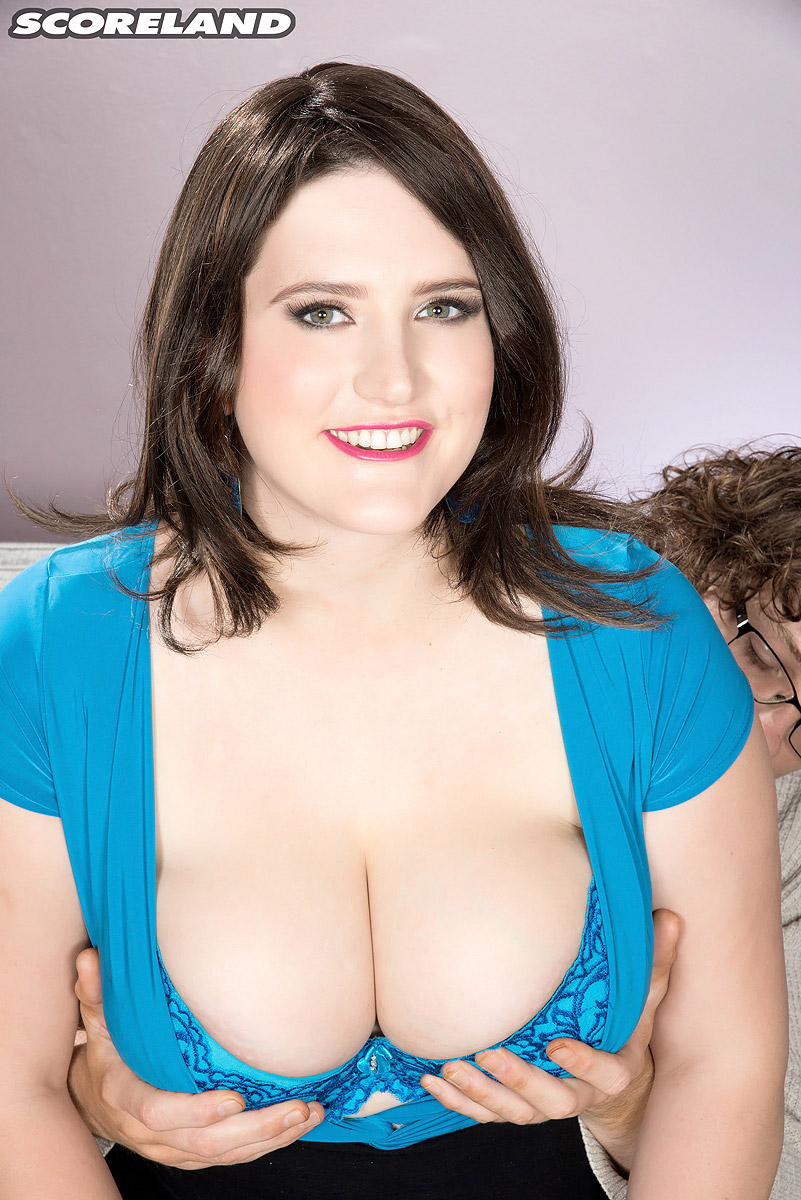 Sexcraftboobs So where are you from?
May West I am originally from the rural northeast, but New Orleans has become my home. However-there will always be a bit of the country girl in me.
Sexcraftboobs What have you been up to lately?
May West I haven't shot as much lately as I have been working a lot at my other jobs and I also have been working on my erotica, which I hope to package and sell soon.
Sexcraftboobs How long have you been modeling? And when and why did you first decide to model?
May West I had made my debut shoot with FaceFucking in January of last year. I have thought about modeling for years, but was on the fence about it-in regards to other professional goals-but then I took the leap of faith and now I really love it! 🙂
Sexcraftboobs Have you done any webcam and skype shows before or as of late?
May West I have never done webcam or skype shows. But I do hope to start working on it with 4D Date next year so I can offer private shows for my fans.
Sexcraftboobs Have you watched any porn before your modeling career? If you do it? How often?
May West I don't watch a lot of porn, but I definitely did my fair share of exploring. I mostly gravitated towards lesbian or group sex and porn with BDSM elements. I also really like watching porn parodies with friends, so I host chicken and porn nights were we eat fried chicken and watch porn. I would say I watch porn once or twice a week.
Sexcraftboobs Have you watched your own scenes?
May West I have watched my own scenes as I want to know how I look and see things I can improve upon. But when I want to be aurosed by porn I prefer to watch other people's work.
Sexcraftboobs Do have a boyfriend, or are you married?
May West I am polyamorous, so I have boyfriends and girlfriends all over the country. 😛
Sexcraftboobs What do you do when you not modeling? How is a normal day in your life?
May West I have a couple of others jobs so it's really just the 9-5 grind most days. But on my nights or days off I like to work on my erotica and read. I also like to go out with my friends or lovers to concerts or out to the many bars down here. I also try to have sex at least once a day, I love connecting with people and I love sex.
Sexcraftboobs What is your bra size? When did your breasts start to grow? How was it back then?
May West I am currently a 36DDD and I have had large breasts since I was 12 years old. Back then, I had about a C cup and by 14 I was at a DD cup. Some classmates tried to pick on me and say I stuffed, but I would just say back, "Well I could flash you, but I just don't want to." That usually shut them right up. (Especially the boys.) 😉
Sexcraftboobs Do you sell bras and panties to fans?
May West No I don't, but it is a wonderful idea! I would love to provide fans with my nasty underwear. 😛
We as boob fans can only hope to see more of the lovely May West on other porn sites in hardcore action throughout this year and many years to comes.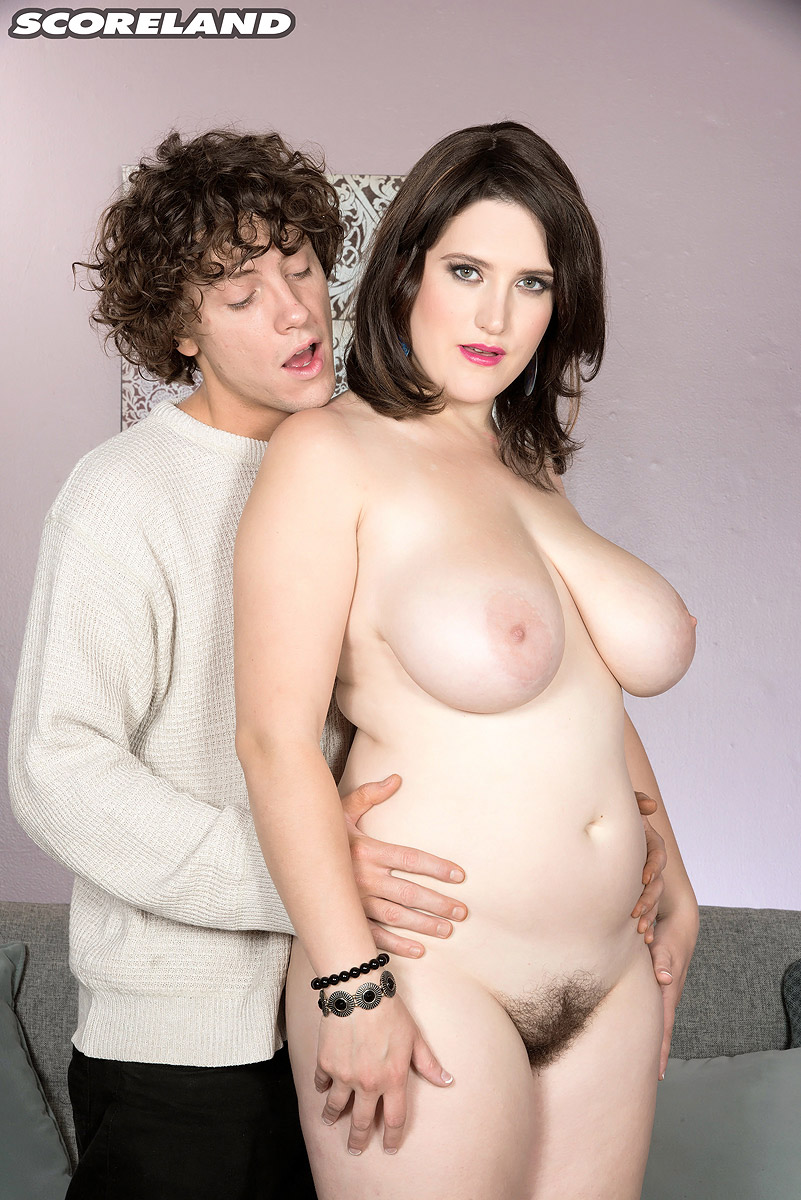 Sexcraftboobs Now you have done hardcore videos, but have you ever any anal scenes before? Do you like getting anally fuck on camera? Or that just not your thing?
May West I love anal both on and off the camera. I have anal sex at least once a week in my personal life and really enjoy anal play, both giving and receiving. If I wasn't so comfortable with it in my personal life than I probably wouldn't have done it on film. Also, I really enjoy performing anal on film especially as the male actors have such nice dicks. 😛
Sexcraftboobs Apart from anal, is there anything else do you prefer or like to prefer? Spit, swallow or facial?
May West I really love giving head as well both to men and women. I really like to do what my partner likes, if they like me to swallow I will (I do love the taste of cum) or if they want to say cum on my breasts that's cool too! I am fairly flexible and I like to do what gets other people off. 😉
Sexcraftboobs What about Interrracial, Orgy Group Sex, DP or Bukake?
May West I would like to do interracial, group sex, and/or DP scenes in the future! I think I may like to try Bukake in my personal life before doing it on film, but I am always game to try anything once.
Sexcraftboobs Do you like titty-fucking?
May West I really do! It feels so nice and I like how aroused my partners get.
Sexcraftboobs How do you masturbate?
May West It depends on my mood. To get aroused, I like to read erotica and look at fetish-photos like bondage and domme scenes. And then I usually fantasize about a recent time I has sex. Oftentimes I will insert a dildo or fingers into my cunt and/or ass, and sometimes I just like to play with my clit and other times I like to use a vibrator. 😉
Sexcraftboobs What are your sexual fantasies about?
May West I often like to think about having group sex or having sex in public places. A lot of my fantasies involve a lot of different sex acts.
Sexcraftboobs If you had three wishes, what would you wish for?
May West Ooh! Well, we all want to be independently wealthy, so that would be first choice. My second would be the ability to travel the world. And the third would be to own my own swingers/sex club. 🙂
Sexcraftboobs Is there any busty or bbw porn star or camgirl you admire?
May West I really love April Flores. She is BBW and also bisexual, which I really like to see. In regards to hair, I really enjoy Jiz Lee's presentation of full pubic hair and also their queer sex scenes.
Sexcraftboobs What is your short-term and long-term goals inside modeling and outside?
May West I want to expand the amount of scenes I do in regards to modeling, I would love to get some lesbian content out there and more fetish work. Outside of modeling I just like to maintain a balanced life and I also love to travel. I am actually going to Europe over the holidays.
Sexcraftboobs Have you ever got any proposals from any adult studios or photographers?
May West I have gotten many proposals. For example, Score reached out to me via my Sexy Jobs profile. Some offers I take and others don't plan out due to scheduling or a difference in working styles.
Sexcraftboobs How do you promote yourself?
May West I promote myself on Sexy Jobs profile and twitter page. I also sometimes reach out directly to companies I would like to work with. I also did an interview with my friend who blogs about porn and would like to do more with porn bloggers.
Sexcraftboobs Do you have any random thoughts?
May West Just thank you for your interest in my work and I really appreciate you helping to promote me. 🙂
Sexcraftboobs Is there anything you would like to add for fans reading this interview? Any final words?
May West Thanks so much for watching and enjoying my work! Without interested fans I wouldn't have a modeling career and I truly appreciate each of you. 🙂 😉
Like as before you can follow this gorgeous busty newcomer on twitter, @BigTittyMayWest to learn more about her and get the latest updates if you are definitely a big fan of hers.