Exclusive Interview With MaryJane38DD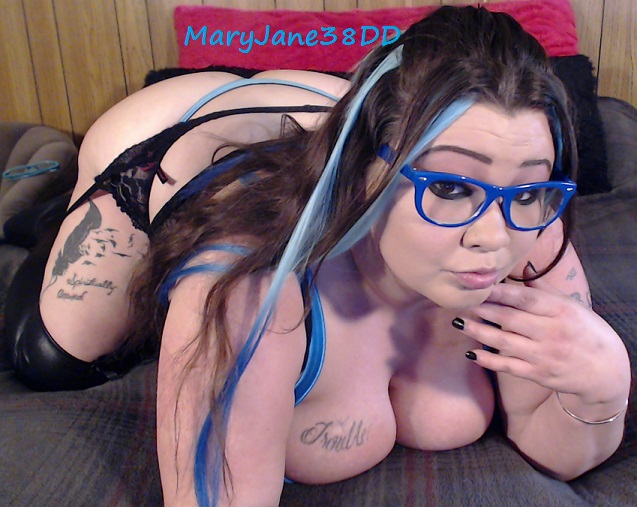 As mentioned in my recent articles, MaryJane38DD is a bbw camgirl who looking to farther expand upon her popularity that she have gain through her webcam shows to make a name for herself. Like many bbw camgirls, she is determine to become more well-known by many and explore new things such as breaking into professional modeling which fans are definitely hoping for at this point.
With huge natural tits and always looking so gorgeous, she knows what bbw fans want to see or expect from her as she continues to crank out more contents like pics and custom videos to satisfy those who show their support for her. In this exclusive interview, the lovely MaryJane38DD reveals all and tells us what her plans are as many bbw fans are eagerly wanting to know the answers while hoping to see more or something new from her this year.
With a bbw camgirl that is gorgeous as her, if you as a fan can definitely expect to see kind of big breakthrough from her at some point of this year since she continues to farther expand her popularity for the future. Like as before you can follow this gorgeous bbw camgirl on twitter, @MaryJane38DD to learn more about her and be sure to check her webcam shows on allbbwcams and cammodels, you are a big fan of hers, in the meantime here is my exclusive interview.
Also, be sure to spoil her by buying items off her wishlist on Amazon if you are definitely a true fan of hers that always love your support for her.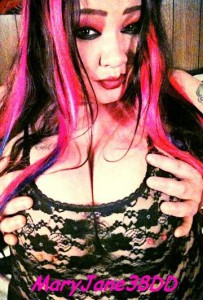 Sexcraftboobs So where are you from?
MaryJane38DD I was born and raised in northern California. I lived in the south east for about 10 years. And for about the last 5 years I have been back in northern California.
Sexcraftboobs What have you been up to lately?
MaryJane38DD Promoting myself, networking, making videos and camming. Other than that, just living and enjoying life! 🙂
Sexcraftboobs How is your webcam and skype show doing?
MaryJane38DD It has been going pretty well. I enjoy the interaction with the fans and pervs, some can be real sweethearts! I plan to be even more active on cam in the near future. 😉
Sexcraftboobs When and why did you first decide to model?
MaryJane38DD I began modeling in May 2014, I have always been somewhat of an exhibitionist and wanted to explore my own sexuality and my inner freak. It also seemed like a fun hustle.
Sexcraftboobs Have you watched any porn before your modeling career? If you do it? How often?
MaryJane38DD I have watched porn before and after I began modeling. I enjoy BBW porn, maybe a couple times a week. I like to keep up with new scenes of the beautiful ladies I that I crush on!
Sexcraftboobs Have you watched your own scenes?
MaryJane38DD Yes I have! I've actually watched them while having sex, very hot and fun! 🙂
Sexcraftboobs Do have a boyfriend, or are you married?
MaryJane38DD Currently I am in a open relationship with a male and female, so technically I have a boyfriend and a girlfriend. I have never been married, maybe one day though.
Sexcraftboobs What do you do when you're not modeling? How is a normal day in your life?
MaryJane38DD I live in the mountains, I enjoy going to the lake, being outdoors and nature. I love to cook and I spend a lot of time with my animals. I have rabbits, chickens, dogs, and a cat, so yeah there's that.
Sexcraftboobs What is your bra size? When did your breasts start to grow? How was it back then?
MaryJane38DD 38DD/38DDD I spill out of my DD, so maybe DDD at this point. They started growing around age 12. I always liked the attention my boobs got, I always flaunted them wearing low cut tops.
Sexcraftboobs Now you have a nice huge round ass, can you measure how big or huge your ass is?
MaryJane38DD My big booty measures in at 48 inches of pure fabolousness! I have been told I have perfect ass to boob ratio.
Sexcraftboobs Have you met many fans, both in public and on social media? How do they react? Any conversation so far?
MaryJane38DD I haven't met any fans in public or in person. I have talked to many on social media, and for the most part they have been respectful and sweet and I enjoy the attention. 🙂
Fans can not enied that MaryJane38DD is definitely a gorgeous bbw camgirl.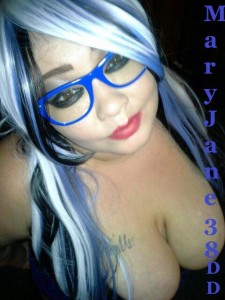 Sexcraftboobs Now you done some hardcore scenes, have you done any anal scenes before? Do you like getting anally fucked on camera?
MaryJane38DD As of right now all my scenes are videos I filmed myself or with a partner. I have not done any anal scenes/vids, but I do plan to in the near future. I enjoy anal more than most girls I think, it tends to make me squirt. 🙂
Sexcraftboobs Apart from anal, is there anything else do you prefer or like to prefer? Spit, swallow or facial?
MaryJane38DD I love oral, giving and receiving. I enjoy giving sloppy wet blowjobs, facials are hot. I also like women so I enjoy F/M/F threesomes, the more girls the merrier! 🙂
Sexcraftboobs What about Interrracial, Orgy Group Sex, DP or Bukake?
MaryJane38DD Interracial is sexy. Orgy, as long as the girls out number the guys. I have never been DP'd with 2 cocks. I have with a partner & toys, so maybe. I myself have never been a big fan of bukake. But I would let a room full of women squirt all over me! 🙂
Sexcraftboobs Do you like titty-fucking?
MaryJane38DD I do! I Love wrapping my big soft pierced tits around a hard throbbing cock! I guess you could say I love using my tits to milk dicks. Hahahahaha! 🙂
Sexcraftboobs Is there any busty or bbw porn star or camgirl you admire?
MaryJane38DD Quiet a few! Some of my top favorites would be Vylette Vonne, Sinful Celeste, they have given me great advice and have been very helpful, I adore & admire them.
Sexcraftboobs What is your short-term and long-term goals inside modeling and outside?
Maryjane38DD Short term for modeling would be more networking and making content. Long term would be to work with other lovely models and get my own website up. Short term outside of modeling, be happy and love life. Long term, to be comfortable and know I made a difference in this world. And, I don't mean just bringing hard-ons to the loving pervs. Pay it forward so to speak, it's the things like love and peace that bring this world happiness. That and big ole titties! 🙂
Sexcraftboobs Have you ever got any proposals from any adult sites?
MaryJane38DD No, I have not been approached by any professional production companies at this time, Although there is always that possibility. 😉
Sexcraftboobs Is there anything you would like to add for fans reading this interview?
MaryJane38DD Everyone is beautiful! Don't be brainwashed into the media controlled standard of beauty! Find the natural beauty in everyone and everything around you. And a big thank you to Sexcraftboobs! 🙂 Stay Hard & Stay Lifted, MJ38DD <3 XOXOXO 🙂 😉
Any camgirl out there who looking to farther expand her popularity and make a name herself, then you contact me on twitter, @Jaura450, tumblr or at jangelonash@yahoo.com for more info.