Exclusive Interview With Lusty Lark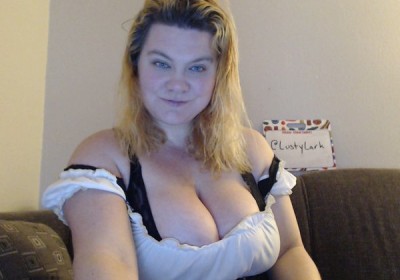 Known for her huge tits, Lusty Lark seems determined to makes a name for herself as of late especially after becoming actives on social media and webcam again to gains popularitys from many bbw fans who wanted to finally chats with her. Not only that, Lusty Lark have just now started producing exclusives new contents to please and thrills many fans thats looking to gets their money worth, including those who enjoys her webcam shows and possibly hopes to see more softcore action from her. That being said, Lusty Lark may seems likes yours typical camgirl but her fun personality and video contents is what makes up for that.
With beautiful huge tits that would definitely make any guy want to suck on them as she certainly knows how to uses those melon-size assets of hers to gets everyone full attention from bbw fans to horny pervs alike in a mere instant when it comes to puttings on a great cam show. In this exclusive interview, the lovely Lusty Lark finally reveals all and tells us what her plans are in the world of webcam as many fans are eagerly wanting to knows the answers while hoping to sees more softcore action or something new from her this year. And be assured thats she will delivers especially since she is now active on social media and webcam again to please many before her.
To my knowledge, she is indeed a bbw camgirl who has a fun personality and seems somewhat determined to makes a name for herself by producing exclusive new contents to further expands her popularity once more to please many fans. Like as befores you can follows this gorgeous camgirl on twitter, @LustyLark to learns more about her and be sure to checks out her webcam shows at Cammodels or Chaturbate for a private one on one session with her, in the meantime here is my exclusive interview to leave you satisfy at the end of the day.
And be sure to check out her Manyvids Profile for all of her exclusive new contents if you are definitely a big fan of hers.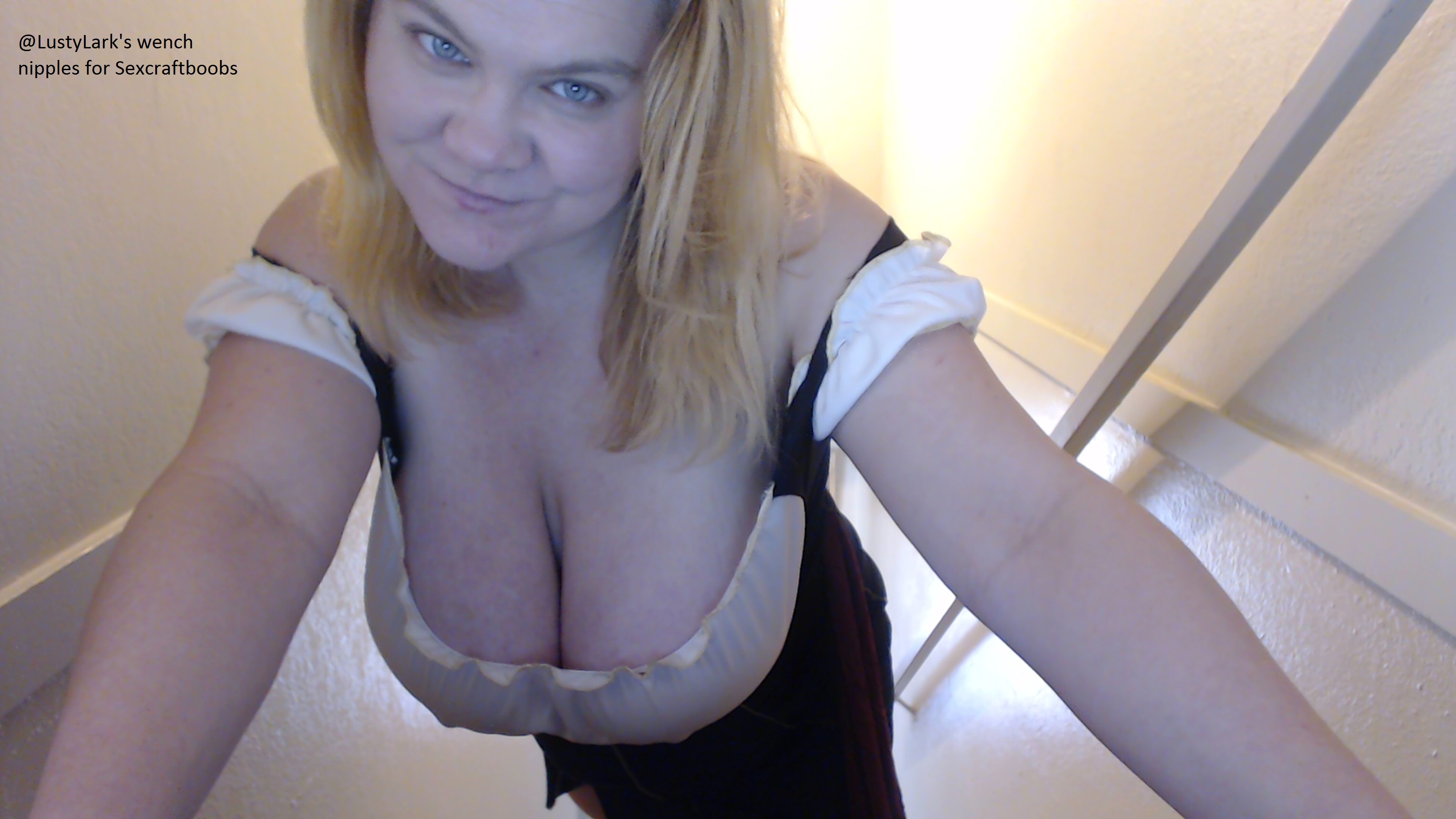 Sexcraftboobs So where are you from?
Lusty Lark North of Seattle.
Sexcraftboobs what you have been up to late?
Lusty Lark Mostly, trying to get back into the game. I was out of camming for the past year and I am excited to get back at it. I have really missed it. I have spent many late nights thinking about video clips I am going to make some in the coming weeks so I can open a clips store.
Sexcraftboobs How is your webcam and skype shows doing?
Lusty Lark Fairly well, considering I was gone for so long. It has been nice to see some old regulars but also to meet new fun people too. Oddly, though no one showed up to my Wet Wednesday show the other night which was rather depressing. I had this really awesome wheel that if you spun it for a set amount of tokens you would win a prize. The prizes were Wet Wednesday themed and consisted of: Oiling Tits, Oiling Ass Lubing Pussy, Lubing Ass, Licking Caramel Flavoured Body Drizzle off my Nipples and Vibrating Pussy until I Squirt. I was so excited about this show so I may have to try it again next week on chaturbate.
Sexcraftboobs When and why did you first decide to model?
Lusty Lark I had a friend that suggested it to me a couple years back when I was between jobs. Since I am a natural exhibitionist and almost always horny it seemed like a good fit. That being said, I did a lot of research first before deciding to turn on my cam.
Sexcraftboobs Have you watched any porn before your modeling career? If you do it? How often?
Lusty Lark Oh yes, I have been watching porn for years. I was even on an adult dating site when I was 16 shhhhhh. I have always been very sexually promiscuous and have found porn to be both informative and great entertainment. Now a days I don't watch it too often, I would say about once a week. I much prefer making it. 😛
Sexcraftboobs Do have a boyfriend, or are you married?
Lusty Lark I have had a boyfriend for the past two years. We live separately so it certainly makes it easier to get on cam. That being said, he is very supportive of what I do and is always encouraging me to get the fuck online. 🙂
Sexcraftboobs What do you do when you are not modeling? How is a normal day in your life?
Lusty Lark Normal day in my life is pretty tame. I enjoy the normal "house wife" and "motherly" things like cleaning, cooking and hanging out with my son. When he is at his Dad's then I tend to focus more on hanging out with my friends and going clubbing. I love dancing to various genres of electronic music. My favorite genres though are drum and bass, breaks and house. I am old school so this trap and dubstep business really isn't my scene. That being said, I do occasionally find myself tearing up the dance floor at a top 40 club but most of all I miss our local bar that would play a mix of alternative and electronic music. Ahhh the good old days of $5 triples and $1 beers.
Sexcraftboobs What is your bra size? When did your breasts start to grow? How was it back then?
Lusty Lark 36I last I checked but it is impossible to find such bras locally, so I tend to squish my huge titties into whatever size bra I can find at the time. As for when they started to grow, I was in elementary school. I went from flat to like a C overnight and they didn't stop growing from there. I remember in middle school my boyfriend at the time and his friends used to run backwards in front of me during our runs during gym class. Additionally, I was given the name Baywatch among other breast related nicknames due to the fact that I was a lifeguard and swim instructor in my teens.
Sexcraftboobs Do you sell bras and panties to fans?
Lusty Lark I haven't yet. Do you want some? I am sure we could work something out. 😉
Sexcraftboobs Have you met many fans, both in public? How do they react? Any conversation so far?
Lusty Lark Haven't met any fans, yet. That being said, there are a couple guys I have known for years prior to my model days who pay for shows on my sites which I find rather enjoyable. Also, I used to hang out on the Utherverse 3D Client for years and recently a guy I played with on there found me on twitter. He didn't seem all that surprised I had eventually become a webcam model. In fact, when I asked him he said that he was pleasantly surprised and he had been trying to figure out where he knew me from.
Be sure to check out Lusty Lark profile on YouKandy.com for more exclusive contents if you are definitely a big fan of hers.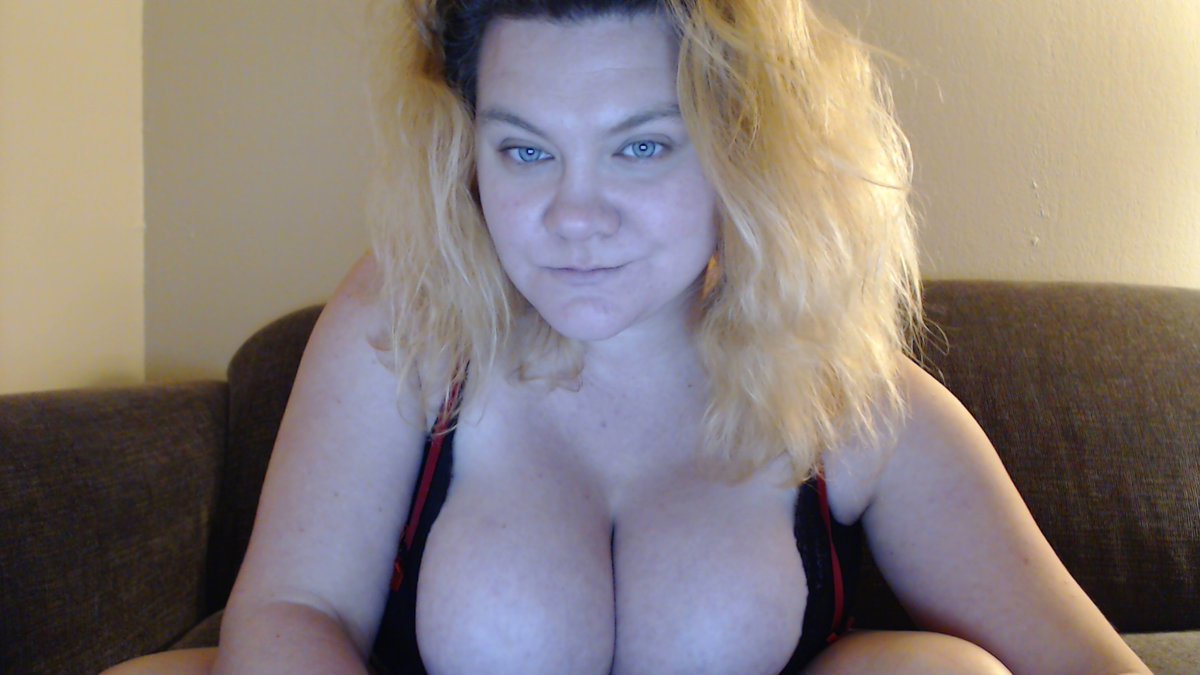 Sexcraftboobs When doing webcam and skype shows, do you use a lot of sex toys? What kind do you use?
Lusty Lark Do I use toys? Yes, yes I do. My treasure chest has now turned into a suitcase, haha. I currently have my trusty purple vibrator, three butt plugs in varying sizes, a large dildo and a hitachi that make regular appearances on my shows. What I really want is to get my hands on a Lovense Nora to make my shows more interactive with respect to my squirt shows on token sites. Check it out here! – Lovense.com/Rabbit-Vibrator That and I am always on the lookout for more toys. You can never have too many. Also, I know it isn't a toy in the true sense of the word but I am really looking forward to the release of the new Razer Stargazer Depth Sensing Webcam that is coming out this year. Check it out here! – RazerZone.com
Sexcraftboobs Do you ever have any guests come on your webcam shows?
Lusty Lark Not as of yet. That being said, I am completely open to the experience. I do have a friend who used to cam and she may be down for shows in the future. Additionally, my boyfriend has mentioned a couple times that he would be willing.
Sexcraftboobs Now you have done only softcore stuff as of late, have you ever done a boy/girl or hardcore scene or would you like to do one? Or that just not your thing?
Lusty Lark For now I will stick with softcore and maybe experiment with some hardcore on my cam in the future.
Sexcraftboobs Do you like titty-fucking?
Lusty Lark Do I ever? I find it very sensual and a huge turn on to see a nice hard dick between my huge tits.
Sexcraftboobs How do you masturbate?
Lusty Lark It varies but generally speaking I enjoy my trusty purple vibrator. Start off working the clit and slowly moving it into my tight pussy. Guys seem to have the misconception that us sluttier (sexually free spirited) women have loose pussies and this is simply not the case for me. Sometimes I will also throw in a butt plug for some double penetration action. I must say though I get off more when I know I am getting someone else off. That is when the real squirting action begins.
Sexcraftboobs What are your sexual fantasies about?
Lusty Lark To be frank, I mostly think about being covered in cum from head to toe. As a cum addict, I think about that a lot. 😛
Sexcraftboobs If you had three wishes, what would you wish for?
Lusty Lark My son to have a long, healthy and happy life where he is successful at whatever he chooses and feels free to be who he wants to be. For those in the adult industry to be respected and valued just as much as individuals with vanilla work, and. For more people to join my shows so I can get off knowing that I am getting YOU off. 😛
Sexcraftboobs Is there any busty or bbw porn star or camgirl you admire?
Lusty Lark Sam38G. Man that woman is an amazingly hardworking lady. She truly is a goddess in the adult entertainment industry. What hasn't she got her hands on that she wasn't successful at? She is also an excellent wealth of information and very thoughtful and realistic when it comes to dishing out advice to other models. Mad respect for her. I actually had a random guy message me on my vanilla Facebook page asking me if I was her the other day. Talk about the best fucking complement ever. Oddly, the next day someone told me that I reminded them of Monica Mazzaratie. So clearly I remind them of someone. 😉
Sexcraftboobs What is your short-term and long-term goals inside modeling and outside?
Lusty Lark Mostly, I just want to have fun and never feel too stressed out about paying my bills. For me this means, more self-promotion and connecting with other promoters in the industry to get my name known so I can get more fans. It also means that I need to branch out and get working on some clips. Over the course of the next week I also have some customized videos and personalized fansigns to get out to my fans. Additionally, I want to break into some of the fetish modelling opportunities that are out there. There are areas that I think I would really excel at that I haven't been focusing on just yet. This means doing lots of research and practicing. But most importantly I don't want to lose what brought me to this type of work in the first place. As an exhibitionist and a cum and sex addict this whole industry makes me feel amazing. Essentially, I get off on getting others off and it makes me happy. I don't want to ever lose that feeling by feeling like I need to work too hard to be able to support myself on this type of income.
Sexcraftboobs Have you ever got any proposals from any adult studios?
Lusty Lark Yes, literally the first week I start camming years ago. At the time I just wasn't ready and turned it down without even giving it any thought. That is too bad as I imagine it would have been an amazing experience.
Sexcraftboobs How do you promote yourself?
Lusty Lark Mostly on twitter at this point. I am hoping to get a website up here in the next couple weeks as well as a clips-store which I think will better enable me to connect with my fan base. But for now, all my links can be found on twitter, @LustyLark. I do go under different names on various sites and that can be confusing to some but I kind of enjoy the variety. Chaturbate, Cammodels and Bonga Cams.
Sexcraftboobs Do you have any random thoughts?
Lusty Lark I think it is important for fans of the industry to realize that the many men and women in the adult industry are doing this because they enjoy it yes, but also because it makes them an income with a flexible schedule. This is a job and while we do appreciate the kind words and compliments we are not available for sex chat, cam shows or to view your dick pics free of cost. If you appreciate what we do then please send a token of your appreciation.
Sexcraftboobs Is there anything you would like to add for fans reading this interview?
Lusty Lark If you are attracted to naughty big-titted milfs who love to talk dirty and act dirty then you will especially enjoy my shows. Especially, if you enjoy squirt shows and anal. Certainly give me a follow on your favorite site and on twitter. 🙂 😉
Like as before you can follow this gorgeous bbw camgirl on twitter, @LustyLark to learn more about her and be sure to check out her webcam shows at Cammodels or Chaturbate for private one on one sessions if you are definitely a big fan of hers.
Here is a special video teaser from the lovely Lusty Lark to sign off this exclusive interview, enjoy!