Exclusive Interview With Jordynn Luxxx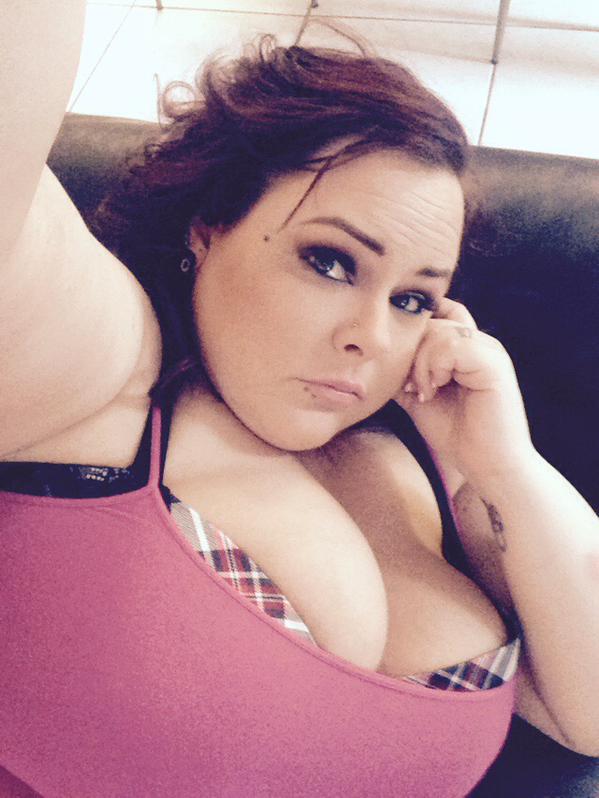 Bursting on the scene a couple of months ago, Jordynn Luxxx is bbw newcomer who looking to go mainstream in her modeling career and make a name for herself in the porn industry this year. Making her official hardcore debut last month on PlumperPass, she gains wide popularity from many bbw fans before her as she aims to farther expanding her success by officially debuting at Score the following month.
Producing both softcore and hardcore videos, she shows bbw fans what she could do with her voluptuous assets in front of a camera while getting fuck by a lucky stud that definitely worth watching for any fanboy. In this exclusive interview, the lovely Jordynn Luxxx finally reveals all and tells us what her plans are in the porn industry as many bbw fans are eagerly wanting to know the answers while hoping to see more hardcore action from her this year.
And while she may still be a bbw newcomer but her popularity continues to grow as she aims to live up to the promise of going mainstream and making a name for herself by giving fans what they want. You can follow this gorgeous bbw newcomer on twitter, @JordynnLuxxx to learn more about her if you are just now starting to become a big fan of hers or just a fan of beautiful plumpers, in the meantime here is my exclusive interview to leave you satisfy at the end of the day.
And be sure to check out all of Jordynn Luxxx latest softcore and hardcore videos from both Score and PlumperPass if you are definitely a big fan of hers.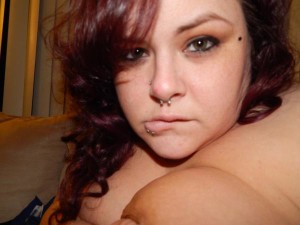 Sexcraftboobs So where are you from?
Jordynn Luxxx I was born in Anaheim, CA, lived in Washington State for one year, moved to NY until I was 14 and then lived in Denver, CO for 12 years. I moved to the Midwest in January of 2014.
Sexcraftboobs What have you been up to lately?
Jordynn Luxxx I've been working hard to build my fan base, content and cam sites. Once my scenes start launching I plan on getting back on cam and pushing my own personal content. I work full time and I plan to go back to med school soon, so I'm a busy little slut! 🙂 😛
Sexcraftboobs When and why did you first decide to model?
Jordynn Luxxx I initially started modeling as a teen. Obviously these were not adult style! I loved it! When I got older I contemplated porn and adult modeling, but never pursued it. The first time I moved forward on adult modeling was when I became a cam model on Chaturbate back in 2013. When I moved in 2014 I stopped camming. I knew when I started back up I wanted to make an entrance, really get my name out there in the world of smut! That's when I elected to build my social media site and put out the bait.
Sexcraftboobs Have you done any webcam shows before or lately?
Jordynn Luxxx I cammed on Chaturbate for about a year. I haven't been on cam since 2013. I'm excited to get back on! I've got a cam on Chaturbate, MyFreeCams and Streamate. I like to keep my options open! 🙂
Sexcraftboobs Have you watched any porn before your modeling career? If you have, how often?
Jordynn Luxxx I fucking love porn! 😀 I watch porn almost daily. I first started watching porn at a young age and, in fact, lost my virginity while watching a porn called, "Six Cheerleaders". Six cheerleaders and one man. I remember finding it so hot because the sixth cheerleader was a defloration. Now I'm all wet, thanks! 😀
Sexcraftboobs Now it is clear that you are married and that @Jordynn's_Daddy is your husband, right?
Jordynn Luxxx Yes, I am very happily married to @Jordynn's_Daddy! He's my super sexy, older, inked, pierced and Daddy Dom. Also, the love of my life! 🙂
Sexcraftboobs What do you do when you're not modeling? What is a normal day in your life like?
Jordynn Luxxx Well, I typically get up and go to the gym. I like to do a quick run and ab workout before work. After that I head to work for the day. After work I usually go back to the gym and do a more extensive workout and tan. Once I'm done, I go home, cook dinner and relax. On the weekends I'm much more lazy. I usually sleep in a bit and veg. I love video-games and Netflix! 🙂
Sexcraftboobs What is your bra size? When did your breasts start to grow? How was it back then?
Jordynn Luxxx I wear a 40G, but at BBWCON I tried on Lucy Lenore's 36J and it fit perfectly so…I think the girls got bigger! I started to develop very young. I remember getting my first bra in Kindergarten. I never had a "training bra" per se. I was a DD by middle school and an E throughout high school. How was it back then? Let's just say I was never missed. I definitely got attention.
Sexcraftboobs Have you met many fans, both in public and on social media? How do they react? Any conversation so far?
Jordynn Luxxx I met a few fans at BBWCON! 🙂 It was surreal being recognized while just waking through the hotel. It was something I didn't even expect! 🙂
The lovely Jordynn Luxxx hanging out with Lucy Lenore and Nikky Wilder at this year BBWCON in Las Vegas, awesome pic! 🙂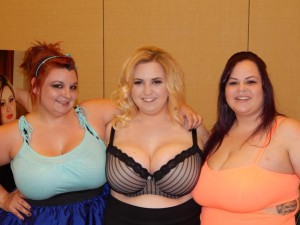 Sexcraftboobs Now earlier this month you attended BBWCON in Las Vegas, which has been the most talked about event for many bbw models, including yourself?
Jordynn Luxxx Yes! I was so excited to attend this event! Everyone was! 🙂
Sexcraftboobs What was your experience like being in Las Vegas and at BBWCON? Did you have a good time there?
Jordynn Luxxx Well…Vegas is always a fun time and BBWCON was also a blast! 🙂 I didn't get out and experience Vegas like I wanted, but I'll be going back! 😉
Sexcraftboobs Now you have already met many bbw porn stars and camgirls on social media; how was it meeting them in person at BBWCON? Did you enjoy hanging out with them?
Jordynn Luxxx Oh my God! 😀 It was incredible and surreal! I got to hang out with Lexxxi Luxe, Kimmie KaBoom, Sinful Celeste, Christy Live, Poppy Tart, Lucy Lenore and Pierced Cherry, just to name a few. I so fan girled over Eliza Allure and Aiden Starr. I'm thankful neither made me feel ridiculous! It was an amazing experience. I was so star struck. I'm just a little starlette starting out…meeting these girls was a fantasy! 😀
Sexcraftboobs Did you ever meet and hang out with some fans at BBWCON?
Jordynn Luxxx I met @BBWs4Ever and chatted with him a bunch. He's super cool! Also, Lucy Lenore and I went on a dinner date with a fan. That was such a blast! We had an amazing time! 🙂
Sexcraftboobs What about the Biggie Awards? Was your name up for a nomination?
Jordynn Luxxx Oh, the awards were so fun. I sat with Kimmie, Lucy and Pierced Cherry. I was not nominated. I am way too new! Next year I'm hoping to snags couple nominations. That would be incredible! 🙂
Sexcraftboobs Did you enjoy watching other bbw models get nominated for an award?
Jordynn Luxxx It was absolutely amazing watching such terrific women be rewarded for all their hard work! Kimmie killed it this year! She worked her ass off and deserved the awards she won! I was so proud of my Porn Mama! Sinful Celeste has been so amazing to me, so I can only imagine how amazing she is with everyone else. She definitely deserved her win! SSBBW Kellie Kay was so humbled and sweet, she brought tears to my eyes. It was such a great experience. Oh and, of course, Eliza Allure's wins were amazing to watch. I'm such a fan girl! 😀
Sexcraftboobs Now while at BBWCON, did you ever book any shoots with any fans or with other bbw porn stars?
Jordynn Luxxx I did actually have a couple shoots booked; however, they fell through for various reasons. I did also meet a few people who I will be doing professional shoots with over the next couple months! Mums the word on the who, but I'll be expanding beyond my current content and doing some very amazing things! I am so honored to work with them and can't wait!! 😀
This year BBWCON was the most talk about event, Jordynn Luxxx hung out with Lucy Lenore and the lovely Cherry Pierced, another awesome pics! 🙂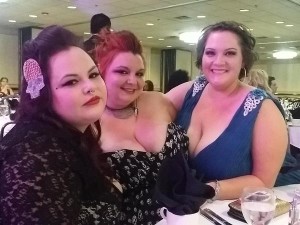 Sexcraftboobs When doing webcam shows, what kind of sex toys do you use?
Jordynn Luxxx When I did cam shows I used dildos, vibrators and massagers. Secretly, I've used "not typical" items for privates. I might have made a few special trips to the grocery store.
Sexcraftboobs Do you have any guests come to your webcam shows?
Jordynn Luxxx Previously, no. I did solo camming only; however, that will be changing. I am planning a few special shows with pretty well-known models. I will also use my hubby as my lovely stunt cock from time to time. I love being watched while I'm being dicked down good! 🙂 😛
Sexcraftboobs Now, since you are going to be doing hardcore scenes for both Score and PlumperPass, have you done any anal scenes or are you planning to do one anytime soon? Do you like anal or is that just not your thing?
Jordynn Luxxx Yes, I shot several scenes with Score's XLGirls at the end of May and I shot with PlumperPass in June. With XLGirls I did both solo and male/female scenes. When I shot with PlumperPass I will be did male/female work only. As far as anal, I will not be shooting anal scenes professionally; however, I will be shooting them and posting them on my website and Clips4sale. I love a hard cock in my ass, but that's the one hole my hubby gets to use and abuse that no one else can! 😛
Sexcraftboobs Apart from anal, is there anything else you prefer or like? Spit, swallow or facial?
Jordynn Luxxx Ummm…first off, spitters are quitters! I'm 100% a freak. I love sex and all that comes along with it. There isn't much I won't do as it pertains to sex, honestly. I might be a little more conservative in my professional shoots versus my own content. I love facials, swallowing, cum-swapping, snowballing, creampies, you name it! I actually have a bit of a cum fetish, to be honest. I want it in me, on me and in my mouth. I love sucking cum out of another woman's hot, freshly fucked cunt! Okay, wet again, damn it!
Sexcraftboobs What about orgies, group sex, DP or Bukake?
Jordynn Luxxx I've done a lot in my life, but I've never been DP'ed or done a Bukake scene. I am open to a variety of shoots though! I would love to do a couple orgies, threesomes, moresomes and GG scenes also! 🙂
Sexcraftboobs Do you like titty-fucking?
Jordynn Luxxx Oh yes, I love titty-fucking. You can't have tits like mine and not wrap them around a hard throbbing cock. I love sucking the head while titty-fucking also! So hot! 🙂 😛
Sexcraftboobs Are there any busty or bbw porn stars or camgirls you admire?
Jordynn Luxxx Yes, a bunch!! 😀 I love Kimmie Kaboom, Samantha 38G, Maria Moore, Sinful Celeste, Nikky Wilder, Vendetta Gold, Porche Dali, Sarah Rae, Lucy Lenore, Peyton Thomas, @MissTartX, Lexxxi Luxe and Eliza Allure. I can't name everybody, but these are a few very special ladies! 🙂
Sexcraftboobs What are your short-term and long-term goals inside modeling and outside?
Jordynn Luxxx I have so many. Besides shooting with Score XLGirls, I'd love to shoot for their Voluptuous brand and Score Mag. I couldn't wait to shoot for PlumperPass! That was so awesome. I pursued PlumperPass, but Score found me. I also hope to shoot for JuggMaster, YesBoobs, DiamondXMedia, Hustler, BigBraOwners, Evil Angel , Rodney Moore, JeffModels and Devine Breasts.
I also really want to be accepted as a Suicide Girl. I would cry if they picked me! 🙂
Aside from the work I do in the industry, I hope to graduate from med school and specialize in Anesthesiology.
Sexcraftboobs Have you ever received any proposals from any adult sites?
Jordynn Luxxx Yes, I was contacted directly by Score the day after I opened my Twitter account. I have also heard directly from a couple other companies, but haven't finalized anything thus so far. It's in the works for over the next several couple of months! 😉
Sexcraftboobs How do you promote yourself?
Jordynn Luxxx I primarily promote myself through my twitter page which is @JordynnLuXXX! 😉
Sexcraftboobs Is there anything you would like to add for fans reading this interview? Any final words?
Jordynn Luxxx Yes, please join XLGirls and PlumperPass view, rate and get off hard to my scenes!! If you like them let me know! If you like them, rate them and me high, so they bring me back to be dicked down again!! XOXO Jordynn LuXXX 😉 😛
Like as before you can follow this gorgeous bbw porn star on twitter, @JordynnLuXXX to learn more about her if you are definitely a big fan of hers.