Exclusive Interview With Gucci Asswell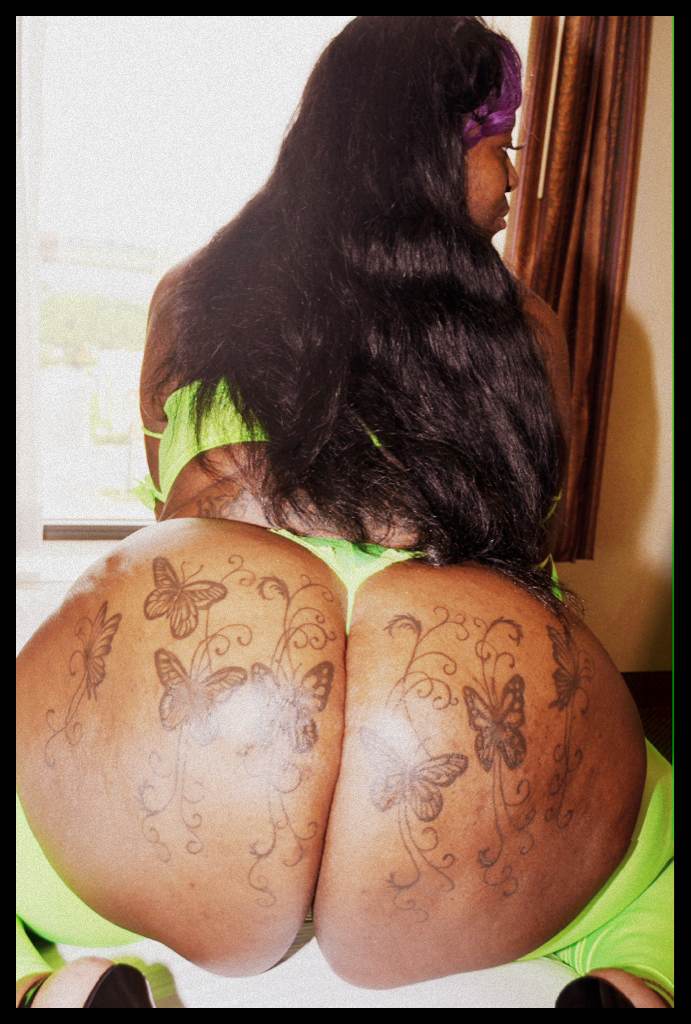 Now as you may know that my blog site is basically about beautiful women with huge natural tits but surprisely I do have a fondness of women with a nice huge ass especially from ebony porn stars who love to do a little booty twerking. Gucci Asswell is a bbw porn star who may not have really huge natural tits but she definitely have a nice huge round juicy ass that would pleases many fans and make any guy dick real hard in a mere instant which is always a very sensational feeling.
Like many black bbw porn stars, she knows how to shake and twerk that huge ass of hers in the right direction to get some attention that will definitely turn any guy on especially when comes to hardcore action as she gets fuck by a lucky black stud. In this exclusive interview, she reveals all and what her bootylicious plans are in the porn industry as many bbw fans are eagerly wanting to see more of her huge tattooed ass in hardcore action which is definitely something worth watching if it happens.
You can follow this gorgeous bootylicious bbw on twitter, @GucciAsswell to learn more about her if you are a big fan of beautiful black women with a huge ass, in the meantime here is the exclusive interview that will leave you satisfy.
Check out Gucci Asswell hardcore scene on Big-Um-Fat Black Freaks.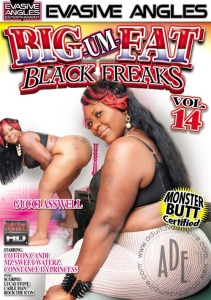 Sexcraftboobs So what have you been up to lately?
Gucci Asswell Hi,  & thank for inviting me to your site! Right now (month of Nov 2013) I'm traveling to meet & greet with fans in New Orleans, Nashville Tn & surprisingly Oakland Ca, December 2014, I will be in my hometown of Dallas Tx & Hosting party's for Club Play a members only adult club in Dallas! No upcoming movie deals 🙁 , but I need some because my fans want new "Gucci Footage" lol. Visit www.gucciasswell.com for specific dates & booking info!
Sexcraftboobs When and why did you first decide to model?
Gucci Asswell In 2012, due to a split up from my children's father, left me in financial bind.
Sexcraftboobs Have you ever done webcam or skype shows before?
Gucci Asswell Yes, but not a fan, too boring & money too slow.
Sexcraftboobs Have you watched any porn before your modeling career? If you do it? How often?
Gucci Asswell No, only knew two porn stars, the infamous Pinky & Cherokee.
Sexcraftboobs Have you watched your own scenes?
Gucci Asswell Yes, & I hate them! I'm my worst critic!
Sexcraftboobs Do have a boyfriend, or are you married?
Gucci Asswell I, am in a relationship with a man, whom is Military personnel-lol! He supports me & my career about 85%. The other 15% is stuff that he refuses to support me on…like escorting!
Sexcraftboobs What do you do when you not modeling? How is a normal day in your life?
Gucci Asswell I'm a Full Time mother & Girlfriend 1st….. Entertainer 2nd- self explanatory-lol.
Sexcraftboobs What is your bra size?
Gucci Asswell 40C, 12
Sexcraftboobs Now you have a nice huge ass, can you measure how big or huge your ass is?
Gucci Asswell 59″
Sexcraftboobs Have you met many fans, both in public and on social media? How do they react? Any conversation so far?
Gucci Asswell I love my Fans & I meet them either during club appearances or my hotel when I'm in a city! They are wonderful, & greatful that I'm a humble down to earth Entertainer! I have had a few stalker fans maybe 1,2, maybe 3, but nothing more than a few harrassing phone calls which I immediately block, once I identify that there is a problem, but no immediate threat.
Gucci Asswell revealing her big round ass while standing in front of the mirror.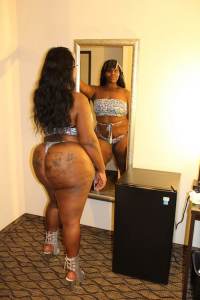 Sexcraftboobs Now you done some hardcore scenes? Have you ever done any anal scene before? Do you like doing an anal scene?
Gucci Asswell Never done anal scene, I'm a newbie, gotta work my way up to that-lol #ouch!
Sexcraftboobs Apart from anal, is there anything else do you prefer or like to prefer? Spit, swallow or facial?
Gucci Asswell I prefer a better story line then the scenes I've been in- too cheese.
Sexcraftboobs Is there any busty or bbw porn star you admire?
Gucci Asswell TS Madison of Atlanta & Neecy Honey Dipp of New York & Farrah Fox of Cali
Sexcraftboobs What is your short-term and long-term goals inside modeling and outside?
Gucci Asswell If I continue in the Adult a Industry I plan to start filming myself. If I don't stay, jus plan to get a regular desk job- #boring!
Sexcraftboobs Have you ever got any proposals from other adult sites?
Gucci Asswell Yes, but need new ones!!!!
Sexcraftboobs Is there anything you would like to add for fans reading this interview?
Gucci Asswell Thank for your time and Support & please continue to share, follow, like &Retweet any of my social media, as I am still building my following! & thanks for having me!!!
Be sure to check out Gucci Asswell official website for more bootylicious action.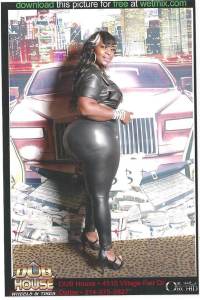 Also, be sure to follow her on facebook and other social media sites.