Exclusive Interview With Governess Ty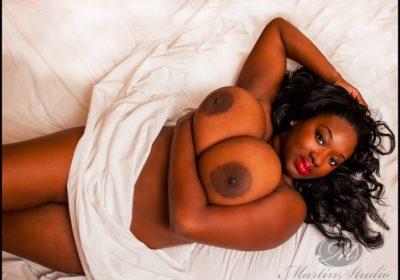 Now last year, I introduced to you the lovely Governess Ty who is a professional busty dominatrix that's best known for her voluptuous curved assets which is whats gains her wide popularity for as she aims to pleases many fans before her by punishing them. So far, there have not been anything new from her as of late except that she have published a newly official website after her old one had expired awhile back as she aims to seek attention from any fan who is looking to gets punish by her. So that being said, she continues to do what she do best as a busty dominatrix while possibly looking at other potential interests within the adult industry.
With beautiful huges black tits and a nice round ass, she definitely knows how to uses these voluptuous curved assets to her advantage to get everyone attention from boob fans to horny pervs alike in a mere instant whens it comes to pleasing those before her. In this exclusive interview, the lovely Governess Ty finally reveals all and tells us whats her plans are in the world of dominatrix since a lots of boob fans are eagerly wanting to know the answers while hoping to sees more domination or something new from her this year. There is no doubt in my mind that's those ebony curved assets of hers would definitely makes any guy dick hard before her in a mere instant.
To my knowledge, she indeeds shows potential as a busty dominatrix and a certain amount of interest in going beyond it to do something new which would definitely pleases many boob fans who looking to get their money worth to see something different. So like as before you can follows this busty dominatrix on twitter, @GovernessTy to learns more about her if you are a big fan of hers, in the meantime here is my exclusive interview to leave you satisfy at the end of the day.
And be sure to check out her newly official website, GovernessTy.co for booking info if you are definitely a big fan of hers.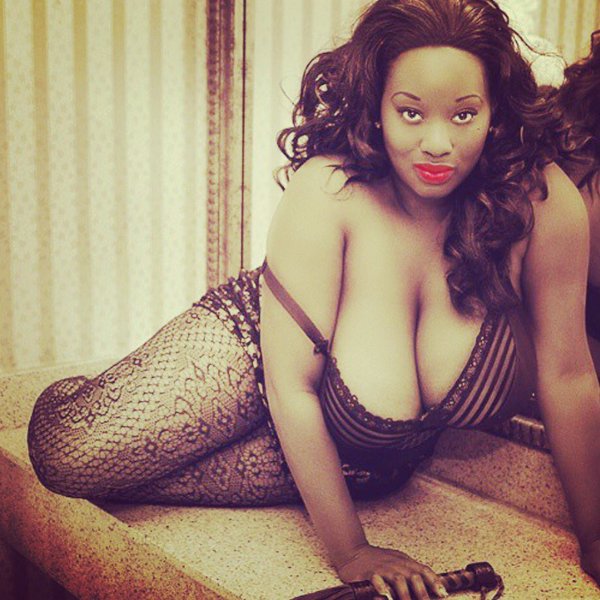 Sexcraftboobs So where are you from?
Governess Ty Upstate New York, (Bear mountain area).
Sexcraftboobs What have you been up to lately?
Governess Ty Exxxotica events, some secret projects with a couple of well know porn queens (due to release this year).
Sexcraftboobs How long have been modeling? And when and why did you first decide to model?
Governess Ty For five years solid now, after a horrible relationship I was approached to do something while visiting a strip club.
Sexcraftboobs Have you done webcam and skype shows before or as of late?
Governess Ty Yes, I have but my shows are different, they are dress up and kink sessions mostly.
Sexcraftboobs Have you watched any porn before your modeling career? If you do it? How often?
Governess Ty Not really, before I was actually a nerd.. I do now though. Love it!
Sexcraftboobs Do have a boyfriend, or are you married?
Governess Ty I'll just say attached.
Sexcraftboobs What do you do when you not modeling? How is a normal day in your life?
Governess Ty PRN nursing shifts, spending time with my family, cleaning and organizing anything out of place, book club… Jr. League… You know, normal suburban housewife stuff.
Sexcraftboobs What is your bra size? When did your breasts start to grow? How was it back then?
Governess Ty 36KK about, around eight years old. Strange most eight year olds aren't willing to wear bras without feeling awkward.
Sexcraftboobs How often do you meet fans in public? How do they react? Any conversation so far?
Governess Ty When I'm at an event or sometimes after a very intense verification one on one's for live domination sessions. (Not very often but I try) They usually freak out. They are afraid to even say hello, or feel intimidated to ask for a hug. I've had fans mostly in New York that will notice me and send an email. At least they didn't approach me with my family present.
If you are definitely going to be attending this year Exxxotica Expo, then be sure to book yourself a private session with Governess Ty who will always be there.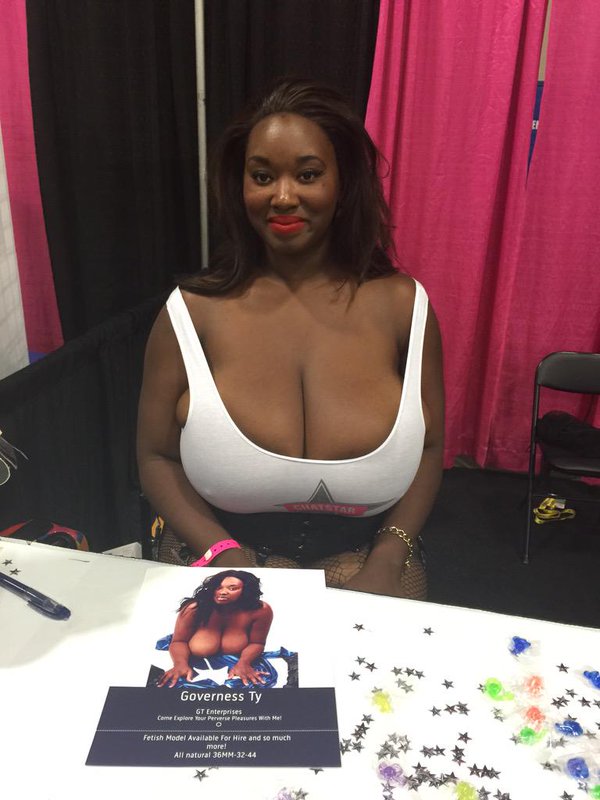 Sexcraftboobs Do you sell bras and panties to fans?
Governess Ty Of course I do! 🙂 For those that can afford them.
Sexcraftboobs Now you done a lot of softcore suff as of late. Have you ever done any boy/girl or hardcore scenes? Would you like to do hardcore, or that just not your thing?
Governess Ty My content actually is link based and I don't mind hardcore if it's with my partner, I cannot do hardcore with just anyone. (Again, some of those secret projects)
Sexcraftboobs Do you like titty-fucking?
Governess Ty Yea, it's fun to watch cocks explode when smothered in between a nice set of boobs.
Sexcraftboobs How do you masturbate?
Governess Ty Of course I do!
Sexcraftboobs What are your sexual fantasies about?
Governess Ty Exploding cocks, Hentia type stuff… Extreme and very cartoon looking fantasies for some strange reason.
Sexcraftboobs If you had three wishes, what would you wish for?
Governess Ty No more orphans, endless Resources and bras that would magically appear out of the sky that fit me like a glove.
Sexcraftboobs Is there any busty or bbw porn star or camgirl you admire?
Governess Ty Kinda of cocky but myself. (only because the list is super long)
Sexcraftboobs What is your short-term and long-term goals inside modeling and outside?
Governess Ty Expand my charity work to an actual foundation while during and after my modeling career is complete, ultimate goal for the link side, is to open a fully functional dungeon in Texas.
Sexcraftboobs Have you ever got any proposals from any adult studios or photographers?
Governess Ty All of the time, it's just a matter of agreeing to each other's terms, if we cannot reach an agreement or the studio practices conflict with my interest or terms I pass.
Sexcraftboobs How do you promote yourself?
Governess Ty Model mayhem, twitter, FetLife.com my personal website GovernessTy.co and Exxxotica Expo events!
Sexcraftboobs Do you have any random thoughts?
Governess Ty When doing events and appearances I'm always shocked to see I have more female fans and couples than individual males. I always find it so funny.
Sexcraftboobs Is there anything you would like to add for fans reading this interview? Any final words?
Governess Ty I'm actually a real person, most people think I'm fake for some strange reason but I actually exist in real life, and I am very down to earth and approachable. Even though my alter ego is a very fierce dominatrix, I'm a sweetheart.
Like as before you can follow this gorgeous busty dominatrix on twitter, @GovernessTy to learn more about her and be sure to check out her official website, GovernessTy.co for booking info if you are definitely a big fan of hers.