Exclusive Interview With GoodGoddess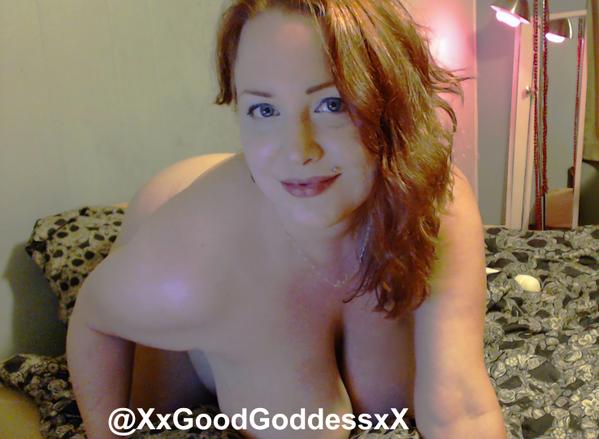 Best known for her voluptuous curved assets, GoodGoddess has been a fan favorite among many for sometime now as she continues to maintain her status as a sensational bbw camgirl with a fun personality. As mentioned in my first article, she is well-revere for her webcam shows by many bbw fans who adores her while getting their money worth for a private one on one session with her which is always the best part for any fanboy.
GoodGoddess continues to gain wide popularity throughout her webcam shows by using her beautiful huge tits and round huge ass to get everyone attention from bbw fans to horny pervs alike when it come to putting on a great cam show. In this exclusive interview, the lovely GoodGoddess finally reveals all and tells us what her plans are as many bbw fans are eagerly wanting to know the answers while hoping to see either more or something new from her this year.
To my knowledge, she is indeed amazing bbw camgirl with voluptuous curved assets as she loves to have fun chatting with her fans while sometime making a name for herself by farther expanding her popularity. Like as before you can follow this sensational bbw camgirl on twitter, XxGoodGoddessxX to learn more about her if you are a big fan of hers or just a fan of beautiful plumpers, but in the meantime here is my exclusive interview to leave you satisfy at the end of the day.
And be sure to check out GoodGoddess on webcam at MyFreeCams for free chats and private one on one sessions with her if you are definitely a big fan of hers.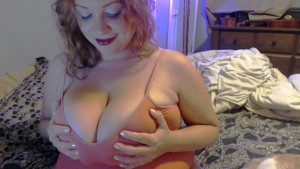 Sexcraftboobs So where are you from?
GoodGoddess Pennsylvania, USA.
Sexcraftboobs What have you been up to lately?
GoodGoddess I have been revisiting my passions as an artist, specifically with oil painting! 🙂
Sexcraftboobs How are your webcam and skype shows doing?
GoodGoddess Very well! 🙂 When I find the time to webcam and skype I always have a great response from my customer base! 🙂
Sexcraftboobs When and why did you first decide to model?
GoodGoddess When I was looking for a career that was both able to support myself and allow for sufficient time to give my son the love and care that he needs.
Sexcraftboobs Have you watched any porn before you started your modeling career? If you do it? How often?
GoodGoddess I used to watch porn, very infrequently. I really love how a woman looks, especially in older pinup type shoots! 🙂
Sexcraftboobs Do have a boyfriend, or are you married?
GoodGoddess I have a boyfriend! (and he's 25 years old, haha 🙂 cougar raw!)
Sexcraftboobs What do you do when you not modeling? How is a normal day in your life?
GoodGoddess When I'm not webcam modeling, I am either spending quality time with my awesome son, my young, sexy boyfriend, or (when I have free time) practicing my guitar or drawing. 🙂
Sexcraftboobs What is your bra size? When did your breasts start to grow? How was it back then?
GoodGoddess I have a 38G cup size! 😉 My breasts started to grow at about 12 years old. It was actually traumatic because my breasts evolved from nothing to a c-cup overnight. I developed stretch marks which took me many years to truly love my body and my curves.
Sexcraftboobs Have you met many fans, both in public and on social media? How do they react? Any conversation so far?
GoodGoddess I have had many interesting conversations with my fans! 🙂 Some very perverse, some very in-dignified, but also some extraordinarily interesting. They all love the ways in which I engage individually and treat them like the real beautiful people that they are.
Be sure to check out GoodGoddess manyvids profile for exclusive contents which are definitely worth buying and collecting for anyone who is a big fan of hers.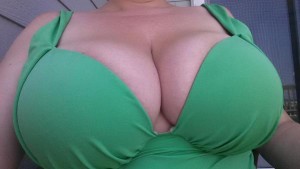 Sexcraftboobs When doing a webcam show, do you use a lot of sex toys? What kind do you use?
GoodGoddess Yes! 🙂 I have far more sex toys than I have holes to put them in. Hitachi is my go toy! However, I'm not your typical run of the mill 1 vibrator girl! I love to penetrate myself with one of my many varieties (glass, metal, silicon, questionable material) of dildos while simultaneously using the hitachi.
Sexcraftboobs Now you done a lot of softcore stuff? Would you like to do any hardcore or boy/girl video? Or that is just not your thing?
GoodGoddess I would love to get into hardcore! Especially with a girl 😛 I would totally do a boy/girl video as long as I can find the right man who can be sexy and comfortable as well as comfortable with the experience. (I hope my boyfriends reading! :P)
Sexcraftboobs Do you like titty-fucking?
GoodGoddess There's just something special about titty-fucking. The way you get to see every part of man on top of you or under you falling victim to the magnificence of my tits. It's very empowering to own a man with nothing but your breasts. I also find the accidental facials kinda hot! 😛
Sexcraftboobs Is there any busty or bbw porn star or camgirl you admire?
GoodGoddess I LOVE LOVE LOVE Vendetta Gold!!!!!!!!!! 🙂 😀 I also like Jennica Lynn from Score, a lot a lot a lot! 🙂
Sexcraftboobs What is your short-term and long-term goals inside modeling and outside?
GoodGoddess My short-term goal right now is break 10,000 followers on twitter and to build a vastly larger webcam client base. My long-term goal is to become a successful artist and graphical designer which will help me explore my greatest passions! 🙂
Sexcraftboobs Have you ever got any proposals from any adult sites?
GoodGoddess Yes! I have been contacted by Score magazine which I am still considering! 🙂 I have also been contacted by PlumperPass, which I have declined.
Sexcraftboobs How do you promote yourself?
GoodGoddess I use twitter as my main means of promotion! 🙂
Sexcraftboobs Is there anything you would like to add for fans reading this interview? Any final words?
GoodGoddess My boobs are just really, really, really, really, really, really, really awesome. Oh yah they're big too! 🙂 😉
Like as before you can follow this gorgeous bbw camgirl on twitter, @XxGoodGoddessxX to learn about her if you are definitely a big fan of hers.