Exclusive Interview With Ember Blake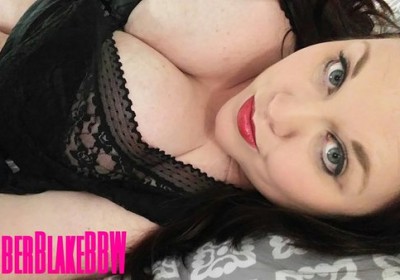 Last month in a preview article, I introduced the lovely Ember Blake who' is a bbw newcomer to the world of webcam where fans can chat's with her and gets their money worth for a private one on one session with her which gains hers popularity. Known for her voluptuous plumped assets, she produces her own originals video contents on chaturbate for many fans who are looking to sees softcore action from hers which is surely worth checking out especially whenever she offline. So thats being said, Ember Blake shows potentials to becomes one of the new sensations this year as hers popularity continues to grow.
With gorgeous huge tits and a nice round huge ass, she continues to use these voluptuous plumped assets of hers to gets everyone full attention from bbw fans to horny pervs alikes in a mere instant so when it comes to putting on a greats cam show or producing's softcore video contents. In this exclusive interview, Ember Blake finally reveals all and tells us whats her plans are in the world of webcam as many bbw fans are eagerly want to know the answers while hoping to sees more or something new from her this year. There is no doubt in my mind that's major porn studios have their eyes set on this plus-size camgirl who is looking to make a name for herself.
To my knowledge, she is indeed a gorgeous bbw newcomer who definitely shows potential when it comes to doing webcam shows and producing exclusives softcore contents for many fans to makes a name for herself as a camgirl with voluptuous plumped assets. Likes as before you can follows this bbw newcomer on twitter, @EmberBlakeBBW to learns more about her if you are a big fan of hers or just a fan of beautiful plumpers, in the meantime here is my exclusive interview to leave you satisfy at the end of the day.
And be sure to check out Ember Blake on webcam at Chaturbate.com for private one on one sessions with her if you are definitely a big fan of hers.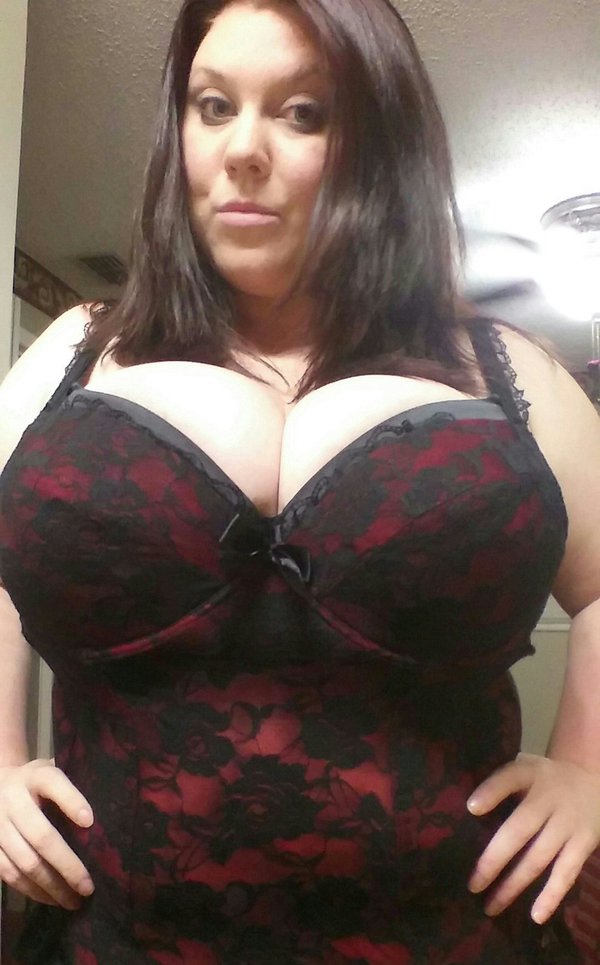 Sexcraftboobs So where are you from?
Ember Blake I was born in Georgia, raised in Florida.
Sexcraftboobs What have you been up to lately?
Ember Blake I've been staying at home a lot lately. Spring cleaning and yard chores. I enjoy spending time outside when it's beautiful out.
Sexcraftboobs How is your webcam shows doing?
Ember Blake My webcam shows are going very well. Practice makes perfect. Right?!
Sexcraftboobs Have you done any skype shows yet?
Ember Blake No skype shows yet. I've recently created an account (EmberBlakeBBW) but haven't started using it. Still working out the details.
Sexcraftboobs Now since you just started modeling, how are you enjoying your career as a bbw camgirl?
Ember Blake I love being a bbw camgirl. It's relaxing, it's fun and I get to connect with people. You never know who you'll meet.
Sexcraftboobs Have you watched any porn before your modeling career? If you do it? How often?
Ember Blake I used to watch a TON of porn before web camming. At least every other night. Thank goodness for PornHub and YouPorn! Haha! Now I'm so busy entertaining an audience that I haven't watched it. Actually my twitter feed is full of it, I guess that satisfies my need.
Sexcraftboobs Do have a boyfriend, or are you married?
Ember Blake I've been divorced for about 5 years and have dated a few guys since. I have a "regular" who helps out when I need him.
Sexcraftboobs What do you do when you not modeling? How is a normal day in your life?
Ember Blake When I'm not modeling you can find me watching movies, cruising in my truck with the windows down, hanging with friends, shopping and working. I'm always down for a bonfire and beer!
Sexcraftboobs What is your bra size? When did your breasts start to grow? How was it back then?
Ember Blake My chest is quite large if you haven't noticed. I'm a 44F and they started to grow in middle school. I hated it! I was on the dance team in High School and I was always very self-conscious. I grew to love them in my 20's. They've gotten me out of a few speeding tickets and are quite powerful when used as a negotiating tool.
Sexcraftboobs Now you have a nice round huge ass, can you measure how big or huge your ass is?
Ember Blake My ass doesn't measure up to the size of my chest but it's still nice. 🙂
Sexcraftboobs Have you ever sell any bras and panties to fans?
Ember Blake I have not sold any panties or bras to fans yet, although I have been asked. It will definitely happen soon!
With gorgeous huge tits, Ember Blake is definitely one of the new sensations by many fans who loves to see something new for a change.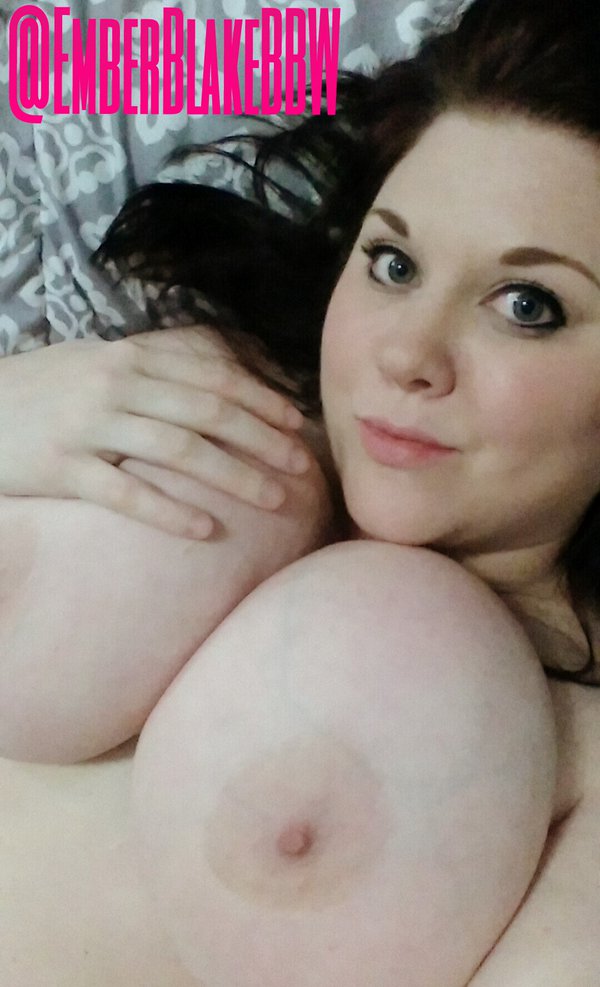 Sexcraftboobs When doing webcam and skype shows, do you use a lot of sex toys? What kind do you use?
Ember Blake I don't always use toys during webcam shows but when I do…it's pretty damn hot! I have several pink and purple dildos, one that even suctions against the shower wall.
Sexcraftboobs Now you done a few softcore videos? Would you like to do any boy/girl or hardcore videos? Or that just not your thing?
Ember Blake Future videos – I plan on continuing softcore for a while and establishing a fan base via my cam shows. Eventually I may try hardcore. There's one specific male that I have my eye on, DonaldTrunkXXX. I've already called him out publicly. LOL!
Sexcraftboobs Do you like titty-fucking?
Ember Blake I love titty-fucking!
Sexcraftboobs How do you masturbate?
Ember Blake I normally masturbate in the shower or when lying in bed. I love feeling the hot shower stream spray onto my body as I fuck myself.
Sexcraftboobs What are your sexual fantasies about?
Ember Blake Sexual Fantasies – I have a few. Not so much anymore, but an older (long lived) one of mine included a Truck Driver and his 18 wheeler. I'd climb into the cab of his truck and he'd have his way with me. I also fantasize about meeting up with someone in a dressing room while trying on sexy lingerie.
Sexcraftboobs If you had three wishes, what would you wish for?
Ember Blake If I had 3 wishes, I'd first ask for a 1949 Mercury with a chopped top, all black paint and red pin-stripping. My 2nd would be to own a house in the country with a badass theater room. My 3rd would be to make so much money doing what I love so that I can help out the next person in line.
Sexcraftboobs What is your short-term and long-term goals inside modeling and outside?
Ember Blake Short-term goals (this year)… BBWCON and FetishCON. I've already committed to FetishCON since they're local to my state. My next goal is to save, save, save for a trip to BBWCON in July. I'd love to go to Vegas and meet people in the business. Long-term goals… build a nice retirement account.
Sexcraftboobs Have you ever got any proposals from any adult studios or photographers?
Ember Blake Proposals – Yes, I've had a few people/companies reach out to me for work. Being so new to the business I've been hesitant to accept anything just yet.
Sexcraftboobs How do you promote yourself?
Ember Blake I promote myself using twitter and snapchat. I'm always posting and connecting with my fans.
Sexcraftboobs Do you have any random thoughts?
Ember Blake I do have random thoughts. Like maybe it would be nice to have a sponsor for BBWCON. It's give and take though. Not sure what I'd have to offer someone that sponsors me. I feel like I have so much to learn! In a good way.
Sexcraftboobs Is there anything you would like to add for fans reading this interview?
Ember Blake To my fans: Thank you for supporting and encouraging me to do what I do. I truly could not do this without you and I don't mean encouraging me to take my top off. I've gained new followers and viewers because of you. I plan on being around for a while and I hope you'll stick by me on this journey, where ever the road may lead. XOXO -Ember.
Like as before you can follow this bbw newcomer on twitter, @EmberBlakeBBW to learn more about her and be sure to check out her webcam shows at Chaturbate.com for private one on one sessions with her if you are definitely a big fan of hers,