Exclusive Interview With Celeste The Red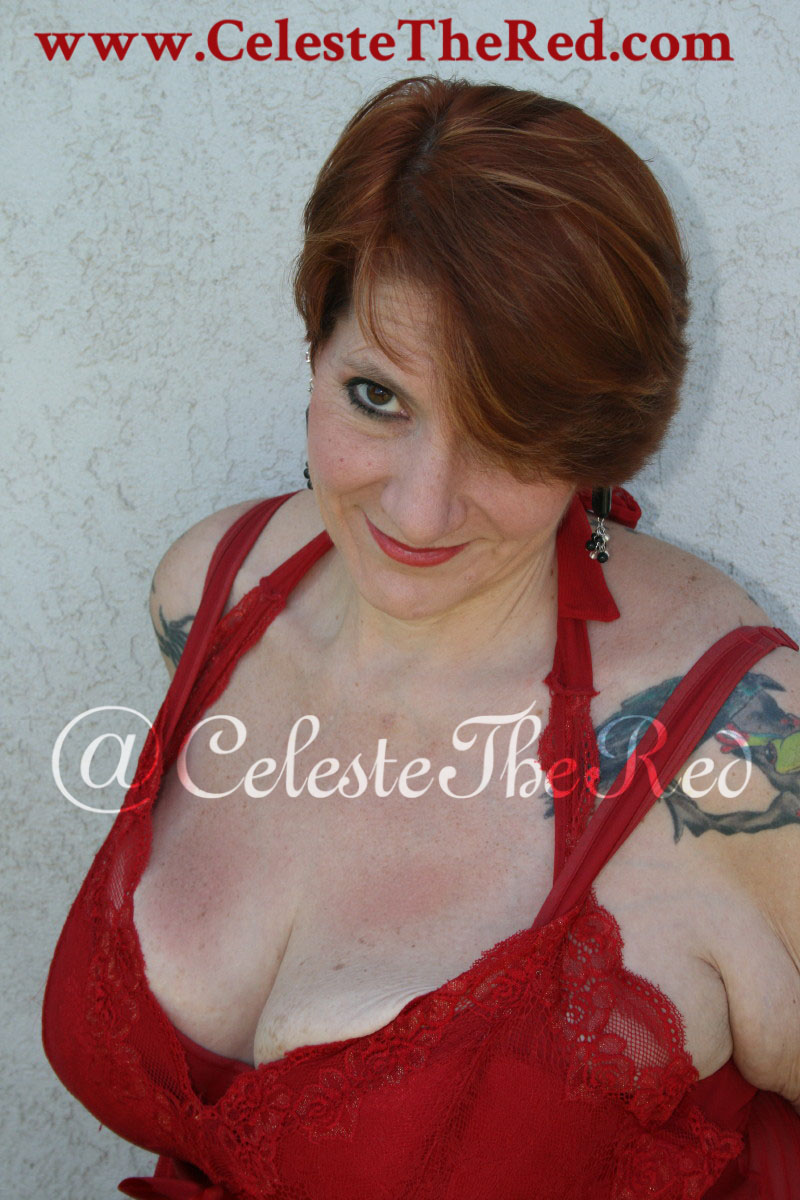 This year was a special year for a lot of bbw porn stars and camgirls as they all attended to an adult event in Las Vegas called BBWCON where fans can meet their favorite plumper models in the celebration of large beautiful women. For the next couple of months, I will be interviewing every bbw porn star and camgirl who have attended to BBWCON which has been the most talk about adult event on social media of this year by far.
Best known for her plump curved assets, Celeste The Red is a bbw camgirl who is definitely looking to make a name for herself by doing more then just webcam and skype shows to gain wide popularity from many fans. After attending to this year BBWCON in Las Vegas, she has already started producing her own exclusive contents for both her clips4sale page and official website where bbw fans can definitely get their money worth in buying all her softcore videos.
With beautiful huge tits and a nice round huge ass, she definitely knows how to get everyone attention from bbw fans to horny pervs alike in a mere instant especially when it comes to putting on a great cam show every night. In this exclusive interview, the lovely Celeste finally reveals all and tells us what her plans are in the porn industry as many bbw fans are eagerly wanting know the answers while hoping to see more or something new from her this year.
As a bbw camgirl, her popularity continues to grow by giving bbw fans what they want to see from her which is doing more then just offering private one on one sessions on webcam and booking skype shows to gain wide popularity. You can follow this gorgeous bbw camgirl on twitter, @CelesteTheRed to learn more about her if you are a big fan of hers or just a fan of beautiful plumpers, in the meantime here is my exclusive interview to leave you satisfy at the end of the day.
And be sure to check out her Clips4Sale page and official website, CelesteTheRed.com for all of her exclusive contents if you are definitely a big fan of hers.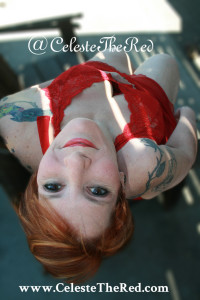 Sexcraftboobs So where are you from?
Celeste The Red I am a California Native. I was born in southern California and relocated as a teenager to northern California and have lived in various places up here since.
Sexcraftboobs What have you been up to lately?
Celeste The Red Lately, I have been busy building up the brand, so to speak. So in addition to lots of camming, I have been building up the social media, writing and designing my website and editing video for my clips stores. I wasn't much for social media before this; however, I have become a new student of social media marketing, as it is the best way to get your name and information out there.
Sexcraftboobs How is your webcam and skype shows doing?
Celeste The Red The webcam shows are going well. It's summer time and people are with their families and on vacations. So I am looking forward to things picking up as fall and winter arrives and mother nature gives us reasons to find naughty indoor activities to keep us warm and occupied.
I am expanding my Skype show clientele as well and am always looking for new clients there and am available more often on Skype than on the cam sites. Specialty shows are also available on Skype; see my webpage for details. (www.celestethered.com)
Sexcraftboobs When and why did you first decide to model?
Celeste The Red I would like to spend a lot time getting to know new people online through different means. Majority of them were men and the conversations always ended up sexual in nature. I love to flirt. I am a tease and a tauntress. I had often joked with friends that I should find a way to get paid for that. So in talking to friends of mine and discussing ways that I could get working in the constraints I had to work around, I started looking in to camming. With a recent move to a place where I would be able to cam from, I jumped in with both feet and took off running.
Meeting new people and talking sexy and dirty is a turn on for me. To flaunt my sexuality and to show off my curves turns me on, too.
Sexcraftboobs Have you watched any porn before you started your modeling career? If you do it? How often?
Celeste The Red I would watch certain kinds of porn. Certain subjects and genres appeal to me more than others. I was recently editing video for my clips stores and oddly found myself getting turned by watching one of my own videos… kinda weird, but I think it was because it was with one of my favorite vibrators and it made me all horny thinking about how good it feels.
Sexcraftboobs Do have a boyfriend, or are you married?
Celeste The Red I am happily divorced after 20 years of marriage. Single and enjoying it.
Sexcraftboobs What do you do when you not modeling? How is a normal day in your life?
Celeste The Red When I do have some free time, I like to find ways to be creative depending on whatever mood I am in. I am an artist and designer, I spend what free time I have drawing, finding inspiration and sometimes designing. Right now most of my work is done in ink on paper and digital pieces. I also love working in acrylic when I can.
Fiber arts interest me as well so I do knitting, crocheting, sewing, beading, lace making, art doll making and embroidery to name a few.
Sexcraftboobs What is your bra size?
Celeste The Red I am currently a 40DDD… Dangerous, Delectable and Distracting!
Sexcraftboobs Would you like to have bigger breasts? Or do you like them the way they are?
Celeste The Red I maxed out at 50I at my largest point. However, after bariatric surgery in 2006 I lost well over 240 lbs. I lost inches in the rib cage and some breast tissue. But now I have sexy, saggy "hanging" boobs.
Sexcraftboobs Now you have a nice round huge ass, can you measure how big or huge ass is?
Celeste The Red The most recent measurement done at BBWCON and it was 64" at its widest part.
Sexcraftboobs Have you met many fans, both in public and on social media? How do they react? Any conversation so far?
Celeste The Red I haven't had much opportunity since starting to meet many fans in person. I have had conversations with fans on social media outside of the cam site. All have been complimentary, encouraging and full of compliments. Of course, I have been hit on and asked to meet in person and depending on the situation I have not ruled anything out at this point.
Be sure to check out Celeste The Red on webcam at Cammodels and iFriends for private one on one sessions with her if you are definitely a big fan of hers.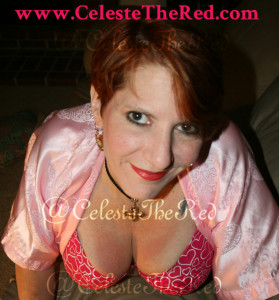 Sexcraftboobs Now back in July, you attended to this year BBWCON in Las Vegas, which has been the most talk about event for many bbw models, including yourself?
Celeste The Red I only found out about the convention 6 weeks before it happened. I am very glad that I was able to fund money and attend it in such short notice. Having only been in this area since February, I was very interested in attending the convention and meeting some of the models and performers in this field.
Sexcraftboobs What was your experience like being in Las Vegas and at BBWCON? Did you have a good time there?
Celeste The Red It was a lot of fun being in Las Vegas. I haven't been to Vegas since I was old enough to gamble, which was a long time ago. I had a great time meeting the other models. Sin City Bounty Radio also interviewed me and the video is now up on their YouTube Channel. It was a great honor to be asked by them. Having only been a cam model for 6 months, I kinda felt like the virgin at the con. I was the brand new baby at the event.
Sexcraftboobs Did you hang out with bbw porn stars or with camgirls at BBWCON?
Celeste The Red My main reason for attending BBWCON was to meet some of the other camgirls. Being a new model, I was interested in talking with them, getting any advice they were willing to give, and ask them about their experiences.
Sexcraftboobs What about fans, did you ever meet and hang out with some fans at BBWCON?
Celeste The Red I met a few fans at BBWCON, however, the short notice and having just started I did not have a table at the convention. The plan is to have one at next year's convention.
Sexcraftboobs Did you enjoy watching bbw models get nominated for an award at the Biggie Awards?
Celeste The Red It was very fun attending the Biggie Awards and watching some of the models I have seen on the web or cam winning their awards. And who knows maybe one day it will be me up there.
Sexcraftboobs Now when doing webcam shows, do you use a lot of sex toys? What kind do you use?
Celeste The Red I do use sex toys and love to play with them. I have my two favorite dildos. One of them is a nice large one that is really tight in my pussy. And the other one more curved and eight inches not only feels good in the pussy but I can also deep throat that cock balls deep. I have another smaller dildo that I used for anal play. I also have a beaded anal wand that is fun too. I have a Hitachi vibrator that is fun to play with. But my absolute favorite is like a Hitachi-like vibrator called a Couture Inspire. It is smaller and more powerful than the Hitachi and makes me cum every time I use it.
Sexcraftboobs Do you ever any guests come on your webcam show?
Celeste The Red No, not at this time, However, I have plans to add someone in the future.
Sexcraftboobs Now you done a lot of softcore stuff as of late, have you done any hardcore videos before or would you like to do one? Or that just not your thing?
Celeste The Red I have thought about doing some hardcore videos. And I will definitely be keeping an open mind and if the right offers and project comes along, then yes, I would consider hardcore stuff as well.
I am also looking into doing some hardcore clips for my clip store and in the process of arranging some nice fun cocks to do that with.
Sexcraftboobs Do you like titty-fucking?
Celeste The Red Oh, yes I love titty fucking. Feeling a nice hard cock stroking back and forth between my soft, warm, liquidy breasts. I love a cock to cum all over my tits.
Sexcraftboobs Is there any busty or bbw porn star or camgirl you admire?
Celeste The Red Ladystar on Streamate is the one. She is feisty and I love her personality and dedication to her craft. I also applaud her for reaching out to other models and getting us to help each other out and networking among the models.
Sexcraftboobs What is your short-term and long-term goals inside modeling and outside?
Celeste The Red Short-term goals in modeling is to keep doing what I am doing and keeping the pace as well as increase visibility and sales for the clips stores and working on my website. Long-Term goals I haven't really thought about it yet. I am still getting my feet wet and want to see where this goes. Outside of modeling, I have several both long- and short-term goals. I want to continue pursuing my degree in graphic design and eventually build a brand there as well and be the "Graphic Designer or Choice in the Kink and Adult Industries".
Sexcraftboobs Have you ever got any proposals from any adult sites?
Celeste The Red No, I haven't gotten any directly from there. I have recently received emails or contacts on twitter about doing some videos with other outfits… so if I can swing the time and fund the money I will be seeing how those play out. I have been checking out other sites and trying out camming on various sites. Each sites has their own pros and cons. And I am hoping to get followers, fans and admirers on all of them.
Sexcraftboobs How do you promote yourself?
Celeste The Red Right now the main way is through social media: twitter, tumblr and instagram. All of which I can be found under "Celeste The Red" or "CelesteTheRed". I am also available for Skype shows for pay under CelesteTheRed. I have my own domain site at CelesteTheRed.com. The First major launch of the site was done this week. I will be adding some teaser videos and more photos and more links as they become available. There is much more in the works for it. So bookmark me and keep checking back.
Sexcraftboobs Do you have any random thoughts?
Celeste The Red I have thousands of random thoughts all day… what color is the sky on his planet? Is there a fetish out there no one has thought of yet? When do I get to cam today and how many times will I Cum? Just some examples.
Sexcraftboobs Is there anything you would like to add for fans reading this interview? Any final words?
Celeste The Red Stop by my website, send me an email to say "hi" or come by when I am on cam. I love talking to everyone and getting to know them as well as playing with them. Follow me on twitter, instagram and tumblr. I love hearing from you, getting ideas or taking requests.
Like as always you can follow this gorgeous bbw camgirl on twitter, @CelesteTheRed to learn more about her and be sure to check out her official website, CelesteTheRed.com for all of her exclusive contents if you are definitely a big fan of hers.
And to sign off this interview, here is a special video from the lovely Celeste The Red to leave satisfy at the end of the day, enjoy.