Exclusive Interview With Buxotic Babes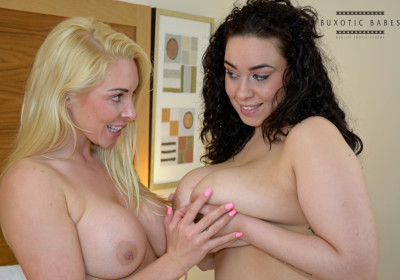 Straight from the UK, Buxotic Babes is a european porn studio that features some of today's gorgeous busty models to produce exclusive video contents from softcore to hardcore that would attract many online boob fans around the world. To it popularity, the studio has been somewhat simple and straight forward as it or the team merely focus on producing the best porn videos of today which is where they gains recognition for by many boob fans that visits their official website.
The studio features some of today's gorgeous busty models from Harmony Reigns to Anastasia Lux as well as the lovely Katie Thornton who all appeared to produce exclusive new video contents which are definitely worth checking out for any boob fan. In this exclusive interview, Buxotic Babes reveals all and tells us what their plans are in the porn industry as many boob fans are eagerly wanting to know the answers while hoping to see more softcore and hardcore action or something new from them.
To my knowledge, the studio is unique and different in a way which is what gains it popularity from as well as from many boob fans who looking to see their favorite busty porn stars for softcore and hardcore action on a different but unique site. You can follow this european porn studio on twitter, @BuxoticBabes to learn more about them and be sure to check out their official website for all of their exclusive video contents if you are a big fan of them or just a fan of big boobs, but in the meantime here is my interview to leave you satisfy at the end of the day.
Be assured that Buxotic Babes will be featuring more gorgeous european busty porn stars to produce more exclusive video contents which will definitely please and thrill many boob fans.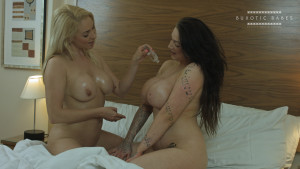 Sexcraftboobs So what have you been up to lately?
Buxotic Babes We have been shooting a number of hardcore films recently, which will be released during the next few months. These films star Jasmine Jae, Sienna Day, Tina Kay, Harmony Reigns, Maisie Rain, Yuffie Yulan Ryan Ryder and Max Deeds. However, as you know Buxotic Babes is not just a hardcore website and we produce films that are softcore too. These we refer to as Nudie Cutie (nudity, but no simulated sex) and Sexploitation (nudity and simulated sex). In the past couple of months, we have shot new Nudie Cutie films with Anastasia Lux, Katie Thornton and Kelley Scarlett. These will be released before the end of 2015. We are planning to shoot some new Sexploitation films in early 2016.
Sexcraftboobs How is your studio doing?
Buxotic Babes We are continuing to see a reasonable level of sales and we are continuing to shoot and release new films. All films since mid-2014 have been shot in 4K UltraHD. We did make our films available in 4K UltraHD earlier this year, but they did not sell very well as this format had not gained much recognition with the public, so we withdrew them. However, this new format is now gaining more public recognition and from early 2016 we will be making our films available again in 4K UltraHD.
Sexcraftboobs When and how did Buxotic Babes came about?
Buxotic Babes BuxoticBabes.com launched in July 2013 originally as a monthly/quarterly subscription website, but In October 2014 the decision was taken to change to a Video On Demand (VOD) website. We feel that VOD allows our customers the freedom to buy what they want when they want, rather than having to pay a regular subscription.
Sexcraftboobs You have seen girls come and go. Who is your favorite?
Buxotic Babes We have been lucky to work with many fantastic models through the years. It would not be fair to say who our favourites are – as they are all wonderful.
Sexcraftboobs If someone ask you which scene is the one that represents Buxotic Babes the best which one would you pick?
Buxotic Babes That is a very difficult question to answer. We have tried to make BuxoticBabes.com a very diverse website and no one scene represents us. We work across both softcore and hardcore. However, in all our films you will find certain core elements: – gorgeous models who are busty, exotic and erotic, together with a simple, but engaging plot. Also, we try to ensure that we produce a high quality product.
Sexcraftboobs Is there any busty porn star or camgirl you would wanted to see at Buxotic Babes or to see doing hardcore?
Buxotic Babes We are very lucky to have worked with many fabulous models in the past and to be working with many fabulous models now. We are planning to shoot new Sexploitation films during 2016 and we would be happy to work with other models who contact us directly or are recommended to us.
Sexcraftboobs What are your thoughts on bbw's (Big Beautiful Women)? Do you see any interest of having plus size models at Buxotic Babes or in the future?
Buxotic Babes We have not worked with BBW models in the past. We are happy to work with all models, as long as they are gorgeous and can act at least a little.
Sexcraftboobs What are different ways to hire a model?
Buxotic Babes We have built up a good working relationship with a number of models through the years and we have found that one model will recommend another model. Also, occasionally we are contacted directly by models, sometimes via Twitter. It is always best to ensure that all the models are happy and comfortable to work with each other. This shows through in the on screen chemistry and allows for harmony behind the scenes too.
Sexcraftboobs You have shot a lot of contents in United Kingdom as of late, is there any chance for Buxotic Babes to do international shoots with models in the US models and others around the world in general?
Buxotic Babes We tend to shoot with UK based models mainly. However, we are in contact with models based in Holland, Spain and Italy. We are hoping to undertake more overseas filming in 2016. We have shot overseas in the past, when we shot the Nudie Cutie film Babes In Paris, but admittedly that did feature two UK models – the gorgeous Charley Green and the stunning Sapphire Blue.
Buxotic Babes produces exclusive video contents from softcore to hardcore to please many boob fans which is what definitely gains them their popularity for.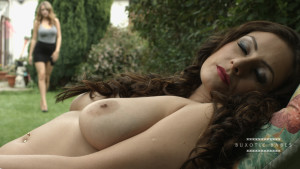 Sexcraftboobs Your studio mainly makes adult videos. Do you or someone in your studio sees any interest in further expanding the Buxotic Babes brand in other marketing campaigns such as being a publisher in adult magazines or making custom t-shirts for many busty models?
Buxotic Babes We have no plans to diversify into adult magazines. We could look at expanding into other products. However, the business model of BuxoticBabes.com is the production of quality erotic films featuring models who are busty, exotic and erotic, so anything we do would have to support that.
Sexcraftboobs Tube sites have been an important factor in the decreasing of adult material sales. How does Buxotic Babes fight against it? Do you think there is something positive about those sites?
Buxotic Babes We are in favour of any site that aims to promote adult material more widely and engages in a constructive way with the studios that make the material. However, sites that acquire material without the permission of the studio that made it and then make it available for free is not to be supported. Overall, these kind of sites may think that they are providing a service, but they are ultimately damaging the industry by making it more difficult for studios to operate profitably. If studios cannot make money, then they are not able to produce the quality products that we all want to see.
Sexcraftboobs Many fans, including myself would love to be a part of the Buxotic Babes family. Some dream to be actors while others would love to contribute in another professional level. How can they do that? Is there any common position in internship?
Buxotic Babes In front of the camera we only work with professional performers who are already in the industry. Behind the camera we are currently fully staffed.
Sexcraftboobs Have Buxotic Babes attended any live adult events or have plans to attend to one in the future?
Buxotic Babes We attended Sexhibition in Manchester in August 2015. There may be other events that we will be attending in the future.
Sexcraftboobs What would you like to add to fans reading this interview?
Buxotic Babes Our message is to say thank you for supporting us through the past few years. Hopefully you have enjoyed our wide range of films, including the 8mm Vintage films. We have a lot more films in pre and post production, so keep checking the website for new releases.
Like as before you can follow this european porn studio on twitter, @BuxoticBabes for the latest news and be sure to check out their official website for all of their exclusive video contents if you are definitely a big fan of them or just a fan of big boobs.