Exclusive Interview With BewbieBlog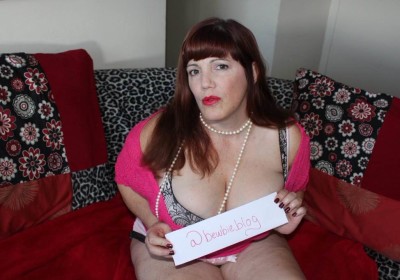 As I have stated on twitter earlier that I will be doing more video interviews with more models throughout the new year from busty to bbw alike, but I will also still be doing regular interviews with fellow bloggers, porn studios, photographers and many more. Earlier last year, I had interviewed my good friend known as Raven Azrael of BoobsRealm who was the one that definitely got me inspired to get into blogging back in 2014, and now I am determine to know the rest of my fellow bloggers in these upcoming interviews.
The first fellow blogger to be featured on my site for 2016 is BewbieBlog who has build up a reputation for himself over the years with his articles and interviews he has conducted with many of today's models which makes him one of the best bloggers to find on the internet. From blogging on tumblr to having his very own official blog site, he does good with his work and help spread the word out about the latest news or updates on everybody favorite models from busty to bbw alike which is what gains him popularity for.
Not only that, he also knows how to do serious business dealings especially when it comes to inquiries which definitely get him attention from any models who looking to find a way to further expand their popularity or making a name for themselves by being feature on his blog sites. In this exclusive interview, the man known as BewbieBlog finally reveals all and tells us what his plans are in the world of bloggeing as many fans are eagerly wanting to know the answers while hoping to see the latest news or updates on his official blog sites this year.
To my knowledge, he is indeed an awesome blogger and knows what news or updates to give to fans when it comes to spread the word out about everybody favorite models from busty to bbw alike which makes him one of the best bloggers on the internet. You can follow him on twitter, @BewbieBlog to learn more about him and get the latest news or updates on all your models from busty to bbw alike if you are definitely a big fan of his work, in the meantime here is my exclusive interview to leave you satisfy at the end of the day.
And be sure to check his official blog site, BewbieReviews.com for all of his articles and interviews if you are definitely a big fan of his work.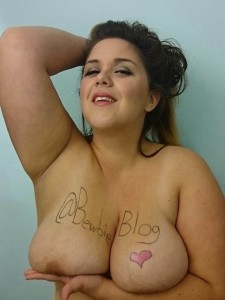 Sexcraftboobs So what have you been up to lately?
BewbieBlog Not much, just enjoying the holidays and working. Always lurking on twitter.
Sexcraftboobs How is your blog site doing?
BewbieBlog Pretty good. It has its up and down days, but that's like any site out there. We average about 500 page views or so a day, and being a small operation to me I think that's pretty good.
Sexcraftboobs When and why did you first decide to become a blogger?
BewbieBlog Well, I started blogging about 7 or 8 years ago. I didn't get into NSFW blogging until the summer of 2013. The bewbieblog tumblr happened out of pure boredom one day for me. I was always interested in some of the risquér posts out there, but I didn't want to offend most of my friends who aren't into adult entertainment.
Sexcraftboobs When was your very first exposure to porn and what got you into big boobs? Was it before you became a blogger?
BewbieBlog Well my first exposure to porn was in my early teens of course. Internet porn was still sorta new, but you had sites out there. Before I really got into watching it clip wise, it was more photosets than anything. Big boobs you could say happened around the same time. I can't really put a pinpoint on to what got me started but women like Sara Jay and Brandy Talore were personal favorites.
Sexcraftboobs Do you have a girlfriend or are you married?
BewbieBlog I do have a girlfriend, she too is into big boobs. So it worked out well. Eventually though when we decide to settle down, I will probably stop blogging. Personal promise I made to her.
Sexcraftboobs What do you do when you are not blogging? How is a normal day in your life?
BewbieBlog A normal day is me going to work. Occasionally I'll check Twitter on my phone, and when the Cleavage Cup was on, I'd check page stats. End of my day is normally coming home, putting on a movie and surfing twitter for the night.
Sexcraftboobs Do you have any plan to attend or try to attend to more live adult events throughout this year?
BewbieBlog At this time I don't have any plans to go to any events. I may do Exxxotica next year, but just as a fan. I don't really have the means or cash flow to do too many far out trips, haha.
Sexcraftboobs As a blogger, you write a lot of articles and promote any camgirl or porn star who is looking to make a name for herself?
BewbieBlog That I do. When I was running the tumblr, I did interviews but it was hard to get the word out. People would delete captions and in the captions would be all of the information. When I decided to go this route, I made a shift. I wanted to give back to a community that treated me so well. So I always offer things like promotions or helping with banners or graphic work for free because who am I to charge? At the end of the day we all needed help getting somewhere. And if I can help be a part of your success, that's all the pay I need.
If there any busty or bbw models that you wish to see on BewbieBlog site or for him to interview, feel free to ask him if you are definitely a big fan of his work.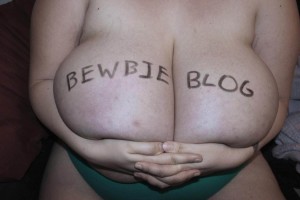 Sexcraftboobs When promoting a camgirl or porn star, do you have to ask her permission to do an article about her and using her pics especially the ones on twitter or she does not mind for you to use them?
BewbieBlog I always work it out with them beforehand. Most time before you've seen a promo we've talked it out for a few days. Most models tell you to use Twitter photos and if you need anything extra just to ask. When it comes to my affiliate work, I use what the site gives me, but I write my own review. Most times for affiliates, I've joined their site. Sometimes it's more important to really do your research on something before you lead your reader wrong.
Sexcraftboobs When it come to interviews, how are you able to conduct a really good interview with a camgirl or porn star especially with the more popular ones?
BewbieBlog Most times, I just ask. I always inform every interviewee that it's not gonna be pressing questions like what's family life like or anything too personal. As you know I have a few different types of interviews. Between the Bewbies is for our bustier models out there, and Cum Discover is for our facial loving models. All the same question models, just focusing on different parts. Recently we kind of found a person who was in the middle of that spectrum. That was Mandi Flame. We've had her on twice, and she's been very informative each time. For some ladies it's a harder get. Some don't like interviews, or some get lost in the spam folder. For me, it's better when I don't expect to get the interview so I'm not let down. However the amount that agree is a lot higher than the ones that don't.
Sexcraftboobs When asking for a fansign photo from a camgirl or porn star, how do you get your logo fan banner made?
BewbieBlog Well with twitter cracking down on NSFW photos for headers and avatars, its a bit difficult. But if you have basic photoshop knowledge you can do anything. For fan signs, I always ask when I do the interview. I don't really expect them, though I'm always excited to receive them.
Sexcraftboobs Apart from blogging, is there any project that you have or working on to farther expand the brand of your two blog sites?
BewbieBlog Not really. However I am working with someone currently on a pretty big project for next year, so I am excited to see our vision come to life.
Sexcraftboobs What is your long-term and short-term goals inside blogging and outside?
BewbieBlog Inside? Just to keep grinding and keep the quality coming. This is something I do to relax, so if the ride were to stop here, I'd be happy and content. I don't really have long terms goals because I don't plan to blog forever, or be around in the industry forever. If I do anything, it'll be ultra behind the scenes. Away from all that, just live life each day and stay happy.
Sexcraftboobs Have you ever got any proposal to work with any major porn company?
BewbieBlog I had one about a year ago. I turned it down because I didn't have the means to move cross-country, nor did I wanna rip my family away from where I live.
Sexcraftboobs Is there anything you would like to add for fans reading this interview?
BewbieBlog Thanks for your continued support. Keep following me on Twitter for new interviews, photosets, general comments, jokes, my life misadventures. And of course boobs. Where would my site be without those? Probably a gossip site. Anyway, thanks!
Like as before you can follow him on twitter, @BewbieBlog to learn more about him and get the latest news or updates on all of your favorite models from busty to bbw alike on his official blog site, BewbieReviews if you are definitely a big fan of his work.