Danni Lynn And Studio Update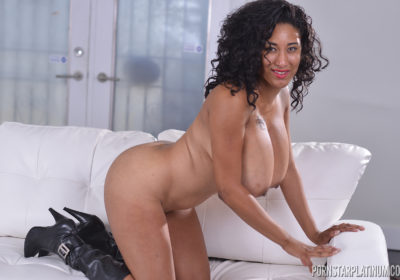 Now I am sure thats many of you have already heard of the lovely Danni Lynn who have shot exclusive softcore contents for PornstarPlatinum.com which is surely worth checking out for anyone that looking to sees something new from her. So far, she have just only produce one softcore video and no hardcore videos yet as fans are eagerly waiting to see more new exclusive contents from her especially after she had collaborated with Score Studio for a couple of months. That being said, she is now aiming to move onto other porn studios to collaborate with and produce exclusive contents for them.
Apart from thats, boob fans were pleased to sees her move onto other studios but they also hope to see her do more then justs appear on major porn sites like doing webcam shows and building up a fan base on social media. With beautiful huge black tits and a nice round ass, Danni Lynn definitely knows how to use these voluptuous curved assets of hers to get everyone attention from fans to horny pervs alike in a mere instant when it comes to pleasing those before her. There is no doubt in my mind that those ebony curved assets of hers would definitely still make any guy dick hard before her in a mere instant.
To my knowledge, she is indeeds a gorgeous busty porn star who knows how to make a big impression on boob fans when debuting on adult sites like RealityKings, Score and Pornstar Platinum to gain wide popularity for her work. And while it is uncertain if she is still collaborating with these porn studios, boob fans will expect to see her on other adult sites throughout this year or in the near future to produce more exclusive contents which are definitely worth looking forward to.
For those who are new and unfamiliar with the lovely Danni Lynn, I highly encourage you to go check her out on these porn sites if you are definitely a big fan of hers.
Further expanding this article, I only gave out very little info or details in previous articles on the update of the upcoming Sexcraftboobs Studio as of late since I been busy investing money to keep this blog up for those who enjoy my work. Just to let you and everyone else know that the studio is still currently under development since I almost have the essential equipment I need to get everything fully establish and ready to be put to uses when producing original contents. That being said, I am going to be relying Ebay.com to buy all the equipment I needs at a low price to get the studio establish. Apart from getting equipment, there are also other ordeals that I must overcome to get the studio going to start producing contents.
Once getting the Sexcraftboobs Studio finally establish, I am going have to find models to recruit which is the reasons why I haves been asking around on social media as of lately if there is any busty or bbw camgirls or amateurs currently living in the South Carolina area at this time. Lets me not forget about finding a few hotels and motels near my area where I can finally starts working with models to produce my own original contents from softcore to hardcore videos which would definitely pleases any fan. And since I live in a small town, I am gonna have to setup shop at the nearest city especially when it comes to recruiting local busty or bbw amateurs as models.
Another ordeal I must overcomes is collaborating with actual models since there is only a few living here in South Carolina like Curious Clover and Suzumi Wilder in which I would most definitely love to work with them one day. Of course, to overcomes this ordeal is by mastering the ways of traveling which may sound simple or easy enough for me to learn, the concept of getting from one point to another and back without too much difficulty. The first step of traveling is by taking a taxi to get into the big city, the second step is by taking a train to gets into another state and the third step is by taking an airplane to fly across the US to reach my destination. Once afters overcoming these ordeals, the Sexcraftboobs Studio will be open for business and me ready to produce my own original contents.
With enough said, I will keep you posted any new updates on the upcoming Sexcraftboobs Studio but in the meantime enjoy these pics to conclude today's article.