Contest Update & Natasha Sweet Debut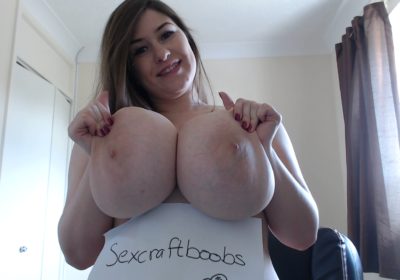 I am sure by now that many of you have heard that fellow bloggers, BewbieBlog and BoobsRealm are starting theirs annual contents this year whereas you, the fans can once again vote for your favorite and personal favorite busty model to win. Now I am still running my epic Sexcraftboobs Contest which has been split into two parts, the big boobs edition and the bbw edition to help make this annual event more interesting as well as driving more traffic into my blog site. That being said, the latest new addition to the contest is the use of the Sexcraftboobs Forum where this annual event will held at next year.
Since of it conception, I've been building up an audience for the forum to create a growing community of big boobs and bbw lovers who can do more then just posting their comments or express theirs thoughts about my blog site. With my plans of hosting the Sexcraftboobs Contest next year, I will make the forum community grow much bigger then before by simply allowing fans to become a member and take part in this first ever annual event to determine which model would be the overall winner. That being said, if you have not become a member on the Sexcraftboobs Forum then I highly encourage you to go signup on it and join the community because big things are definitely on the horizon.
And there will be a grand prize or two on the line, this won't be anything like the SexcraftBra Show last year which was only a prototype (my first ever contest) for the actual Sexcraftboobs Contest that's really wasn't meant to be taken so seriously. The first thing to note is that I am still currently working on official Sexcraftboobs T-Shirts which will serve as the first grand prize, I have bought a brand new photo-editing software to helps improves and enhance the blog official logo on the t-shirts. The second thing to note is that I will put a certain amount of money on the line (at least $100 or more) since I've been doing so well in receiving income as an online affiliate by simple promoting awesome porn sites to those whos looking to get their money worth. Those are the only grand prizes I will put on the line, more potential prizes will be address in later articles but for now those two are the only ones that have been addressed.
Its uncertain to my knowledge to know when the Sexcraftboobs Contest is going to starts next year, it all depends on a certain amount of affiliate income I receives and finally getting some custom t-shirts made as wells as getting everything else all setup to hosts this first ever annual event of mine. Likes as before you can follow me on twitter, @Jaura450 and @Sexcraftboobs2 to get the latest updates or email me at jangelonash@yahoo.com for any ideals or suggestions regardings to this annual event if you are a big fan of my work.
And be sure to check out my two fellow bloggers, BewbieReviews.com and BoobsRealm.com to take part in their contests and vote for your favorite busty model to win.
Further expanding this article, many of you have heard that the lovely Natasha Sweet (aka Nadiya) has made's her ScoreLand Debut a few weeks ago for her first solo scene which pleased and thrilled many boob fans who definitely wanted to sees more of her. Afters collaborating with the awesome Cel (of XX-Cel.com and HeavyOnHotties.com), Natasha Sweet has now established herself as a full-on hardcore porn star with voluptuous curved assets which she now use to gain further popularity by boob fans. That being said, she now aims to give those before her whats they really want to see which is more exclusive softcore contents as well as possible hardcore action.
Apart from that, boob fans are eagerly waiting and hoping to see her collaborate with other porn studios to produce new exclusive contents for them which would definitely furthers expands her popularity more as a so gorgeous busty porn star. With beautiful huge tits, Natasha Sweet continues once more to uses these melon-size assets of hers to get everyone attention from boob fans to horny pervs alike in a mere instant when it so comes to making a big impression on those before her. There is no doubts in my mind that her debut scene would definitely makes any guy dick hard for her in a mere instant especially those melon-size juggs of hers.
To my knowledge, her popularity indeed continues to grow while she continues to show further potential in becoming one of the new sensations this year as she aims to give boob fans more then just exclusive softcore contents. And for those who are still new and unfamiliar with the lovely Natasha Sweet, I highly encourage you to go checks out her debut scene at ScoreLand.com if you are just now becoming a big fan of hers or just a fan of beautiful newcomer with big boobs.
In the meantime check out these pics from Natasha Sweet debut scene to leave you satisfy at the end of today's article if you are not convinced my words.