Cami Cooper & Sexcraftboobs Update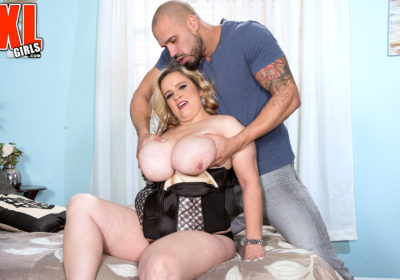 I am sure by now that's many of you are familiars with newcomer, Cami Cooper whos have been pretty much so busy collaborating with Score website, XLGirls.com and other adult studios to make' a name for herself as an established porn star. Known for her so' voluptuous plumped assets, she is simply a plus-milf whos looking to so become one of the newest sensations in the bbw community of the porn industry as she aims to make a big impression's on many fans before her. That's being said, she continues to further expand her popularity by showing' fans what she capable' of in every scene and collaboration with other porn studios.
Last week, bbw fans were definitely pleased and thrilled to sees her go hardcore for the first time as she got fucked by a lucky stud on camera which is most certainly worth watching for anyones who is looking to sees something new from hers. With so beautiful huge tits and a nice round huge ass, Cami Cooper aims to uses these voluptuous plumped assets to her advantage to gets everyone attention from bbw fans to horny pervs alikes in a mere instant when it comes to making a big impression on those before her. There is no doubts in my mind that those plumped assets of her would definitely make any guy dick hard for her in a mere instant especially after watching her hardcore debut.
To my knowledge, she is indeeds a bbw newcomer who most definitely shows potential in making a name for herself as one of the new sensations by giving fans whats they really want to sees from her which is exclusive hardcore action. You can follows this bbw newcomer on twitter, @camicooperXXX to learns more about her if you are just now becoming a fan of hers or simply justs a fan of beautiful new plumpers, but in the meantime check out these pics from her hardcore debut if you are not convinced by my words.
And be assured that an exclusive interview with the lovely Cami Cooper is in the works, so stay tune here at Sexcraftboobs.com for that if you are definitely a big fan of hers.
In other news, I am sure by now thats you may have so notice I replace the boobs selfie header as well as pics owned by porn studios with official and definitive Sexcraftboobs Logo to make the blog site look 100% legit to all my visitors. Not only thats, this will helps attracts more opportunity to collaborates with any busty model or bbw who looking' to be feature on a legit blog site to gets her name out there to many fans especially if she is a newcomer in the porn industry. That being said, Sexcraftboobs popularity will certainly expand now that it is fully legit by having it own official logo to draw attention.
And as I mentioned in a previous article, I will also use the logo to make custom t-shirts for models to further expands it so popularity which is something that fellow bloggers like BoobsRealm and Boobster are currently doing to draw attention. By having official Sexcraftboobs t-shirts, this will definitely helps makes the blog site more well-known with gorgeous busty models and bbw's wearing them as a sign of their support for the site thats continues to grow' everyday with it legion of fans. I am currently going to be making custom t-shirts for the next couple of months or maybe throughout this year to help further expand the blog brand.
And more importantly, I am so' going to be using the logo for the Sexcraftboobs Studio which is currently stills under development as I continues to gather and buy more equipment for me to hopefully starts producing my own original contents. With enough said, you can say that's I am one of the lucky individuals who was able to make their own official logo without the use of photo-shop which is the most popular software on the internet when it comes to making your own brand.
For any model or any featured model who support Sexcraftboobs.com, I encourage you to feel free to make fansign pics if you are definitely love being on this blog site.