Busty Eveline & The Sexcraftboobs Logo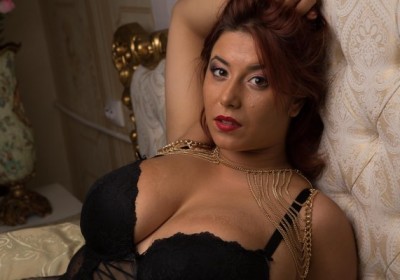 Best known for her curved assets, Busty Eveline is a young and gorgeous camgirl who is looking to have some fun on webcam with many boob fans before her by offering them private one on one sessions which is what gains her popularity for. Upon her description, she like many typical busty camgirls who always loves being on webcam to have fun with many boob fans that definitely looking to get their money worth for a private session with her whenever she is online for a live cam show. And while there may not be nothing new from her as of late but some boob fans can see hidden potential within her to become a sensational model with natural but curved assets.
And like all busty camgirls, she also has somewhat of an open mind which means that she would do more then just webcam shows at this some point in time to please many boob fans who looking to see something new from her this year. With beautiful huge tits and gorgeous looks, Busty Eveline uses these assets to get everyone attention from boob fans to horny pervs alike in a mere instant especially when it comes to putting on a great cam show or a private one on one session. That being said, those who get their money worth will not be disappointed if you are looking for softcore action to spice up your night.
To my knowledge, she is a young and gorgeous busty camgirl with a fun personality who like many models always enjoys chatting with boob fans that loves to get their money worth for a private one on one session and hopes to see something new later on this year. You can follow this gorgeous busty camgirl on twitter, @bustyeveline to learn more about her and be sure to check out her webcam show at LiveJasmin.com for a private one on one session with her if you are a big fan of hers or just a fan of big boobs.
For those who are new or unfamiliar with this gorgeous busty camgirl, check out these pics if you are just now becoming a big fan of hers.
And for those who have heard on twitter, I have finally got my official Sexcraftboobs logo made and I will have it up at some point of this month or the next that will help further popularize the blog site brand and become more legit. Not only that, I am also going to be using the logo to get some official fansign pics or banner made from featured busty and bbw models as well as those that are currently being featured at this time to further expand the blog site brand. As a rookie blogger in porn, it is my goal to get where my good friend good, Raven of BoobsRealm is who was the one that inspired me to get into blogging.
Plus, I am also planning to use the logo to get some custom t-shirts made for all of the featured models which would definitely boost Sexcraftboobs popularity even further especially if I get them made for any upcoming adult event. And while this maybe all the news I have right now, I am considering on using the logo to make some stickers and maybe some buttons like Yesboobs had done if I want to further market the blog site brand as well as for my upcoming porn studio. Having an official logo for your own brand really does helps make a big different when you are trying to make your blog site look more legit to the porn community.
Apart from that, I'm still planning to add more exclusive new contents to Sexcraftboobs at some point later on this year since now that I finally have an official logo of my own, even without the helps of photoshop which definitely made things a lot easier for me. With that being said, I will continue to make more improvements on the logo which would help makes the blog site looks more legit that will definitely allow me the opportunity to collaborate with more models from busty to bbw alike.
Check out the current designs of the official Sexcraftboobs logo to conclude today's article if you are definitely a big fan of my work.