Aleksandra Yalova & ModelCentro Success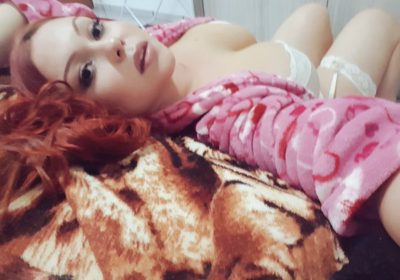 Best know for her voluptuous assets, Aleksandra Yalova is a brazilian camgirl who looking to have some fun with her sexuality by teasing fans on whats she is capable of which also helps gains her wide popularity for. Coming from straights out of South America, her erotic physique can certainly attracts the attention' and her angel face reminds me so much of romanian busty camgirl, MiaBigTits which quickly made me as well as everyone else a fan. Not only that, she also have a fun personality which make her very likable especially when chatting with her on social media.
Apart from thats, bbw fans would definitely love to sees her do more like producing original contents and collaborating with porn studios for softcore videos and lots of hardcore action which would surely further expand her popularity. With beautiful huge tits and one fine round huge ass, she uses these voluptuous plumped assets to her advantage to gets everyone full attention from bbw fans or horny pervs alike in a mere instant when it comes to pleasing those before her. And there is no doubts in my mind thats those plumped assets of hers would definitely make any guy dick hard before her in a mere instant.
To my knowledge, Aleksandra Yalova indeeds shows a certain level of potential when it definitely comes to exploring her sexuality and gain popularity from it by giving fans what they really want to see from her which is hardcore action. You can follows this gorgeous lovely brazilian camgirl on twitter, @aleksyalova to learns more about her and gets the latest updates if you are a big fan of hers or just a fan of beautiful plumpers, in the meantime check out these pics if you are not convinced by my words.
And be assured that an exclusive interview with the lovely Aleksandra Yalova is in the works, so stay tune here at Sexcraftboobs.com for that if you are definitely a big fan of hers.
Further expanding this article, I'm sure by now that many of you have heard that ModelCentro reaching their milestone of 10,000 models who have signup on their web service to create pay sites for fans thats looking to gets their money worth. ModelCentro have most definitely proven themselves to be the grand webmaster of webmasters with a simple concept that allows' any model, male or female to create his or her own official website to produce original contents. Thats being said, a model will never have to waste any money to hire his or her own personal webmaster to create an official website.
Not only that, ModelCentro makes it a lot much more easier for models to further expand their popularity and get their names out there to more fans who are always looking to see something new or different for a change. With their affiliate program, ModelCentro also allows bloggers likes myself to promote models and their newly official websites as wells as referring any model who is looking to have his or her own to this growing' popular web service. So far, Sexcraftboobs.com is currently promoting only a few models with websites that powered my ModelCentro and will be promoting more of them in the coming months.
Also, there is a contest going on from June 16th to July 4th for us fellow bloggers to help out any model thats does not an official website by referring them to ModelCentro to win a $100 gift card which is most definitely worth getting. Like as before you can follow these guys on twitter, @modelcentro to learn more about their web service and be sure to also check out their official website, ModelCentro.com if you are looking to have a pay site of your own.
To fellow bloggers who are on twitter and have signup on ModelCentro affiliate program, use #ShareModelCentro to help models get their own official website made.
And be sure to check out these two websites from the lovely Christy Live and Roxanne Miller who I am currently promoting.